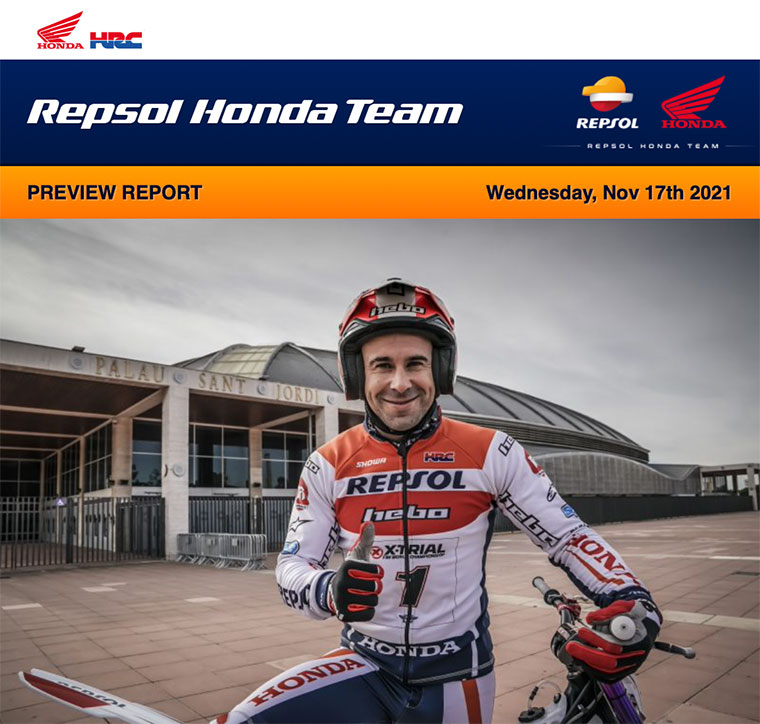 Repsol Honda Team rider Toni Bou will this weekend battle to add another trophy to his already comprehensive collection of world titles. The final round of the 2021 FIM X-Trial World Championship will take place this Sunday in Barcelona.
Although Toni Bou staged a very strong showing in the final of the Andorra X-Trial just ten days ago, the title chase will go down to the wire as Barcelona becomes the world championship decider. Even if Toni Bou is currently the leader, the final round could prove definitive, not just because the championship has been dramatically reduced to only two trial events, but also because the final round will decide the title in the eventual case of a tie. This will force the Repsol Honda Team rider to be particularly focused in the opening section of the trial at the Palau Sant Jordi in Barcelona if he is to achieve his main aim, that of clinching yet another title, the 30th of his career.
The competition is structured into three phases, an opening round where the best six out of the nine participating riders will qualify, before being split into two groups for the second phase. From that point, only the top rider in each group will make the cut for the grand finale. In each phase, riders will tackle five sections, except for the final, which will be battled out over six sections in the Palau Sant Jordi.
The 44th edition of the Barcelona Indoor Trial, the longest-running date in the X-Trial calendar, will get underway at 17:00. The final is set to take place at 19:30 with the final podium scheduled for 20:00.
Toni Bou 1
The Barcelona trial is always a very special event and this year it's going to be even more so, as we'll be battling head-to-head for the title because it's a very short championship with just two points-paying trials. We arrive fresh off the back of a great trial and win in Andorra, with two perfect laps, so we are really looking forward to it. We know that there is a lot of risk involved and, although we don't like it, that's the way the championship is. We will go out to give everything at the Palau Sant Jordi, trying not to make any mistakes and give 100% to qualify for the final. We hope it will be a complicated trial.