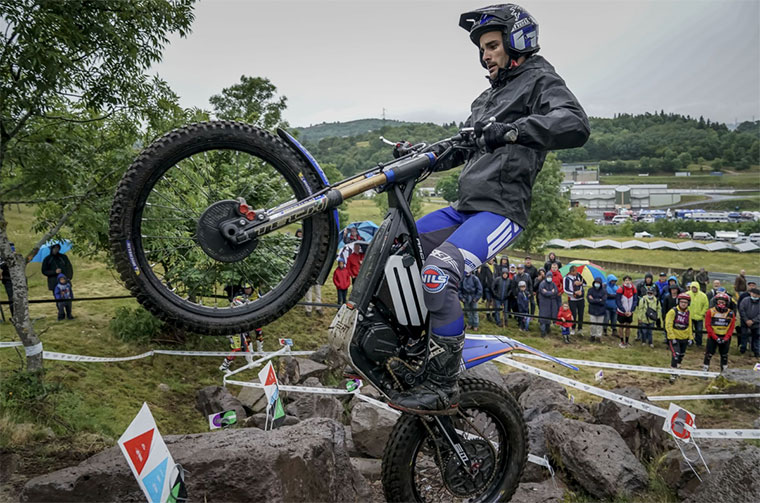 The provisional six-round calendar – featuring nine days of competition – for the 2022 Hertz FIM Trial World Championship has been released.
A major change is that for the first time in the motorcycle competition world, electric motorcycles will be allowed to compete against two-stroke and four-stroke machines in all classes in a ground-breaking move. Because of this there will be no TrialE Cup.
"For the first time in motorsport, electric motorcycles will be competing with the two and four-stroke motorcycles," said FIM President Jorge Viegas. "This is really important, specially to prepare the way for trial to participate as a demonstration sport at the European Games planned to take place in Krakow in 2023."
The series returns to the iconic Twin Ring Motegi circuit, 100 kilometres north of Tokyo, for the first time since 2019. The Japanese TrialGP is anticipated to get the championship under way with two points-scoring days on May 20-22 and will be followed by the Andorran TrialGP high in the Pyrenees at Sant Julia de Loria on June 11-12.
A week later on June 18-19 the world's elite trial riders will head to Lourdes – back on the calendar for the first time since 2017 – for the French TrialGP before they travel north a fortnight later for the Belgian TrialGP at Comblain au Pont on July 2-3.
Another double-header is planned on July 8-10 for the German TrialGP at Neunkirchen close to the border with France. This will be first time the championship has visited Germany since 2016.
The series then signs off following a summer break with a further two scoring days at Ponte di Legno for the Italian TrialGP on September 16-18.
The premier TrialGP class will be in action alongside Trial2 at all six rounds. TrialGP Women riders will compete in Japan, Belgium, Germany and Italy and Trial2 Women riders will fight it out for the title in Belgium, Germany and Italy.
The Trial125 championship for up-and-coming riders will be contested in Andorra, France, Germany and Italy.
A new addition to the calendar for 2022, the FIM Trial Vintage Trophy will be staged at Monza in Italy on September 23-24 over the same weekend as the Trial des Nations which is scheduled for September 24-25.
All dates, events and the attendance of spectators are subject to the evolution of the pandemic and approval of the corresponding governments and authorities.