A win in Pobladura moves Toni Bou closer to a 15th TrialGP title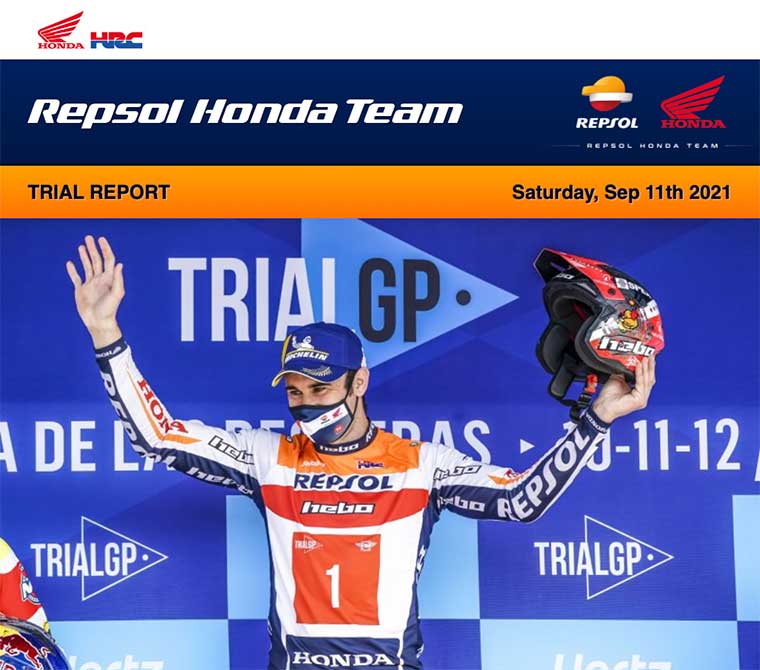 Repsol Honda Team rider Toni Bou rode to a fine victory in Pobladura de las Regueras, León, in the seventh round of the TrialGP World Championship. Team-mate Takahisa Fujinami posted ninth place.
The course of this seventh event of the elite trial competition played out over varied terrain with river areas offering little grip and indoor-style areas featuring logs and stones, with riders having to complete two laps of the twelve-section course.
Repsol Honda Team rider Toni Bou dominated the first of the double-date event in Pobladura de las Regueras with an excellent showing, finishing with a total of sixteen marks, twenty less than the nearest second-placed rider, arch rival Adam Raga. Bou continues to lead the overall TrialGP World Championship standings, currently fourteen points clear of the second-placed adversary.
Japanese rider Takahisa Fujinami has seen better days and struggled to find the right sensations to keep up the necessary pace and, in spite of improving over the second lap, eventually finished in ninth spot. The result sees 'Fujigas' holding fifth in the general world championship standings.
With no time to rest, Repsol Honda Team will go straight on to tackle tomorrow's eighth trial, the penultimate in the world championship at the same venue in the Bierzo region.
Toni Bou  1
TRIAL: 1ST 
OVERALL: 1ST
This is a very important victory for us. I felt good on the bike and I made just a few mistakes. It has been a very complete race because we know that tomorrow it will be trickier to stay ahead, because the second day in Pobladura the differences with the rivals are adjusted and everything ends up being much tighter. It was very important to get the 20 points today to be able to keep the field in check from the rear.
Takahisa Fujinami  3
TRIAL: 9TH 
OVERALL: 5TH
It was a tough trial today, I couldn't do good laps. I made a lot of mistakes that hindered me a lot. I don't feel comfortable on this terrain, I struggled a lot last year too. This time, however, I think I did better, but we still have to improve to get a better finish in the standings. Tomorrow I hope I can ride a good trial.
Miquel Cirera
Team Manager
Today Toni Bou rode a trial with very few mistakes. Everything went pretty well: Toni was able to make the difference and his opponents made more mistakes. We should be happy: the championship is getting better and tomorrow we'll continue to give it everything. On the other hand, Fujinami wasn't in the fight for the podium, he tried in the second lap, but he was too far behind to be able to pull back positions.