We said that the Spanish TrialGP could alter the complexion of the 2021 Hertz FIM Trial World Championship and while Toni Bou (Repsol Honda) ensured that it was business as usual in the premier class, Aniol Gelabert (Beta) stirred things up in Trial2 and Laia Sanz (GASGAS) and Petra Budinova (Sherco) made their presence felt in TrialGP Women and Trial2 Women.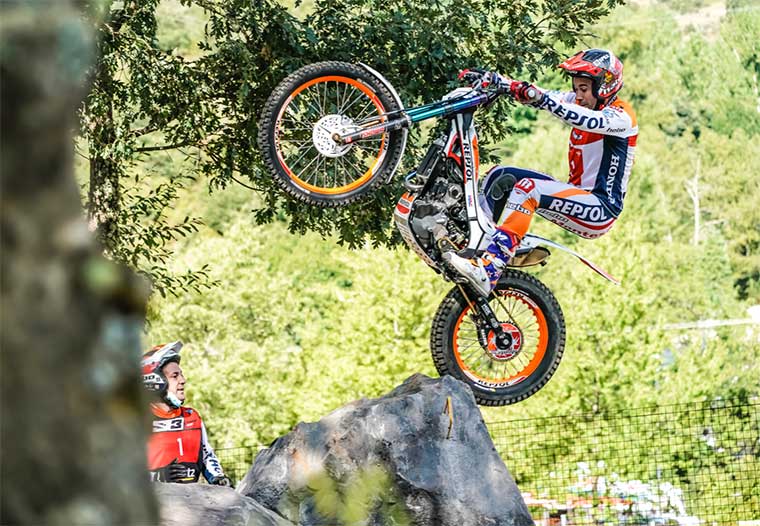 On a warm day in the north west of Spain, 14-time champion Bou demonstrated his dominance with a conclusive win on home turf while his compatriot Gelabert claimed his second win of the season, Sanz moved a step closer to her 14th title and Budinova ended her championship debut on the top step of the podium.
Featuring a mix of man-made and natural sections, the purpose-built Circuito Permanente de Trial venue at Pobladura de las Regueras was tough and persuaded Bou to part with 11 marks on his opening lap of the 12 sections plus an additional time penalty but that still put him 13 clear of his nearest rival Jaime Busto (Vertigo) with Adam Raga (TRRS) another point adrift.
Having tested all the sections once, on his second lap Bou dropped his score to just four to ensure he took his fifth win from seven starts. Raga overhauled Busto to end the day one clear of his fellow Spaniard but 20 behind Bou with Gabriel Marcelli (Montesa) posting his best finish of the season in fourth, comfortably ahead of Italy's Matteo Grattarola (Beta).
"It was very important to win on the first day," said Bou. "I started feeling confident and dropped just four points on the second lap. I'm looking forward to the second day."
TrialGP Women has been a fight all season between Sanz and Emma Bristow (Sherco) from Britain and today the Spaniard seized the initiative with her victory moving her from three points in arrears into a two-point lead as Bristow slipped to third on the day behind Berta Abellan (Vertigo).
"It has been a good day and I've been riding well," said Sanz. "I was struggling on lap two with my physical condition but I'm happy because today has been important for the championship and hopefully tomorrow I will feel good to push harder."
The result – and championship standings – hinged on the final section of the day that comprised a jumble of huge logs. Sanz took a maximum here as did Bristow – who crashed over the handlebars – while Abellan went clean to nail down second.
Norway's Ingveig Hakonsen (TRRS) ended the day a further nine marks behind in fourth before a sizeable gap to Spanish rider Sandra Gomez (TRRS).
The Trial2 title looks sure to be decided between British riders Jack Peace (Sherco) and Toby Martyn (TRRS) but home-turf hero Gelabert took control of the class today. His first-lap score of six gave him a clear lead at the halfway mark and a total of seven on lap two handed him a final winning total of three from Pablo Suarez (Montesa).
Martyn held his nerve to recover from a high-scoring opening lap to take third on a tie-break from Peace with a second-lap score of just four – the lowest of the trial – and extend his series lead with Norway's Sondre Haga (Beta) rounding out the top five.
"I was feeling super-good," said Gelabert. "I've been riding strong and I'm really happy with the result."
Budinova was making her 2021 debut in the series and made an immediate impact. Tying for the lead on 13 after the opening lap with series leader Andrea Sofia Rabino (Beta), the Czech rider went two better than the Italian on lap two to claim the win with Germany's Sophia Ter Jung (TRRS) completing the top three ahead of British riders Alicia Robinson (Beta) and Kaytlyn Adshead (TRRS).
"It's perfect," said Budinova. "I'm so happy to win at my first attempt."
The action from Spain now takes an overnight break before the competition resumes tomorrow with a 9am CET start for the world's best trial riders.
For regular updates and live results check out our social media platforms on Facebook, Twitter and Instagram – just search for TrialGP.
For more information go to TrialGP.com