The Comú d'Andorra la Vella and the main Andorran institutions step up their commitment to the final event of the World Championship season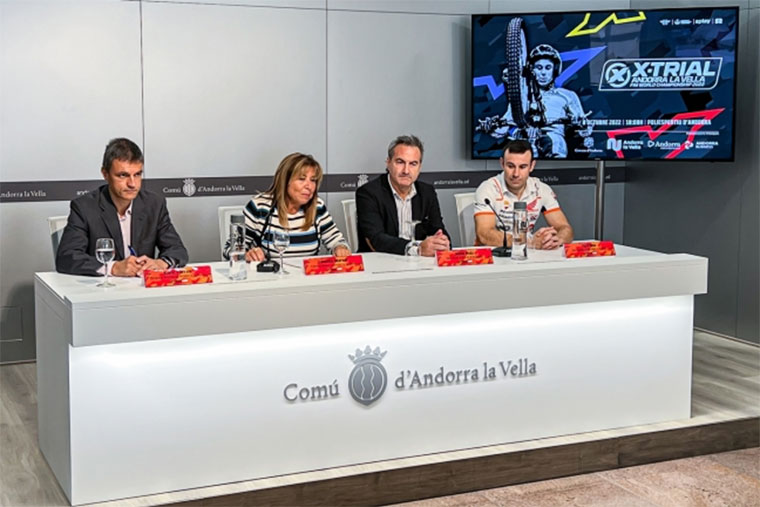 Andorra has always been closely linked to the sport and specifically to X-Trial. The Pyrenees Principality had already hosted events prior to the World Championship's first visit and, since returning to the calendar in 2019, this relationship has only continued to grow. The Consul Mayor of the Andorran capital, Conxita Marsol, explains her support for X-Trial: "The Andorra la Vella Community continues to support this international event; this support is a clear sign of our commitment to motorcycling. Hosting one of the X-Trial World Championship events offers us an excellent external projection while attracting visitors from all over the country. We are also proud crown Toni Bou as World Champion again at his home race."
X-Trial Andorra la Vella, which will be held on 8th October, will have the support of the Comú d'Andorra la Vella, the Ministry of Tourism and Telecommunications, the Ministry of the Presidency, Economy and Enterprise, and the Ministry of Culture and Sport, as the main promoters of the event.
The Andorran government believes the X-Trial Andorra la Vella as an excellent platform to show the country around the world, alongside high-level international sporting events such as the Tour de France, the Ski World Cup, and other elite sporting disciplines.
Andorra Turisme, the body that promotes tourism in the country, has supported the event since the return of X-Trial to the Poliesportiu d'Andorra in 2019. For 2022, Andorra Business has added its support. Andorra Business is the country's economic development agency that believes the event is an attractive platform to promote and attract foreign investment.
Betim Budzaku, the CEO of Andorra Turisme, explains his satisfaction with the visit of the X-Trial World Championship to the country: "We are very happy to host the X-Trial World Championship again and be the place where the World Champion will be crowned. This is a well-established event in the country that puts Andorra on the map for top-level international sporting competitions. We hope that many X-Trial fans will come to our country to experience the excitement of this great event".
The Andorran Minister of Presidency, Economy and Enterprise, Jordi Gallardo, assesses the economic and media impact of the event: "We are very pleased to host the FIM X-Trial World Championship for the third time. Not only because of the fact that it will once again bring the 8 best riders in the world to the country, including the 16-time World Champion and Andorra resident Toni Bou, but also because of the economic and media impact of this event that will be broadcasted in more than 90 countries and will show, once again, the excellence of Andorra as an organiser of sporting events of the highest level".
Under the direction of the Andorran Motorcycle Federation and 2 Play Events, as organizers and promoters of the event, X-Trial Andorra la Vella provides a great opportunity not only for Andorran fans but also those who come from France, Spain and further afield to enjoy a spectacular weekend experiencing the X-Trial show and visiting the country on 8th October.
Remember that you can still buy your ticket for X-Trial Andorra la Vella at www.sporticket.es or follow it live at www.x-trial.tv