Toni Bou: "Andorra la Vella will be a party and I want to be the protagonist"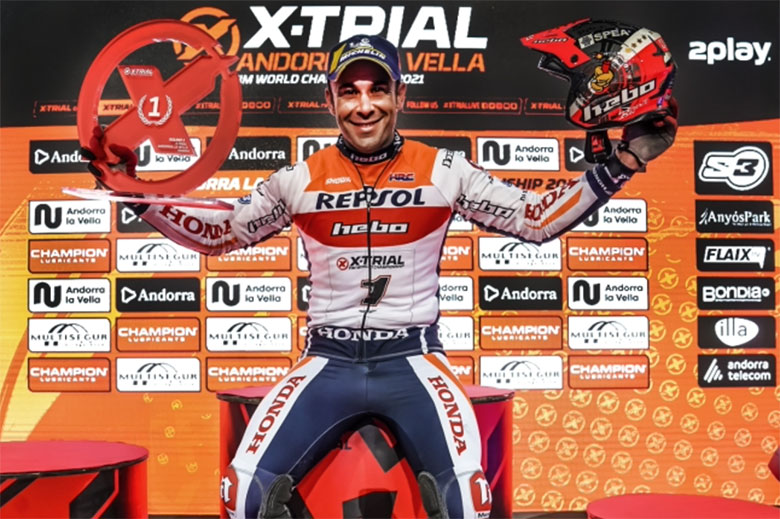 For the X-Trial World Champion, Toni Bou (Repsol Honda Team Trial), the Andorra la Vella event is always a special one because he lives there and is also training there and working in a different activities related to this discipline and also offers him the opportunity to compete in front of his friends and family.
Now, Bou arrives at the final round of the season with the 16th title of World Champion in his pocket after having won all the events on the calendar and he has a very clear goal, to be the protagonist at the Poliesportiu d'Andorra. "Competing in Andorra la Vella means do it at home, with my people around me – explains Bou – This is a special circumstance because motivates me even more to achieve the win and I want to do it in the most spectacular and effective way possible to make everyone enjoy the competition. Friends, family and all the fans will come to see us. I am convinced that the Andorra la Vella X-Trial will be a party and I want to be the protagonist of it".
Bou won all the 2022 races so far and, in addition, in Nice, Madrid and Barcelona, ??he added the additional points for being the best in the first two rounds of each of the events. Despite this and regardless of what the classification shows, the World Champion highlights the difficulty of his new World Championship success: "It's true that seeing the stndings of each event you can think that there have been no difficulties to continue adding wins and a new world title, but the reality is totally different because in each one of them, my opponents forced me to do my best, and, frequently, the gap of points have been minimal and have reflected the competitiveness and difficulty of the Championship".
Having a new title in his pocket, everyone can think that the Spaniard reaches the final race of the year more relaxed and without the same pressure of the other events, but nothing could be further from the truth: "Winning, improving myself day by day. This is the motivation that drives me since I started competing. My successes are the product of daily work and effort. It's getting more and more difficult and continue winning is only possible with maximum tension and motivation. It's not only about what the results and world titles show."
For all these reasons, Toni Bou does not contemplate any other objective in Andorra la Vella other than that of victory in a scenario that he feels is his own.
Do not stay without a ticket! Get it at www.sporticket.es