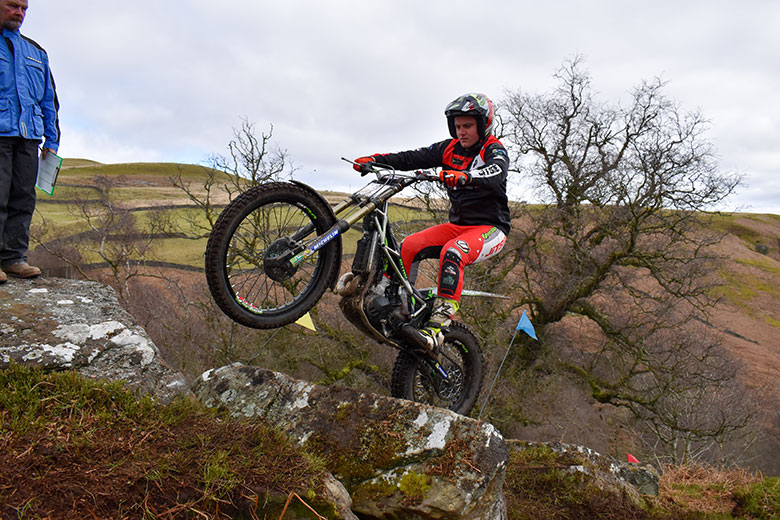 On Sunday 19th March, Richmond Motor Club held the Andrew Allison Memorial Trial at Telfit, near Marske. Despite the slightly warmer weather conditions, some riders struggled with the 3 laps of 12 sections and mounted up large scores. Richard Sadler (Vertigo), however, proved the sections were no match for him and only lost 8 marks, winning the trial overall. Dan Thorpe (GASGAS) was not too far behind on 11 marks lost, and Jack Stones (Vertigo) placed a respectable third with 25 marks lost.
On the Clubman A (Green) Course, Alistair Dalton (Beta) came in first place on 43 marks lost, closely followed by Darren Gill (Vertigo) on 45 marks lost. Chloe Richardson (Beta) showed the lads how it was done, coming in third place after dropping 48 marks.
For the Youths on the Green Course, it was Arran Sherwin (Beta) who took the lead, losing 69 marks. Jack Vasey (Beta) followed on 76 marks lost, and George Hird (Sherco) finished in third place with 98 marks lost.
Paul Dennis (BSA) demonstrated the twinshock power, winning the Clubman B course overall on 34 marks lost, but Adrian Harrison (TRRS) was just behind him with 35 marks lost, also putting him in the top spot in the Over 40s Class. Paul Sadler (Vertigo) came in third with 46 marks, and second in the Over 40s. Tony Holmes (Beta) was third in the class, finishing with 47 marks.
Cousins John Stubbs and Will Allison (both on Montesa) battled it out for the top spot in the Clubman Class, both finishing with 52 marks lost. Spencer Bell (Vertigo) finished third in the class, with 55 marks lost.
Despite the high scores, the youths did well and had an enjoyable day. Harvey Rutter (Sherco) won the Youth A Class on 85 marks lost, followed by Bobbie Pulman (Beta) on 89 marks. Young Koby Smith (Beta) did exceptionally well, losing just 67 marks and placing first in the Youth B Class, with Will Lishman (Beta) and Alfie Astwood (Beta) finishing with 104 and 130 marks respectively.
As always, Richmond Motor Club would like to thank the landowners, observers, Clerk of Course and helpers, Secretary, caterers and everybody else involved in the running of the trial. A particular thanks to those who spent their Mother's Day helping at the trial!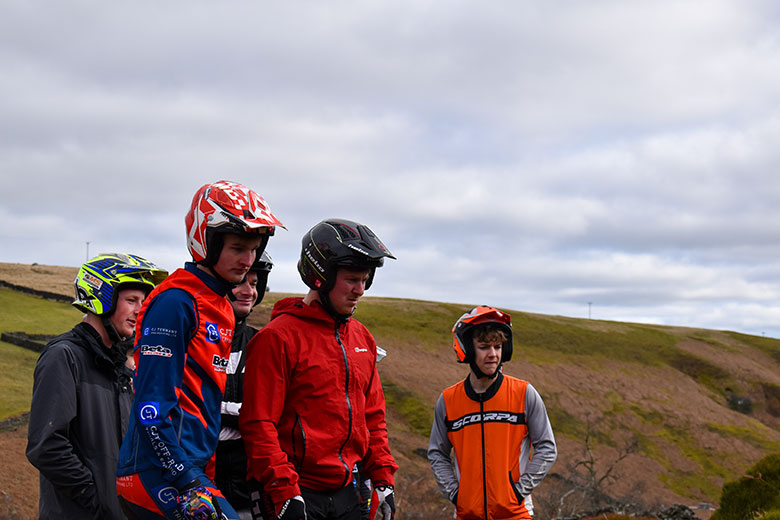 Results
Overall: 1. Richard Sadler (Vertigo) 8, 2. Dan Thorpe (GASGAS) 11, 3. Jack Stones (Vertigo) 25
Hard Course:
Expert: 1. Richard Sadler (Vertigo) 8, 2. Dan Thorpe (GASGAS) 11, 3. Elliott Laws (Scorpa) 44
Intermediate: 1. Jack Stones (Vertigo) 25, 2. Tom Housecroft (Vertigo) 45, 3. Tom Middleton (Vertigo) 46
Novice: 1. Richard Fraser (Sherco) 55, 2. Ryan Brown (Beta) 72, 3. Daniel Smith (Vertigo) 77
Youth A Hard: 1. Harry Blackwell (Beta) 77, 2. Callum Fowler (Beta) 87, 3. Josh McParland (Beta) 87
Clubman A (Green):
Adult Green: 1. Alistair Dalton (Beta) 43, 2. Darren Gill (Vertigo) 45, 3. Chloe Richardson (Beta) 48
Youth Green: 1. Arran Sherwin (Beta) 69, 2. Jack Vasey (Beta) 76, 3. George Hird (Sherco) 98
Clubman B:
Overall: 1. Paul Dennis (BSA) 34, 2. Adrian Harrison (TRRS) 35, 3. Paul Sadler (Vertigo) 46
Clubman: 1. John Stubbs (Montesa) 52, 2. Will Allison (Montesa) 52, 3. Spencer Bell (Vertigo) 55
Over 40s: 1. Adrian Harrison (TRRS) 35, 2. Paul Sadler (Vertigo) 46, 3. Tony Holmes (Beta) 47
Twinshock: 1. Paul Dennis (BSA) 34
Youth A: 1. Harvey Rutter (Sherco) 85, 2. Bobbie Pulman (Beta) 89
Youth B: 1. Koby Smith (Beta) 67, 2. Will Lishman (Beta) 104, 3. Alfie Astwood (Beta) 130
Charlotte Brown
Richmond Motor Club Social Media Editor & Media Reporter