The clock is counting down, the riders and teams are putting the final touches to their preparations and we are just a week away from the first round of the 2022 Hertz FIM Trial World Championship!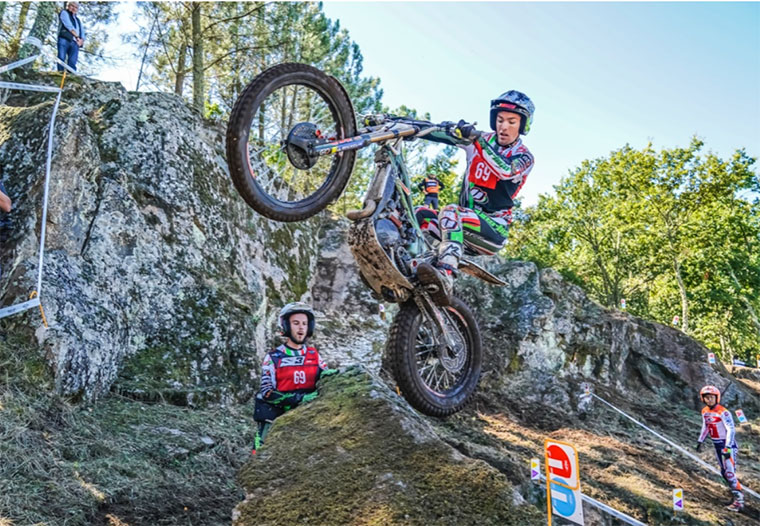 This year the championship encompasses 10 points-paying days in six different countries, making it the most extensive series we have seen since pre-pandemic days. In fact, the last time the calendar was as big was in 2017 so it is safe to say that the FIM Hertz Trial World Championship is firing on all cylinders – or fully-charged if you're a fan of electric motorcycles!
The opening salvos will be fired over the weekend of June 10-12 at the TrialGP of Spain, staged at L'Hospitalet de L'Infant, with two scoring rounds on the rocky Mediterranean shores of Tarragona just south of Barcelona.
An iconic venue last visited by the series in 2015, trial fans will be able to take in the live action up close and personal from the comfort of their very own pedalos – how many other motorsports can offer such amazing ringside seats?
The TrialGP of Spain will see the TrialGP, TrialGP Women, Trial2 and new Trial3 class battling it out for world domination.
The main man – número uno – in the premier TrialGP class is, of course, 36-year-old Toni Bou (Montesa). The Spanish superstar has won the title every year since 2007 and is currently unbeaten in the indoor FIM X-Trial World Championship this season so we know he is on form.
His main opposition is most likely to come from compatriot Adam Raga (TRRS). The 40-year-old Catalan was world champion in 2005 and 2006 and has been runner-up every year since. Raga is currently second in the X-Trial standings but there are some young guns nipping at his heels!
Last year's Trial2 world champion Toby Martyn (TRRS) is going toe-to-toe with 2019 Trial2 kingpin Gabriel Marcelli (Montesa) and both are genuine podium threats.
British champion Martyn is a TrialGP rookie but has already scored an X-Trial podium this year and Spain's Marcelli has also been on the box indoors in 2022 to add to his top-three finish outdoors at his home round in 2020.
Spain's Jaime Busto (Vertigo) is another prodigious talent. At the tender age of 24 he is already a three-time FIM bronze medal winner and will be aiming to add to his total of 20 podium finishes and one win.
Spanish riders have dominated the TrialGP top-three for the past two seasons but Italy's Matteo Grattarola (Beta) finished a close fourth last year with three podium finishes following his return to the premier class after winning his second Trial2 crown in 2020.
A comfortable third in the FIM X-Trial standings ahead of Busto, at the age of 34 Grattarola is maturing like a fine Chianti.
There is a big question mark hanging over the TrialGP Women class. We're still waiting for an official entry from last year's champion Laia Sanz (GASGAS) but, even if the sublime Spaniard doesn't compete this time around, it is still an incredibly competitive class.
Prior to 14-time champion Sanz's return to the series last season after she switched her focus to enduro and rally disciplines, the class was dominated by Emma Bristow (Sherco) who won seven titles in a row.
Bristow's looking for title number eight in 2022 but, regardless of Sanz who she would dearly like to beat, the British rider faces stiff opposition from her long-time Spanish rival Berta Abellan (Scorpa) who has switched teams for 2022.
Factor in confirmed entries from France's Naomi Monnier (GASGAS) – world Trial2 Women champion in 2020 – as well as Italy's reigning Trial2 Women champion Andrea Rabino (Beta) and other ambitious rivals including Germany's Vivian Wachs (TRRS), American Maddie Hoover (GASGAS) and British class newcomer Alicia Robinson (Beta) and it is a truly international category.
With Martyn graduating to TrialGP, the Trial2 title is there for the taking with 38 confirmed riders lining up for a shot.
With so much young talent about to lock horns it is too early to pick a possible winner but Jack Peace (Sherco) – who pushed Martyn all the way last year – will surely fancy his chances, as will 2017 Trial125 champion Lorenzo Gandola (Beta) from Italy and Norwegian Sondre Haga (Beta).
With electric motorcycles now competing alongside conventional combustion-engined machines across all classes, the world's trial media will be paying particularly close attention to the fortunes of 26-year-old Frenchman Gael Chatagno (Electric Motion) who won the now defunct TrialE title last year and this time around will be aiming to produce electrifying results in Trial2.
For 2022 the new Trial3 class – formerly Trial125 – features a healthy entry led by last year's runner-up Harry Hemingway (Beta).
The young British rider won one round last year and will be aiming to add more victories to his CV this season but he will have to fight for them with rivals including David Fabian (Beta) from the Czech Republic, Andorra's Gaudi Vall (Sherco) and even his cousin Alfie Lampkin (Vertigo) – son of the legendary seven-time TrialGP champion Dougie – all lining up to knock him down!
The action in Spain kicks off at noon on June 10 with official practice before the first of two points-paying days gets under way the following day.
For regular updates check out our social media platforms on Facebook, Twitter and Instagram – just search for TrialGP.