The reigning World Champion claimed the inaugural X-Trial Pamplona, his second win of the 2023 season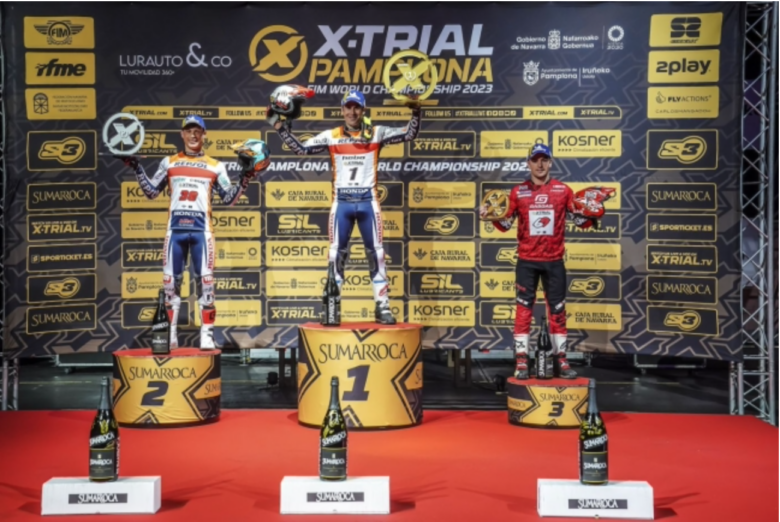 Toni Bou (Repsol Honda Trial Team) got back to winning ways as X-Trial made its first visit to Spanish region Navarra, claiming X-Trial Pamplona with an exceptional ride in the Grand Final.
Bou, defeated a fortnight earlier at Wiener Neustadt, responded perfectly in front of a near capacity crowd at the Navarra Arena. Despite the disadvantageous first starting position as a result of defeats in the opening two Rounds of the night, Bou completed his six-section performance with just three marks against his name, ultimately enough for a nine-mark advantage over his nearest rivals.
By the Final's half-way stage, Gabriel Marcelli (Repsol Honda Trial Team) and Jaime Busto (Gas Gas) had already suffered their first failures while Bou was still clean, leaving his rivals to scrap for second. A crucial failure for Busto in Section Five gave Marcelli the verdict, the X-Trial following a similar pattern to the season opener in Barcelona, with Busto claiming the first bonus point of the night only to then undo his hard work with a late error in the Final. Busto's third place finish means Toni Bou extends his series lead from five to twelve points.
Meanwhile Marcelli's runner-up result sees him move ten clear of Adam Raga (TRRS) who for the second time this season missed out on a podium place. Failures in Section Four in each of the opening two Rounds ultimately left him seven marks from qualification to the Final. Further back, Toby Martyn (Montesa) held on well under pressure for fifth place ahead of Wild Card Aniol Gelabert (Beta) by just a single mark.
The bottom three were cut some way adrift of the rest; Sondre Haga (GasGas) taking seventh after a strong second run, Benoit Bincaz (Sherco) avoiding the basement position by finishing his night with three consecutive cleans, and Matteo Grattarola (Vertigo) relegated to last place for the second time this season with six failures in ten sections.
Bou (1st): "I am very satisfied with this win and how things have gone because, after two very close and demanding Rounds, I made an important step forward in the Final. The three consecutive cleans and particularly Section Three determined this result. Winning again and doing so at a new venue is great news."
Marcelli (2nd): "Today's second place is really important because it means getting back on the podium and getting closer to top spot. I was particularly pleased to win Round Two with a perfect score. But consistency in the top three is the main thing."
Busto (3rd): "I am happy with how I rode in the first two Rounds but not really satisfied with the eventual result. I made a couple of mistakes in the Final that limited my options. But anyway, remaining on the podium and this close to home is very pleasing."
The X-Trial World Championship next heads to France for X-Trial Bordeaux on 7th April