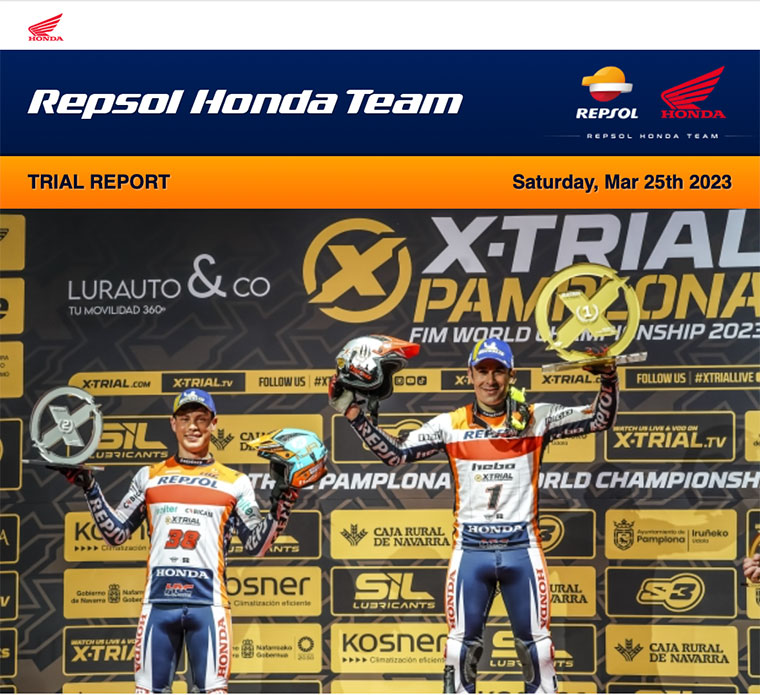 Toni Bou gets his second win of the season in the X-Trial Championship and Gabriel Marcelli places second
The Repsol Honda Trial Team took a one-two finish in the first ever X-Trial World Championship round held in Pamplona. Toni Bou achieved his second victory of the season at the third round of the year, consolidating his lead in the overall standings. His teammate, Gabriel Marcelli, was second after a great performance at the Navarra Arena.
The first lap was very tight, and Bou was second, going through the five zones with a total of 3 points. Marcelli picked up 4 penalty points. On the next lap, both Repsol Honda Trial Team riders qualified for the final, placing inside the Top 3. Marcelli led this second round with Bou third.
In the final round, over 6 zones, Bou earned his second victory, remaining leader of the standings. Marcelli finished second and cut points in the championship thanks to an extra point in the second round by taking first place. The Galician rider is third overall, just six points behind the second-placed rider.
The next challenge will be on April 7 in Bordeaux (France), the fourth round of the year and the last before the mid-season break.
Toni Bou 1
CHAMPIONSHIP: 1ST
"It was a tough night mentally, as everything was very tight. In the final I performed at my best and I am very happy. The other riders pushed me and it's a victory that means a lot. I knew that in the final we had to start very strong, pushing from the beginning, and that is what we tried to do; We were aggressive and it worked out very well. I'm also very happy to be racing in a new city, in front of passionate fans, and I am happy to add a new venue to my record with a victory."
Gabriel Marcelli 38
CHAMPIONSHIP: 3RD
"I was very consistent throughout the night and I'm very happy with the job we have done. We have met our objectives and I felt very good throughout the race. We took a second place, which means a good number of points for the championship, and it's fantastic. Right now we are third overall and closing the gap. The objective for the next race will be to fight for the win."
Takahisa Fujinami
Team Manager
"We already showed the potential of the team in Barcelona with a one-two, and we have done it again. Both riders were under a lot of pressure to get this result and they have shown that they are very strong this year. After Austria they have worked a lot and have achieved a great result. Congratulations to the whole team, who have worked very hard and have taken first and second position. Our objective is to consolidate ourselves as leaders of the overall standings and try to repeat results at the coming races after this great start to the season."