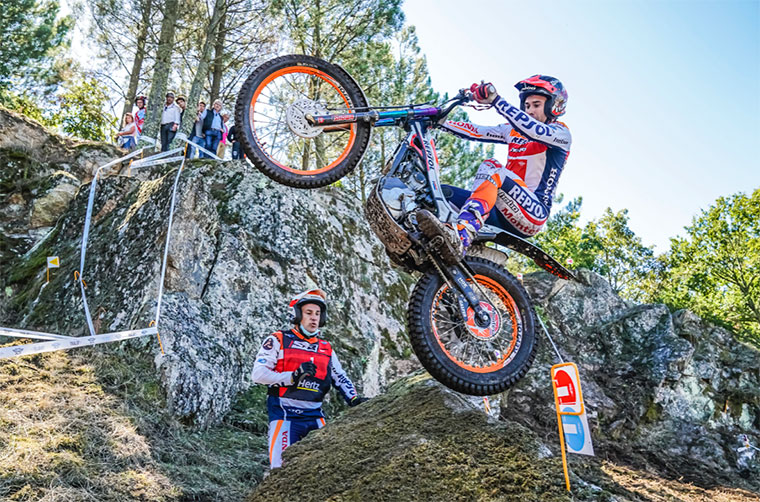 Unquestionably the greatest trial rider of all time, sublime Spaniard Toni Bou (Montesa) claimed his 15th consecutive Hertz FIM Trial World Championship title this season following another dominant display.
The 34-year-old Catalan king, who now calls the tiny Pyrenean principality of Andorra home, scored seven TrialGP victories this season out of a possible nine to take his all-time win record to an incredible 125 – and that's despite breaking his leg in a training accident less than a month before the start of the championship.
Bou's title-winning legacy stretches all the way back to 2007 and he has proved to be the rider to be reckoned with ever since that first championship, notching up 167 podium finishes along the way.
"This year has been very special for me because at the beginning things were very complicated with the injury just a month before the start of the championship," said Bou. "In the end there will come a year when I will not be able to win – I've won for 15 consecutive years – but the fact that I got injured just before the start of the world championship made it special and I didn't want to lose a championship in this way."
Kicking off the season with a win on the opening day of competition at the Italian TrialGP at Tolmezzo in mid-June, he slipped to second the following day behind his veteran Japanese team-mate Takahisa Fujinami.
Back on top the following month at Charade in France, Bou then won on the opening day in Andorra in late August but had to be content with third on day two behind his compatriots Adam Raga (TRRS) and Jaime Busto (Vertigo).
As we've seen so many times before, when the pressure is on Bou's ability to soak it up and rise to the occasion is unparalleled. If onlookers thought he might be wavering after day two in Andorra he showed everyone who's boss and reeled off victories at Cahors in France and on both days at Pobladura de las Regueras in Spain before putting the championship beyond reach with victory at the Portuguese TrialGP at Gouveia.
It was a commanding end to a hard-fought season that saw him come out on top by 22 points from Raga with third-placed Busto a further 28 behind.
"Once again we battled 100 per cent," said Bou. "I tried to get into shape as the championship progressed and the fact that I had a very good work rate before I got injured also helped me to recover faster. I am very happy to be able to win another world championship."
Bou is quick to credit his team as providing the foundations for his success over the years.
"There are some people who work really hard and very professionally. With so many titles over all these years it is difficult to improve but we all work to do it. I am very happy to be in the best team in the world."
However, while teamwork undoubtedly helps to make the dream work, at its heart trial is an individual sport and it's Bou's unquenchable desire that is the magic ingredient which drives him forwards.
"Whenever I ride, I do it to win," he adds. "Look, when I was a kid I just wanted to be a world champion. Once I got it I kept fighting to get more. And so I'm continuing. As I always say, I will enjoy what I have and work every day to try to improve because this is our way of working."
For regular updates check out our social media platforms on Facebook, Twitter and Instagram – just search for TrialGP.