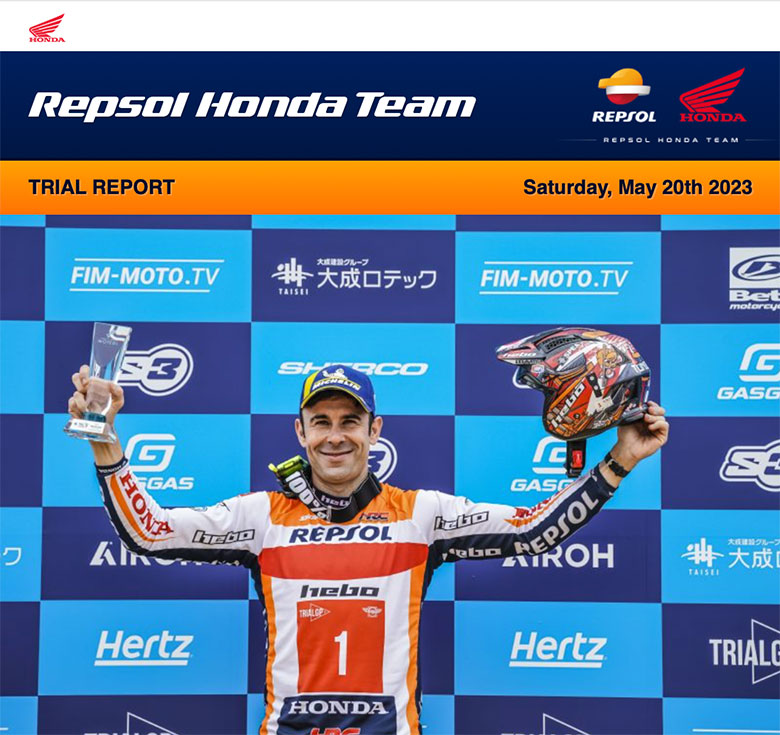 The reigning champion becomes outright leader of the TrialGP World Championship whilst his teammate remains third in the standings.
After three years off the calendar, the legendary Motegi circuit in Japan hosts the third round of the TrialGP World Championship this weekend. Heavy rain the day before made a lack of grip a key factor on Friday, but the Repsol Honda Trial Team riders achieved good results after an intense fight with their rivals.
The third round of the season started in the best possible way for Toni Bou, with another victory. Despite the positive final result, round one at Motegi was not easy one for the Repsol Honda Trial Team rider, who finished the first lap in third place. This result made him risk more on the second lap to try to take the win, and the gamble paid off as he navigated the decisive final sections expertly.
It was also a positive day for Gabriel Marcelli. Although he made some mistakes on the first lap that dropped him to fourth place, on the second time around, Marcelli was able to improve his results compared to the previous lap, fighting for third. He eventually took fourth.
After the results of the first round of the Japanese TrialGP, the Repsol Honda Trial Team riders remain at the top of the overall standings. Bou is outright leader and Marcelli retains third place.
On Sunday the second round of the Japanese event will be held at 9am local time.
Toni Bou 1
CHAMPIONSHIP: 1ST
"I'm very happy with today's result. This race is always special because it is the home of Honda and winning in Japan is very important to us. This victory is also important because of how the championship had been going; now we have some a lead so we are very happy. It was a difficult race. The sections were difficult and we almost failed a few on the first lap. On the second lap the areas dried up a bit and the level of difficulty dropped considerably. For tomorrow's race I imagine that some zones will change because more rain is not expected."
Gabriel Marcelli 38
CHAMPIONSHIP: 3RD
"Things didn't go as I would have liked today. We finished fourth on a somewhat difficult day that was affected by the rain yesterday. The wet is perhaps not the best for me and we picked up a few more points on the first lap. On the second lap the zones dried up a bit and we did better. Tomorrow the sections are sure to be much easier, but I think that, despite the results today, the sections with a higher level favour my riding style. Fourth place is positive for the championship. Tomorrow we will have to be careful, not make mistakes and go for the podium".
Takahisa Fujinami
Team Manager
"Today the riders probably had a little more pressure because, with this being Honda's home, they wanted to get a great result. I am very happy with the first place for Toni and also with the result for Gabri, who fought for the podium. Some areas will most probably change tomorrow, but Toni has taken some of the pressure off himself with today's victory and will have a bit of an advantage; Gabri will have another opportunity to get a great result tomorrow."