In a dramatic finish to day two of the Taisei Rotec TrialGP of Japan – round three of the 2023 Hertz FIM Trial World Championship – Jaime Busto (GASGAS) struck back at the Mobility Resort Motegi to tie the lead in the TrialGP points standings while reigning champion Emma Bristow (Sherco) extended her advantage in TrialGP Women.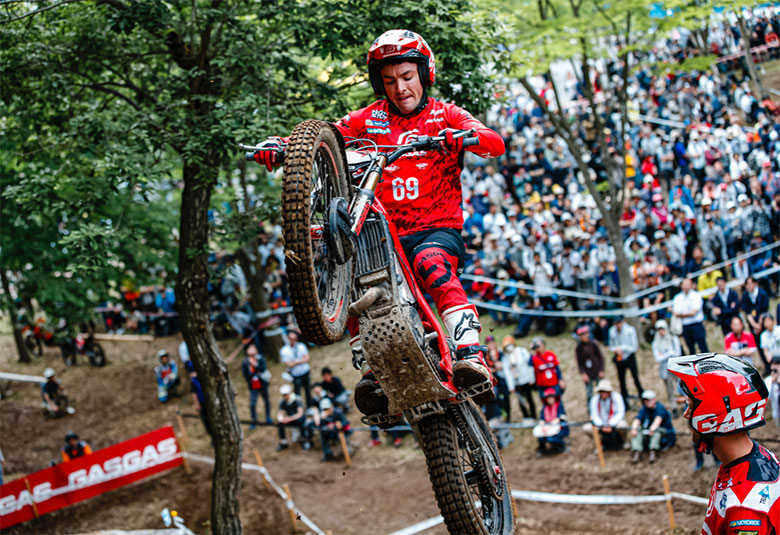 Jaime Busto takes TrialGP win on a tie-break
Defending TrialGP Women champion Emma Bristow pulls clear
Arnau Farre completes his Japanese double victory in Trial2
In scenes straight out of a Hollywood blockbuster, the win went down to the very last section of the Trial after Busto – who had led all day – almost threw it away with maximums in the final two hazards. Toni Bou (Montesa) was handed a lifeline, but a single mark in section twelve left the Spaniards tied at the top and the victory went to Busto who completed the course just thirty seconds faster than the defending champion.

"The TrialGP of Japan was just incredible for me," said Busto. "Yesterday I was fighting with Toni all day, but in the end I made some silly mistakes which cost me the race. Today I started with a clear mind and I led the whole day."

With conditions much better than on Saturday, the sections were stiffened up for all three classes, but with the ground much drier scores were lower across the board.

Busto, who the previous day could only watch as Bou put on a masterclass to open up a three-point championship advantage, looked like a rider at one with his machine on the steep bankings and imposing boulders. He still parted with twenty-two on his opening lap – collecting four maximums in the process – but that was good enough to give him a three-mark advantage over Bou at the halfway stage after the sixteen-time champion picked up a five on section eleven for stopping.

Lap two was a different story and the twenty-six-year-old completed the first ten sections for the loss of just a single mark as Bou slipped six further behind.

In the final two sections nerves appeared to get the better of the younger man and he added another ten marks to his score. Bou made no mistakes in section eleven this time around which meant a clean on section twelve would give him the win by a single mark, but a stray dab left the pair all square on thirty-three and Busto got the decision on a tie-break due to his faster time over the two laps.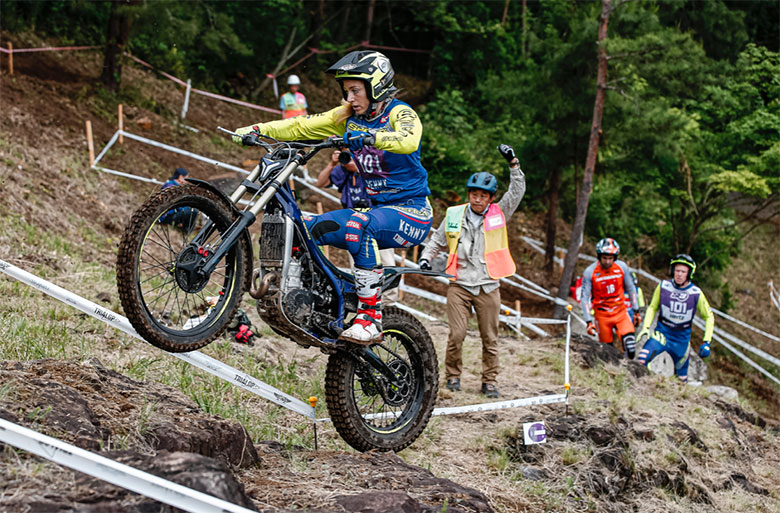 Former champion Adam Raga (TRRS) continued his return to form with third for the second consecutive day and he could not disguise the joy on his face which was livestreamed across the world on FIM-MOTO-TV. His total of forty-seven was two ahead of Gabriel Marcelli (Montesa) and as a result the pair are now tied on points for third in the championship.

Jorge Casales (Scorpa) made it four different manufacturers in the top-five with his total of sixty-four ensuring he matched his best finish of the season.

Bristow is looking for her ninth TrialGP Women title in ten years and she completed her sweep of the top step of the Japanese podium, but it was a tense day for the British rider.

Spain's Berta Abellan (Scorpa) had struggled on Saturday to match Bristow's form, but she was much closer today and after lap one the leading ladies were locked together of nine marks each.

With nerves jangling on lap two, Bristow showed the cool confidence that has seen her dominate for much of the last decade and a clean on the final section gave her a score of three for a two-mark victory ahead of Abellan.

"We knew when it was drying out that the sections would ride a lot easier," said Bristow. "So it was tight, but I'm really happy to win today and two wins here in Japan feels amazing."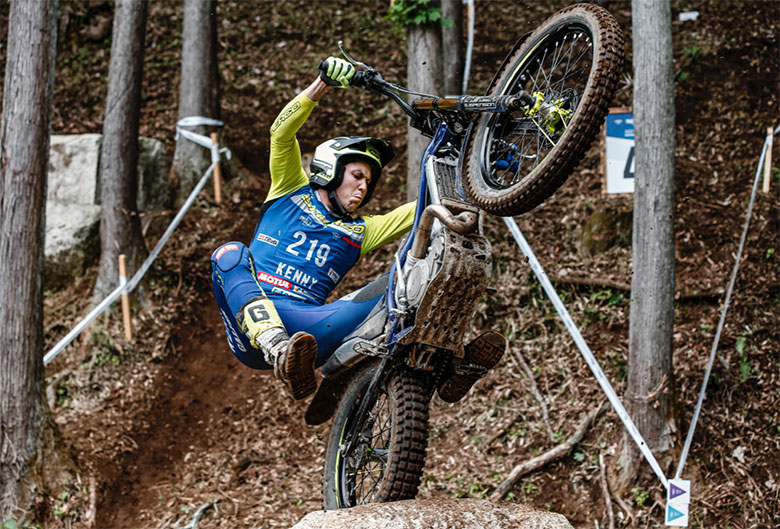 Italy's Andrea Sofia Rabino (Beta) had her worst day of the season so far yesterday in sixth, but she was back on the podium today with her total of twenty-eight earning her third on a tie-break with Naomi Monnier (GASGAS) of France to make it four marques filling the top four positions. Britain's Alice Minta (Scorpa) was clearly disappointed to slip two places from Saturday to fifth on thirty-six.

In Trial2 it was Spain's Arnau Farre (Sherco) who emerged as winner for the second day in a row. The twenty-four-year-old led on four at the halfway stage and fought off strong challenges on lap two from British riders Billy Green (Scorpa) and Jack Peace (Sherco) to take victory on a tie-break from Green.

"I'm so, so happy," said Farre. "The first lap was very good. I made some mistakes on the second lap, but finally I took another win. The team have been behind me and the bike was so powerful."

Having moved into the series lead after yesterday's trial, Peace had the win in his sights until the final section of lap two when a maximum dropped him from first to third on a total of nineteen and handed the championship advantage back to Green as Farre climbed to third in the standings.

Home hero Kenichi Kuroyama piloted the new electric Yamaha TY-E2.1 to a sensational fourth, just three marks away from the podium and one ahead of France's Hugo Dufrese (GASGAS) who made it four different manufacturers in the top-five.

The action now returns to Europe for the TrialGP of San Marino on 9-11 June when it will be streamed LIVE on FIM-MOTO.TV.

The cost is for €7.99 for full weekend coverage or €34.99 for the entire season, including the FIM Trial des Nations.