2-1 SCORES KEEP SPANIARD ON COURSE FOR TRIALGP GLORY
GASGAS Factory Racing's Jaime Busto maintained his lead in the 2023 FIM Trial World Championship with two forceful rides at round three of the series – the TrialGP of Japan – at the Mobility Resort Motegi. Finishing second on Saturday behind defending champion Toni Bou, Busto started Sunday strongly and survived a late scare to claim his third day win of the season.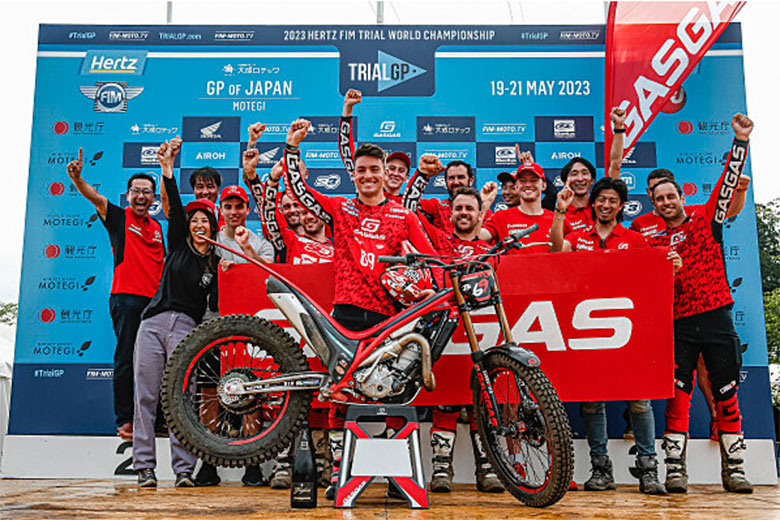 Jaime Busto shines in the Land of the Rising Sun
Never-say-die attitude earns silky-smooth Spaniard win number three
Sondre Haga determined to fight back after tough weekend
With torrential rain the day before the TrialGP of Japan reducing the soil on the steep bankings to a sea of mud, grip was in short supply on the opening lap, but Busto demonstrated his mastery of the tough conditions and led by three marks at the halfway point on a total of 36.
On lap two the 26-year-old made a number of frustrating mistakes which cost him the lead, but he remained in contention until the final three sections of the trial and finished a strong second.
Day two was much drier and Busto set the standard from the first section, completing lap one on a score of 22 which gave him a three-mark advantage before he put on a masterclass in the afternoon.
Heading into the final two sections of the trial having added just a single extra mark to his total on his second lap, he then incurred a pair of maximums which left victory in the balance, but he claimed his third win of the season on a tie-break after completing the course in a faster time and will travel to San Marino next month with the joint lead in the championship.
It was a disappointing weekend for defending Trial2 champion Sondre Haga who struggled to make his presence felt. Finishing ninth on the opening day, just four marks away from a top-five finish, the young Norwegian then slipped to 15th on Sunday on a relatively low-scoring day when the slightest mistake proved expensive.
Jaime Busto: "The TrialGP of Japan was incredible for me. I rode really well both days. Yesterday I was fighting with Toni all day but in the end, I made some silly mistakes which cost me the race. Today I started with a clear mind, focused from the first section on and I led the whole day. I had Toni behind and it's just a pity on the last two sections I had two fives which nearly cost me the race but in the end I got the win so I couldn't be happier. I've scored some really good points for the championship, and we hope to continue like this for the rest of the season."
Sondre Haga: "No doubt it was a really disappointing weekend. To be here wanting to fight for the championship and almost ruining it is horrible for me. So not a good feeling but there are still many races left and we need to try to come back stronger than ever. On Saturday I made some mistakes and took out some flags which was unfortunate."
Results: TrialGP of Japan
TrialGP – day 1
1. Toni Bou (Montesa) 46
2. Jaime Busto (GASGAS) 59
3. Gabriel Marcelli (Montesa) 66
Trial2 – day 1
1. Arnau Farre (Sherco) 36
2. Jack Peace (Sherco) 44
3. Pablo Suarez (Montesa) 50
9. Sondre Haga (GASGAS) 65
14. Jack Dance (GASGAS) 71
TrialGP – day 2
1. Jaime Busto (GASGAS) 33
2. Toni Bou (Montesa) 33
3. Adam Raga (TRRS) 47
Trial2 – day 2
1. Arnau Farre (Sherco) 18
2. Billy Green (Scorpa) 18
3. Jack Peace (Sherco) 19
8. Jack Dance (GASGAS) 31
15. Sondre Haga (GASGAS) 36
Championship standings (after round 3)
TrialGP
1. Jaime Busto (GASGAS) 111
2. Toni Bou (Montesa) 111
3. Adam Raga (TRRS) 84
Trial2
1. Billy Green (Scorpa) 98
2. Jack Peace (Sherco) 96
3. Pablo Suarez (Montesa) 84
5. Sondre Haga (GASGAS) 60
12. Jack Dance (GASGAS) 25