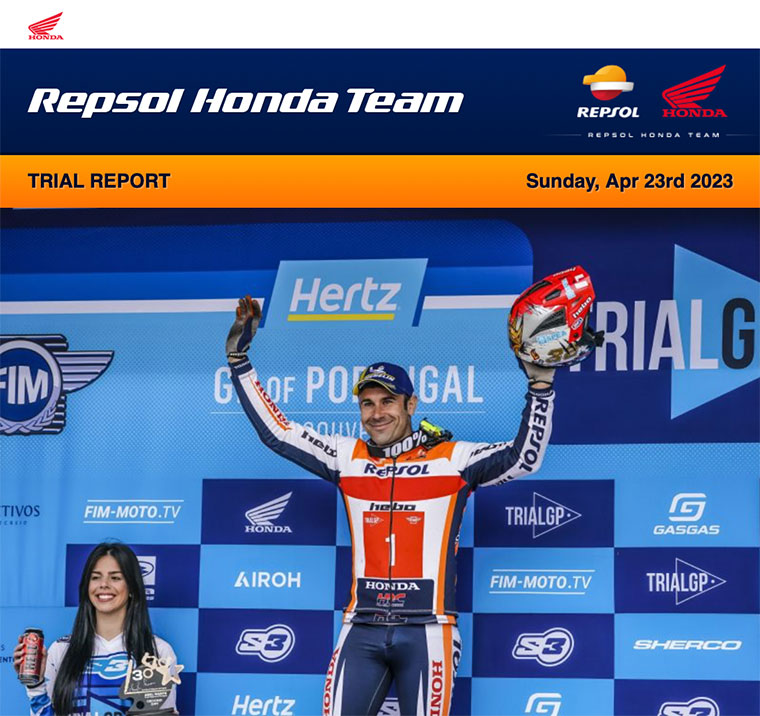 The reigning TrialGP World Champion earns second place and his teammate completes the podium in Gouveia
The demanding river sections and a lack of grip had a big impact on the second day of the TriaGP round in Portugal. The Repsol Honda Trial Team riders once again demonstrated their great potential during the different areas during what was a dry day in terms of rainfall.
Toni Bou started the first lap with the same solidity as on Saturday. Top of the standings after the 12 zones, with 7 penalty points, that set him up for the second lap, in which he made some mistakes to place second, one point off the win. The reigning champion of the outdoor discipline is joint leader of the series, alongside Jaime Busto on 74 points.
Gabriel Marcelli began the first lap correcting the mistakes made on the first day and fighting for the podium positions. After some more demanding final sections, the Repsol Honda Trial Team rider was placed joint second, whilst by the end of the second lap he was in third place, repeating the podium he had taken the previous day in Portugal. He is third in the series with 58 points.
The Repsol Honda Trial Team riders will take on the Japanese TrialGP from May 19th-21st, when the Outdoor Championship returns there after a three-year absence.
Toni Bou 1
CHAMPIONSHIP: 2ND
"Overall it was a good race. We knew that today would be more difficult, that all the other riders would make fewer mistakes, and that's how it went. A mistake on the first lap meant that we dropped a few points, but then we were able to come back. On the second lap we were four points ahead and I made a mistake in a river area. We were riding on the limit. The position is good for the championship. The next round is in Japan where it is always a special race for our team. We have achieved great results there and we will be very motivated in a tight series, so we will give 100%."
Gabriel Marcelli 38
CHAMPIONSHIP: 3RD
"I think the day went very well. I made a few too many mistakes, which I would have liked to have avoided, but we rode very well and the team did a great job. We are happy with the result, the points are good for the championship and we must continue in the same vein. We have shown that we have a lot of perseverance and that we are very consistent. This is a very good sign for Japan and this result has given me a boost in confidence, which ensures that we can be on the podium in every race. Now we will have to go to Japan looking for a little more."
Takahisa Fujinami
Team Manager
"Toni on the first lap he was able to establish a gap, but we knew that on the second lap things were going to be very tight and he made a mistake that he couldn't recover from. It's a pity he couldn't win today, because it's very important for the championship, but that's how the racing goes. As for Gabri took another podium and was fighting to get second place and even first. We are very happy because some zones were tough and he got through them. We are very happy with the team. The next race is in Japan, the home of Honda, so we are motivated for that."