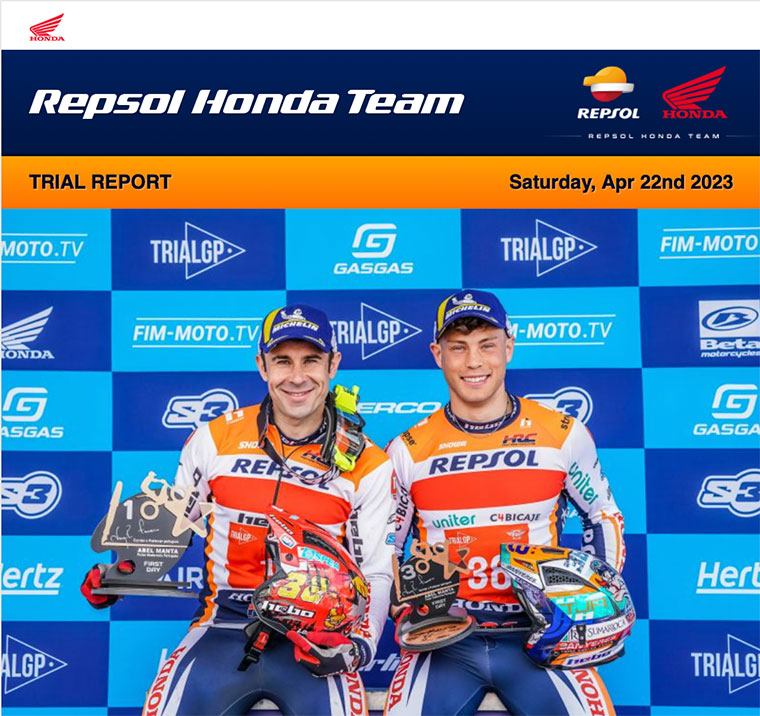 The 32-time World Champion achieves victory in Gouveia on Saturday. His teammate rounds off the podium
The Portuguese town of Gouveia hosts the second round of the TrialGP World Championship this weekend. The Repsol Honda Trial Team riders put in a great performance on Saturday: Toni Bou earned victory and maintains the lead in the series, and Gabriel Marcelli earned third in the race and moves up to third overall.
Bou dominated the first lap, with only 9 penalty points from the first 12 sections. He was able to maintain this advantage on the second lap and finally took the victory. The Spaniard leads the overall standings with 57 points.
Marcelli started the first lap suffering in the opening zones, but managed to fight back and finish second. On the next lap, despite some mistakes made in the river sections, he challenged for third and rounded off the podium. The result moves him up one place in the standings, to third, with 43 points.
The Repsol Honda Trial Team will face the second day of the Portuguese TrialGP on Sunday.
Toni Bou 1
CHAMPIONSHIP: 1ST
"It has been a great race for us. We had a very good first lap. The river sections were very slippery and it was quite difficult first time around, but in the end we only dropped 9 points and so far that has been our best ride in the championship. I am very happy and we are going to try to continue this pace. Things are sure to be tighter tomorrow, so today's victory means even more."
Gabriel Marcelli 38
CHAMPIONSHIP: 3RD
"I am very happy with how the day went. We didn't start off in the best way and I made a lot of mistakes at the beginning of the first lap, but in the end I improved a lot and managed to concentrate a bit more and climb up the positions. We finished the first lap in second position and in the end we took third place, so we are very happy. It has been a good result and tomorrow we expect more."
Takahisa Fujinami
Team Manager
"Since the first lap, Toni had a lot of zeros and established a big gap to the rest of the riders. On the second lap he managed to maintain his position and win. We are very happy because he had some doubts with the discomfort in his arm, but he has finally managed to win. Gabri didn't start so well, but since other riders also weren't so good, he could fight back and earn an important third place. He has a very strong mentality and after a mistake he is always able to recover. Tomorrow we hope to get another victory and podium combination."