After the disappointment of finishing second yesterday, defending champion Toni Bou (Montesa) was back on top on day two of the TrialGP of Spain – round one of the 2023 Hertz FIM Trial World Championship – but he could not fully shake off the challenge of his compatriot Jaime Busto (GASGAS) who claimed Saturday's win and the Spanish pairing head to round two in Portugal next weekend tied on points.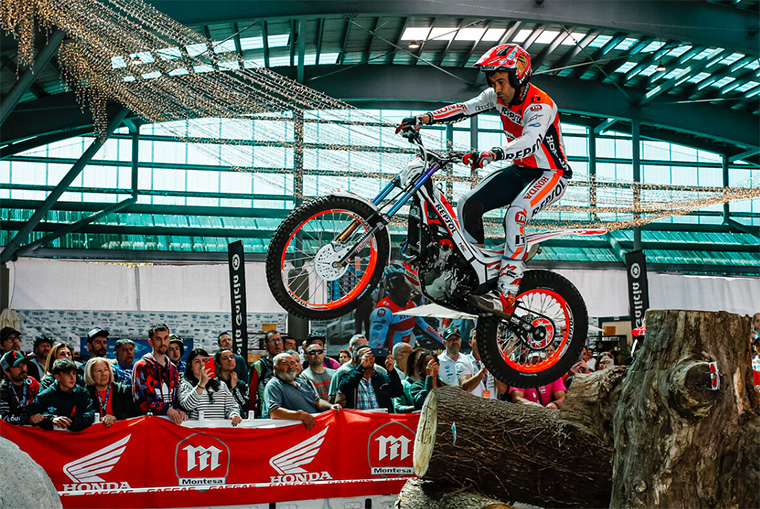 Beaten into third place on Saturday, reigning TrialGP Women champion Emma Bristow (Sherco) improved to second but she still did not have an answer to the incredible form of Berta Abellan (Scorpa) who completed a double victory at Arteixo as Britain's Jack Peace (Sherco) topped Trial2 and series newcomer Jone Sandvik (Sherco) scored back-to-back Trial3 wins.
Toni Bou returns to the top of TrialGP class in Arteixo to tie championship after round one
Berta Abellan wins again in TrialGP Women
Jack Peace takes victory in Trial2 and Jone Sandvik does the double in Trial3
On a dry and dusty day in the north-west of Spain, a number of sections were changed overnight to increase the severity and the final scores reflected this with sixteen-time champion Bou parting with fourteen marks – one more than he lost on Saturday – and Busto's total of seventeen a full ten marks more than his winning total incurred on day one.

The toughest hazard was the reworked section three thanks to the introduction of a double rock step with a short run-up. Bou scored two maximums here and although Busto recorded one of only two successful clean attempts alongside Aniol Gelabert (Beta), it was the big slabs of sections nine and ten where Bou pulled clear.

"I am super-happy with the victory and I feel it is very important for the championship," said Bou. "I had a great battle with Jaime – he is a big talent and it is amazing to be fighting with him."

Trailing Bou by nine after the opening twelve sections, Busto responded with a sensational second-lap total of one but it was too little, too late to reel in the record-breaking champion.
For the second day in a row, home riders dominated the premier positions with veteran Adam Raga (TRRS) taking third on a distant thirty-two – two ahead of yesterday's third-placed rider Gabriel Marcelli (Montesa) – with Jorge Casales (Scorpa) completing the top-five on a score of fifty-five.

Britain's Toby Martyn (Montesa) withdrew following a crash on the opening lap which it is hoped he stages a speedy recovery from.

After finishing second behind Bristow four times in the last five years, Abellan has a point to prove and the twenty-three-year-old from Barcelona posted the best scores on both laps to run out six marks clear of the eight-time champion's total of eleven.

"It's been a fantastic day," she said. "The championship has started really strong for me and I am now looking at the title."

Finishing back in fifth yesterday, Italy's Naomi Monnier (GASGAS) improved to third on a total of seventeen, eight clear of Andrea Sofia Rabino (Beta) who completed Saturday's podium.
It was almost too close to call in Trial2 where Peace bounced back from a below-par result of sixth yesterday to claim a narrow one-mark win ahead of fellow British rider Billy Green (Scorpa).

"I'm really happy," said Peace. "My riding has been good all weekend and it is nice to get the result we deserved today. I only made one mistake all day and I've scored good points for the championship."

A further mark off the pace, Saturday's winner Pablo Suarez from Spain (Montesa) ended the day in third to maintain his championship lead.

Teenaged talent Sandvik was a surprise winner of Trial3 yesterday but the Norwegian proved his performance was no fluke with a second victory.

"I have had a very good feeling with the bike all day," said Sandvik. "It was all about staying concentrated and doing everything right at all times."

Tied on ten with George Hemingway (Beta) following the opening lap, Sandvik then pulled clear to win by three on a total of nineteen from the young British rider as Italy's Mirko Pedretti (Beta) slotted into third a further five marks behind.

The focus now switches to Gouveia in Portugal on 21-23 April with the action streamed live on FIM-MOTO.TV.