Bou wins, Martyn stays clean and Dance and Chatagno take titles!

Following his shock third-placed finish last time out in Andorra, superstar Spaniard Toni Bou (Repsol Honda) returned to the top of the podium with a comfortable victory at today's second French TrialGP of the season – round four of the 2021 Hertz FIM Trial World Championship – at Cahors.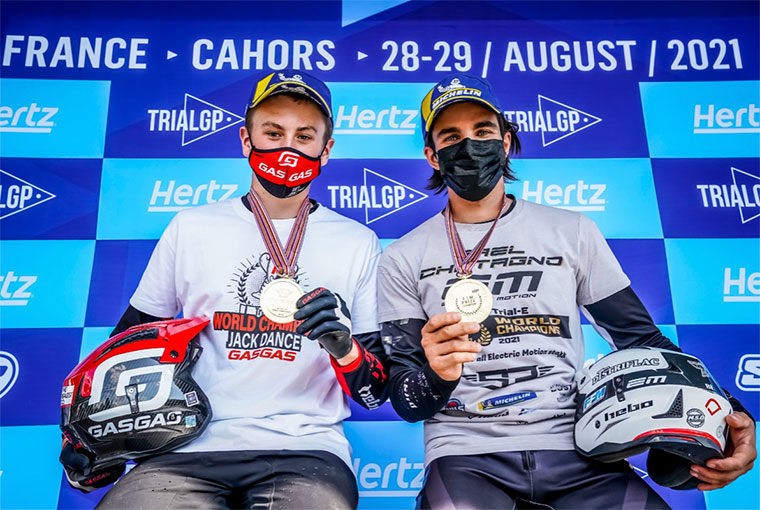 On a low-scoring day Toby Martyn (TRRS) led home Trial2 with an incredible clean sheet, Jack Dance (GASGAS) took the Trial125 title with his third victory of the season and Gael Chatagno (Electric Motion) made it four wins from four starts to claim the crown in Trial-E.
A big turn-out of fans basked under a blazing sun and were treated to the sight of Bou bouncing back to his brilliant best. The defending champion – who's on course to make it 15 consecutive TrialGP titles – parted with three single dabs in the first four sections of the trial set in a disused quarry and then remained clean for the remaining 20.
"I looked at the sections yesterday and knew it would be a low-scoring trial so I had to concentrate very hard," said Bou. "I made a few mistakes on the first lap but was clean on lap two and it's a great result for me after not the best weekend in Andorra."
Fresh from his first win of the season at round three, Adam Raga (TRRS) led by a mark after the opening three sections but a maximum on the fourth – and then another on the eighth – effectively ended his hopes of back-to-back victories. A second-lap total of two still earned the two-time world champion the runner-up position, a single mark ahead of Jaime Busto (Vertigo), as the top-three gapped the field.
With many of the sections composed of imposing, imported slabs embedded along a riverbed, Bou was in his element as he hopped, skipped and jumped his four-stroke through the hazards. His fourth win of the season means he now leads Raga by a healthy 11 points with just three scoring days to go.
Miquel Gelabert (GASGAS) completed the all-Spanish top four but his final total of 28 was double that of Busto as veteran Japanese fan-favourite Takahisa Fujinami (Repsol Honda) recovered from a bad opening lap to come home fifth after losing a tie-break.
British riders Martyn and Jack Peace (Sherco) had been dominating Trial2 all year and were tied on points heading into the second day in Andorra when Peace slipped to third and Martyn slumped to sixth.
The result gave Peace a clear five-point championship lead but Martyn struck back today, holding his nerve and soaking up the pressure to record a sensational clean sheet which gave him a two-mark victory over Aniol Gelabert (Beta) from Spain who took second on a tie-break from home rider Alexandre Ferrer (TRRS).
A three on the opening section of the day put Peace out of contention and his total of four, three ahead of Spain's Pablo Suarez (Montesa), dropped him to fourth and handed the championship lead to Martyn.
"Today's been really good," said Martyn. "It's been very tight but I've ridden really well. I'm so happy to clean today's trial – it's a first for me at this level – and it's great to take the championship points lead as well."
Dance (GASGAS) has led the Trial125 title hunt from the get-go and he signed off in style with a commanding 10-mark win from Andorra's Gaudi Vall Ingles (Sherco). German rider Rodney Bereiter (Beta) was two marks further back to post his best finish of the season in third after beating his compatriot and team-mate Jonas Schiele on a tie-break.
Harry Hemingway (Beta) brought it home in fifth to ensure he ended the series in second ahead of fellow British rider Harry Turner (Scorpa) who was a disappointing seventh.
"It's an amazing feeling," said Dance. "It's been tough to stay on top all year but my team and family have been brilliant. I'd like to thank all of them. All I tried to do today was ride the trial how I usually do and not think about the title which helped to keep the pressure off me."
Chatagno completed a perfect season but it was a close-run thing. The Frenchman parted with just one mark today – incurred on the opening section of the trial – and was second at the halfway mark after his fellow countryman Julien Perret remained clean on the first lap.
However, two single dabs by Perret during the early stages of the second lap swung the result back in Chatagno's favour and enabled him to end his 2021 campaign with an unbeaten record.
Martin Pochez (Electric Motion) was a long way off the pace but his total of 18 ensured the home fans were treated to a French 1-2-3.
"It feels great to win the title," said Chatagno. "Last year we lost it after a very tight finish so now I'm very happy. The bike has worked well and I've won every round which was my goal for this year."
The TrialGP and Trial2 riders now get a weekend off before they join forces with the TrialGP Women and Trial2 Women competitors at the Spanish TrialGP at Pobladura de las Regueras on September 10-12.
For regular updates and live results check out our social media platforms on Facebook, Twitter and Instagram – just search for TrialGP.
For more information go to www.trialgp.com