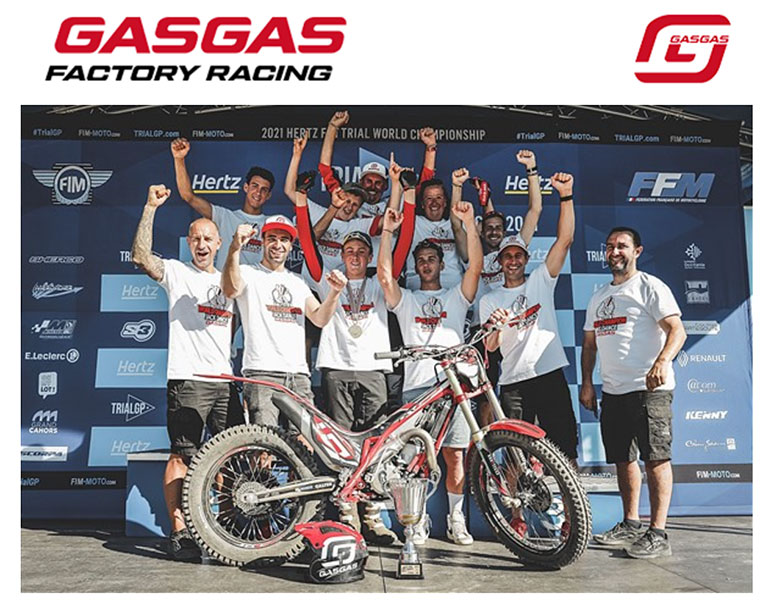 TALENTED BRITISH YOUNGSTER WRAPS UP 125CC WORLD CHAMPIONSHIP TITLE IN STYLE AT TRIALGP OF FRANCE
We've got ourselves a world champion! Finishing the 2021 FIM Trial125 World Championship exactly as he started it – winning – Jack Dance today put the finishing touches to his highly impressive 125cc world championship campaign, claiming victory at the TrialGP of France. In doing so he secured the Trial125 World Championship title! Together with Miquel Gelabert finishing fourth, and Jorge Casales seventh, in TrialGP, all-in-all it was a highly positive day for GASGAS at the TrialGP of France.
Jack Dance wraps up the Trial125 World Championship with victory in France
Podium-topping ride is Jack's third of the season aboard his TXT GP 125
In TrialGP Miquel Gelabert finishing fourth, Jorge Casales seventh
Jack Dance: "It's an amazing feeling to be the Trial125 World Champion. It's been a tough season, staying on top was hard, but my mum, dad, brother, and the whole GASGAS team have been there to support me so that has been a big help. Today I just concentrated on riding trial like I know how and didn't think about becoming a world champion, because otherwise the pressure would have been too much. It was an amazing feeling coming out of section 12. I wanted to come and win today, not just to secure the championship but because it's an awesome feeling for the team and my family."
Arriving at the final round of the Trial125 championship at the head of the class standings, Jack put in a champion's performance in France, completing the event's opening lap with the loss of just one mark. Remaining cool, calm, and collected throughout the all-important second lap, in dropping only four marks he ended the day with just five marks lost, 10 clear of his nearest challenger Guadi Vall. Jack's win, added to his two other victories and two runner-up day results earlier in the series, saw him win the Trial125 title in style, 18 points ahead of runner-up Harry Hemingway.
Looking for his first podium finish of the series, Miquel Gelebert's day was very similar to his two outings at the previous round on Andorra – good but not quite good enough for a top-three result. Completing the opening lap of 12 sections with just 11 marks lost – the second lowest score of all TrialGP riders – Miquel was looking good for the podium. But a nightmare start to lap two, scoring five on each of the opening three sections, frustratingly derailed his hopes. Regrouping to round out the lap in style, and losing just two further marks, he ended the day in fourth overall.
Continuing to work his way back into form, Jorge Casales ended the TrialGP of France in positive spirits and in seventh. Competitive throughout each of the two laps, were it not for a couple of costly fives on lap two he would have placed inside the top five.
Miquel Gelabert: "It was the same story as in Andorra, close to the podium but I couldn't quite make it happen. I started the second lap a bit stressed because it was a very easy trial, you couldn't make any mistakes. I made three straight fives in the first three sections, on lap two. I felt like I rode good, but those 15 points made it impossible to fight for the podium. I will try to avoid those mistakes and look to make a podium result happen in the next round."
Jorge Casales: "After the disaster in Andorra I'm very happy with my riding today. I made a stupid mistake in the second lap today when I got out of a section and that put me a bit behind, I could be in the fight for a top five if it wasn't for that, but finally I was seventh. After how all this year is going, I'm very happy with my riding here and with the feeling on the bike. Now I just need to keep fighting and aim for a better result in the next round."
Albert Cabestany – GASGAS Factory Racing Trial Team Manager: "The star of today is obviously Jack Dance. He got it done today and it wasn't an easy task. The sections for the Trial125 guys were really easy so after starting last and having to deal with all the pressure, he really showed that he deserves this title. I'm really happy for him, his family, and John Shirt, who supports him at a UK level, so I can only congratulate them because they made a great job. The team mechanics helped him in setting up the bike and making it his own, but in the end, Jack is the star and the one who made our bike shine. Congratulations Jack! We're really pleased to have him in the team.
"For the rest of the team, Miquel Gelabert was once more really close to the podium, fourth today. It was a good result for him, and he is getting closer to that goal, but what is more important is being consistently in these positions, which is not an easy task. I'm happy about his riding and I hope that the podium arrives at the next round. Jorge made a big step forward today. It was a challenging day for him starting in front and having no references but despite that he was really close in the points to Miquel in the end. The whole team made a big effort and an amazing race this weekend."
Results: TrialGP of France
TrialGP
1.Toni Bou (Montesa) 3 marks
2. Adam Raga (TRRS) 13
3. Jaime Busto (Vertigo) 14
4. Miquel Gelabert (GASGAS) 28
7. Jorge Casales (GASGAS) 33
Trial125
1. Jack Dance (GASGAS) 5 marks
2. Gaudi Vall (Sherco) 15
3. Rodney Bereiter (Beta) 17
Championship standings: FIM TrialGP World Championship (after round four)
TrialGP
1. Toni Bou (Montesa) 112 points
2. Adam Raga (TRRS) 101
3. Matteo Grattarola (Beta) 79
6. Miquel Gelabert (GASGAS) 66
9. Jorge Casales (GASGAS) 34
Trial125
1. Jack Dance (GASGAS) 94
2. Harry Hemingway (Beta) 76
3. Harry Turner (Scorpa) 72