Defending champion Toni Bou (Montesa) bounced back to the top on the opening day of action at the TrialGP of San Marino – round four of the Hertz FIM Trial World Championship – and, thanks to his team-mate Gabriel Marcelli pushing Jaime Busto (GASGAS) back into third, moved into a five-point lead as the series reached the halfway point.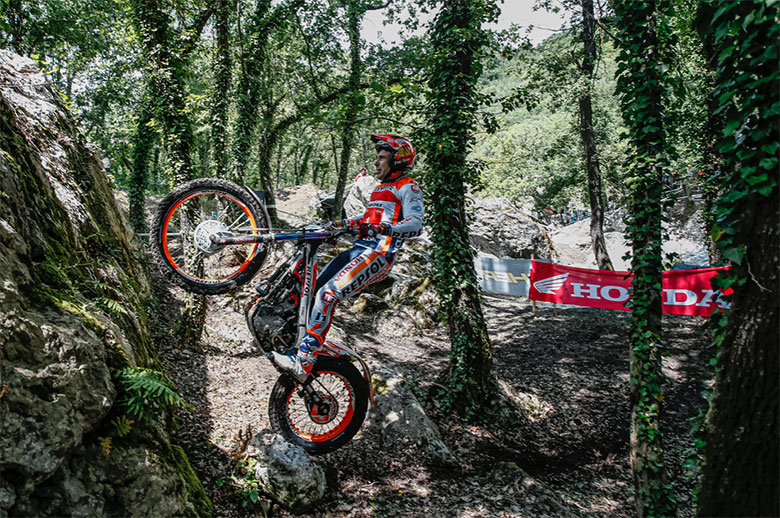 Toni Bou and Gabriel Marcelli stage a Montesa one-two in TrialGP
Return to form in Trial2 for defending champion Sondre Haga
George Hemingway tops an all-British podium in Trial3
Bou and Busto have been locked together since the start of the season in a game of cat and mouse that has seen the pair exchange wins and second-placed finishes with neither being able to break free, but on a super-tough day at Baldasserona the sixteen-time champion put in a dominant performance.

The sections were in a steep dry riverbed where huge polished boulders provided a fitting challenge for the best Trial riders on the planet. Recent heavy rain – which meant the sections originally plotted near the paddock could not be used – ensured that there was some running water and no shortage of mud and when this was dragged onto the rocks the result was a severe shortage of grip. Fortunately, further heavy rain that was forecast did not materialise or scores would have been much higher.

In a pressure-cooker environment, Bou established a clear lead as early as section four on the opening lap and from then on the thirty-six-year-old looked in complete control.

With time tight towards the close of lap one Bou opted to take a maximum on section twelve, but even so his first-lap total of ten on observation was increased by an additional three time penalties. However, Busto, Marcelli and Adam Raga (TRRS) all had a further three on time added to their totals and at the halfway point Bou sat on thirteen with Busto and Marcelli neck and neck on twenty-seven and Raga one mark behind.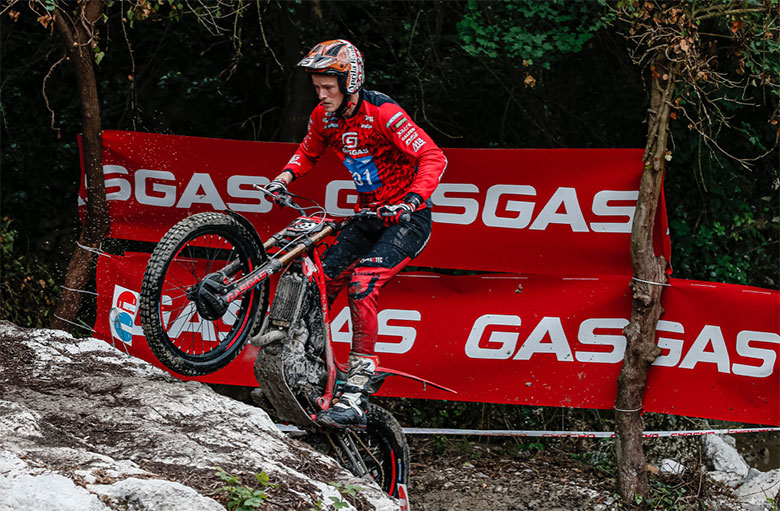 Firmly in the driving seat, Bou put in another consistent lap and added an extra eleven on observation plus one time penalty to run out a clear winner, but for once the focus was on the fight for second spot with Busto and Marcelli trading places throughout the final lap.

With a one-mark advantage heading into section twelve – a twisting route over imposing rocks before a super-steep exit up an almost gripless grass banking – Marcelli managed to scramble through for a three. This put the pressure firmly on Busto whose maximum relegated him to the final step of the all-Spanish podium as his younger rival recorded a career-best finish in the premier class.

"This was a very important win for me today," said Bou. "I had a very good first lap and was not so bad on the second lap and I'm very happy with this victory. Finally my team-mate Gabri is in the middle on the podium in second place and I think it is a very good day for the championship."

Having parted company with the Vertigo factory at the start of the month, Italy's Matteo Grattarola was back with Beta and back on form as he came home in fourth thanks to a three on section twelve where Raga's last-lap maximum dropped him to fifth.

Defending Trial2 champion Sondre Haga (GASGAS) produced his best form of the season to come out on top in a closely-fought contest.

Spain's Pablo Suarez (Montesa) led after the opening lap, but Haga's second lap total of just ten earned the Norwegian only his second victory at this level by a comfortable seven-mark margin.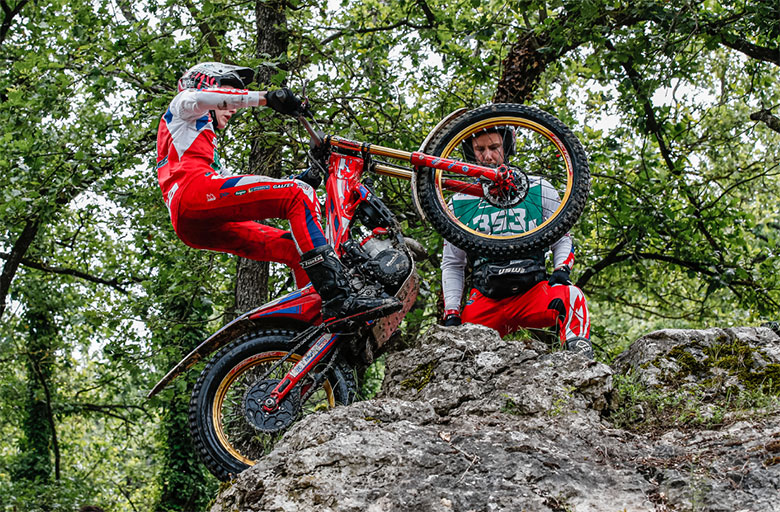 "It felt good today," said Haga. "Everyone has been working hard so to take the win on the first day is a perfect feeling."

Lying second in the standings at the start of the day, Britain's Jack Peace (Sherco) recovered from an expensive opening lap to climb to the runner-up position and in the process take the championship lead after his compatriot Billy Green (Scorpa) slumped to eighth.

A maximum on the final section dropped Suarez to third, one behind Peace, as France's Hugo Dufrese (GASGAS) and Jack Dance (GASGAS) completed the top-five.

With a double win last time out in Portugal, Britain's George Hemingway (Beta) had momentum on his side and he kept the ball rolling to take victory in Trial3 and with it the championship lead.

Hemingway had a nine-mark advantage at the halfway stage and despite a number of mistakes on lap two he ended the day with a five-mark winning margin over Alfie Lampkin (Vertigo) as Jamie Galloway (TRRS) completed the all-British podium.

"It has been a very good day and it is nice to follow a win with another win," said Hemingway. "Towards the end I got a few fives for stopping, but I still rode well."

Norway's Jone Sandvik (Sherco) struggled to make an impact, ending the day in fifth behind Pawel Ryncarz (GASGAS) from Poland and surrendered his series lead.

The action from Baldasserona resumes tomorrow at 09:00 CET and will be streamed LIVE on FIM-MOTO-TV.