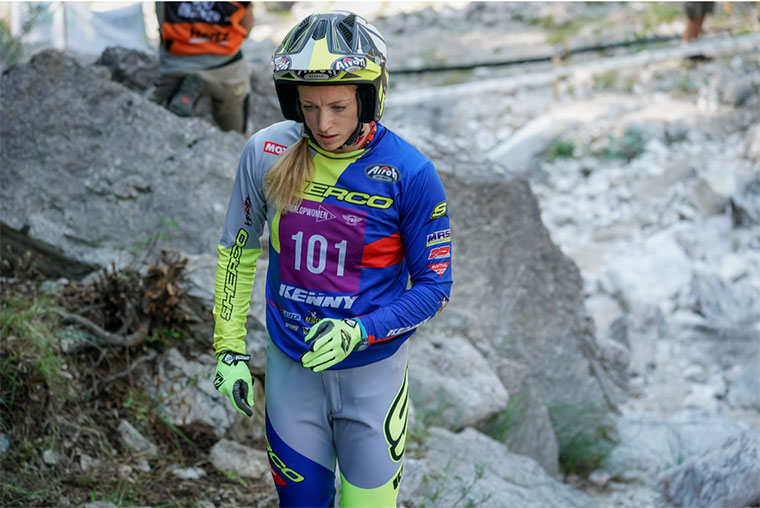 The return of Spanish legend Laia Sanz (GASGAS) to the Hertz FIM Trial World Championship has focussed extra attention on the TrialGP Women class this season but defending champion Emma Bristow (Sherco) is taking it all in her stride.
Sanz won 13 world titles between 2000 and 2013 before switching to rallying, leaving the door open for Bristow to take over at the top. The British rider has won every year since and is aiming to take her eighth consecutive crown this season but Sanz represents the biggest challenge to her reign so far.
On the opening day of this year's championship at Tolmezzo in Italy, Sanz picked up where she left off in 2013 with a victory that represented Bristow's first defeat at this level since the final round of the 2017 season. However, Bristow fought back fiercely on day two to claim a commanding win and level up the points at the top of the table.
"I wasn't riding to the best of my abilities that weekend and I'm not sure why," said Emma. "Day one was really close so it was a bit gutting to lose and on day two I didn't start off the best. Because there were only two laps of 12 sections it was even more intense – if you made mistakes there was less opportunity to pull it back and I made a few big errors which added up."
Bristow was third after Sunday's opening lap and trailed the pace-setting Sanz by five marks before a remarkable second lap saw her run out winner by a clear-cut 10 marks.
"For the second lap I went out feeling positive and tried to ride like I know I can. Fortunately, I put a few good rides in and that's all I needed to do. It was good to finish even for the weekend – that was a big positive – and then regroup for France."
Amazingly, her win on day two was the first time the 30-year-old has beaten Sanz in world championship competition.
"In the end it was a conclusive win. I rode like I knew I could [on the second lap]. I was more confident and probably more relaxed because I had been a little bit tense. I dug deep and got the result I needed. I was able to ride more to my style and flowed a bit better. With the non-stop rules you've got to be flowing or otherwise you get penalised."
After a solid off-season that's included training in France and Spain, Bristow is feeling fully prepared for what she knows will be a very competitive campaign.
"There were rumours [that Laia was returning] last year so I was prepared but then it didn't materialise but this year we knew she was coming back. It's great for the sport – it adds interest and excitement to the TrialGP Women class.
"I'm a better rider than I was the last time I came up against Laia, that's for sure. We've both got a few championships behind us and we both know how to win. I've always respected her but you've got to have the confidence to back yourself and I feel like I'm riding well.
"I've done quite a bit over the winter to be honest – good, focussed training – and I feel strong on and off the bike. I love running and I've built a gym in my garden and I've also tried to ride on as many different terrains as possible to make sure I'm prepared because you never know what's coming.
"I'm really looking forward to France. I think it will be a great trial. I've done a few French trials recently and there's some awesome terrain.
"I'd never turn up and not be ready. I've got an amazing bike – it really is very special – and the Sherco factory team are fantastic. Everyone is backing me and wants to give me as much support as possible which is great to know."
The 2021 Hertz FIM Trial World Championship continues this coming weekend at Charade with the French TrialGP. For regular updates and live results check out our social media platforms on Facebook, Twitter and Instagram – just search for TrialGP.
For more information go to www.trialgp.com