A youthful Dougie Lampkin trains under the watchful eye of his father Martin Pic (c) Lampkin Family Archives

From the inception of international trial competition all the way through to the present day, Great Britain has played an integral role in the global growth of the sport.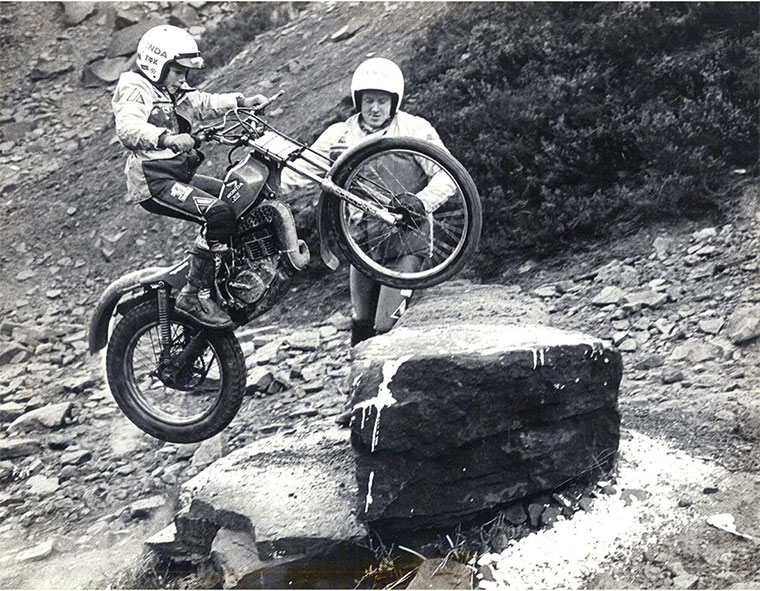 While Spain currently dominates top-flight modern-day trial, the origins of the sport can be traced back to 1909 with the first running of the Scottish Six Days Trial, an iconic event which continues to this day.
Just five years later saw the inaugural Scott Trial. Another legendary British event that's still going strong, 'The Scott' is widely regarded as the inspiration behind the world's first-ever motocross race – the Southern Scott – in 1924.
In 1964 the three-round Challenge Henri Groutars series pitched Europe's leading trial riders head-to-head with Britain's Don Smith winning on a Greeves. Smith won again in 1967 before the following season it was rebranded as the FIM European Championship.
Staged over five rounds in Switzerland, Germany, Belgium, France and Great Britain, the series was dominated by Bultaco-mounted Northern Irishman Sammy Miller who ended the championship unbeaten.
Miller was instrumental in the development of the Spanish Bultaco marque which quickly became a powerhouse of the sport and he also played a major role in introducing Honda to trial in the mid 1970s.
From 1969 until 1974 the Union Jack flew high above the FIM European Championship podium with Smith and Miller both winning again before Mick Andrews claimed back-to-back titles followed by victories for Martin Lampkin and Malcolm Rathmell.
When the series was awarded full FIM World Championship status in 1975, Lampkin claimed the inaugural gold medal and 22 years later it was the turn of his son, Dougie, who won seven-straight titles from 1997 to 2003 which at the time set a new record for consecutive crowns.
"I think it's generally accepted that Great Britain is where trial was born and is one of the reasons why we have a strong association with the sport even today," said Dougie. "The inaugural FIM Trial World Championship in 1975 marked a new era for the sport so it was quite fitting that a British rider – my own late father Martin – became the winner of this first edition of the series.
"For me to then win my first FIM world title in 1997 and follow in my dad's tyre marks was something very special. I hope by then winning the championship a total of seven years in a row helped add another important chapter in Britain's trial history."
Through first Adam Raga and then Toni Bou, Spain has deservedly dominated the sport at the highest level since 2005 but Great Britain has always been well-represented thanks to riders of the calibre of Graham Jarvis, James Dabill and seven-time TrialGP Women champion Emma Bristow.
Last season's Trial2 champion, Toby Martyn is one of GB's brightest prospects to emerge in recent years and moves up to the premier TrialGP class in 2022.
Coming from a family with a long involvement in the sport, the 21-year-old factory TRRS rider is well aware of his nation's rich heritage.
"I would say that the sport has been shaped by British riders," said Toby. "Over the years there have been lots of top riders from other countries but we had the first world champion in Martin Lampkin and the likes of Martin and Malcolm Rathmell helped shape the sport. Then, of course, there was Dougie!
"We're currently struggling because the Spanish level has risen massively and riders like Toni and Adam have brought in the new riding style but we're catching up."
Can British riders ever re-establish their dominance on the world scene? That remains to be seen but there is every reason for optimism.
Jack Peace (Sherco) demonstrated his undeniable potential in Trial2 last season and Jack Dance (GASGAS), Harry Hemingway (Beta) and Harry Turner (Scorpa) ran 1-2-3 in 2021 in the Trial125 class.
Britain's feet-up females are also looking good with Sherco star Emma only surrendering her TrialGP Women crown at the final round of 2021 and Kaytlyn Adshead (TRRS) and Alicia Robinson (Beta) both claiming podiums in Trial2 Women.
For regular FIM Trial World Championship updates check out our social media platforms on Facebook, Twitter and Instagram – just search for TrialGP.