2-1 RESULTS AT ROUND TWO ENSURES SUPER SPANIARD HOLDS FIRM AT THE TOP OF THE TRIALGP STANDINGS
GASGAS Factory Racing's Jaime Busto has continued his strong start to the 2023 FIM Trial World Championship with a pair of powerful performances at round two of the series – the TrialGP of Portugal – in Gouveia. After finishing second to defending champion Toni Bou on day one, Busto kept his cool on day two and fought his way back to the top of the podium, and with it sits at the top of the TrialGP championship standings!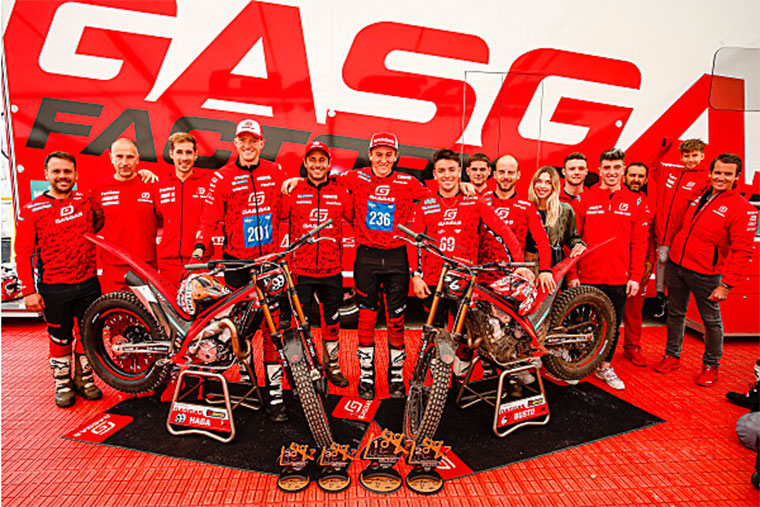 Jaime Busto secures day two win at TrialGP of Portugal
Two brilliant rides keep Spaniard tied at the top of TrialGP championship
Sondre Haga back on form with a pair of podium results in Trial2
Heavy rain the day before the start of the TrialGP of Portugal meant conditions were treacherous for Saturday's opening lap. With many of the event's sections laid out in a stream, where water levels became unusually high, Busto was initially just off the pace and in third at the halfway mark on day one.
However, regrouping for the afternoon, Busto staged a fierce fightback with his second-lap total of 12 being five marks less than that scored by eventual day winner, Toni Bou. Pushing all the way to the end of the day, Busto secured a comfortable runner-up result.
With conditions drier on Sunday, Busto trailed Bou by five after the first lap before staging a remarkable recovery. Parting with just a single mark on his second lap, Jaime's performance was good enough for his fourth career win, which also puts him into the joint lead of the championship heading to Japan for round three next month.
Reigning Trial2 champion Sondre Haga put his tough opening-round performances behind him as the young Norwegian bounced back in style in Portugal. Overcoming a wet start to day one, he showed impressive resilience to wrap up the Portuguese event with a pair of third-placed finishes. In doing so, he dragged himself back into Trial2 championship contention.
Jaime Busto: "For me it's been an incredible weekend. Not the easiest because I'm not used to this much water and on Saturday it caught me a bit off-guard – I wasn't feeling so good, but I managed to fight and got a second place. Today from the beginning I was feeling much better, and I just kept my head clear, did what I had to do, and got the win. I had a lot of pressure, but I felt so good on the bike and it feels great to leave Portugal on the same points as Toni at the top of the championship."
Sondre Haga: "It's been a bit of a different weekend to Spain – it was slippery in the river and the sections were more technical. On day one we had a small problem when I drowned the bike in the river so I was happy with third, which was the best I could do. Today I was ready to do better and we were really close, but I made a small mistake by destroying a flag on section eight [on lap two] so I was third again. I hope consistency is key this year and finishing on the podium is always good."
Results: TrialGP of Portugal
TrialGP – day 1
1. Toni Bou (Montesa) 26
2. Jaime Busto (GASGAS) 39
3. Gabriel Marcelli (Montesa) 44
Trial2 – day 1
1. Billy Green (Scorpa) 8
2. Jack Peace (Sherco) 13
3. Sondre Haga (GASGAS) 21
14. Jack Dance (GASGAS) 38
TrialGP – day 2
1. Jaime Busto (GASGAS) 13
2. Toni Bou (Montesa) 14
3. Gabriel Marcelli (Montesa) 24
Trial2 – day 2
1. Billy Green (Scorpa) 8
2. Jack Peace (Sherco) 12
3. Sondre Haga (GASGAS) 16
11. Jack Dance (GASGAS) 30
Championship standings (after round 2)
TrialGP
1. Jaime Busto (GASGAS) 74
2. Toni Bou (Montesa) 74
3. Gabriel Marcelli (Montesa) 58
Trial2
1. Billy Green (Scorpa) 68
2. Jack Peace (Sherco) 64
3. Pablo Suarez (Montesa) 56
4. Sondre Haga (GASGAS) 52
11. Jack Dance (GASGAS) 15