Established over thirty years ago, the Two Wheels for Life charity is committed to providing vital healthcare for people in the poorest and most remote parts of Africa and the man behind the DL12 Indoor Trial, namely Dougie Lampkin MBE is a passionate supporter of this incredible cause.
With this in mind, ahead of the DL12 Indoor Trial V2.0 on Saturday 13 January 2024 the use of a private Suite for the event at Sheffield's Utilita Arena was auctioned off with all proceeds kindly donated by the winning bidder Jonathan from Middlesbrough going to the life-saving charity.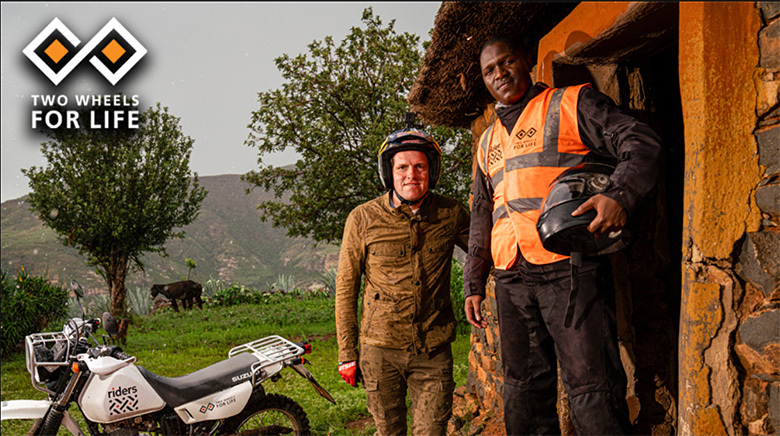 An official charity of the FIM and MotoGP™, Two Wheels for Life provide much-needed funding for motorcycles and support so that healthcare can be provided in areas that are otherwise impossible to reach by more conventional forms of transport.
With community health workers often looking after ten villages at a time and these villages spaced miles apart, a fast and efficient form of transport is called for. Able to reach areas beyond the limitations of four-wheel-drive vehicles and sometimes only accessible by foot, motorcycles are cheap to run, ideal for the challenging terrain and fast and reliable which makes them the perfect tool for the job.
Efforts are centred around four African countries – The Gambia, Nigeria, Malawi and Lesotho – and, working closely with sister organisation Riders for Health, Two Wheels for Life has helped to ensure that forty-seven million people across Africa have increased access to health services.
Dougie Lampkin, co-promoter of the DL12 Indoor Trial, who has actually visited Lesotho to train local aid riders said: "I am fully aware that motorcycles will get you to places that other forms of transport cannot so I am delighted to help Two Wheels for Life and the incredible work the charity does, especially having been out to Africa myself to see what is being done on the ground."
For more information on Two Wheels for Life click here.