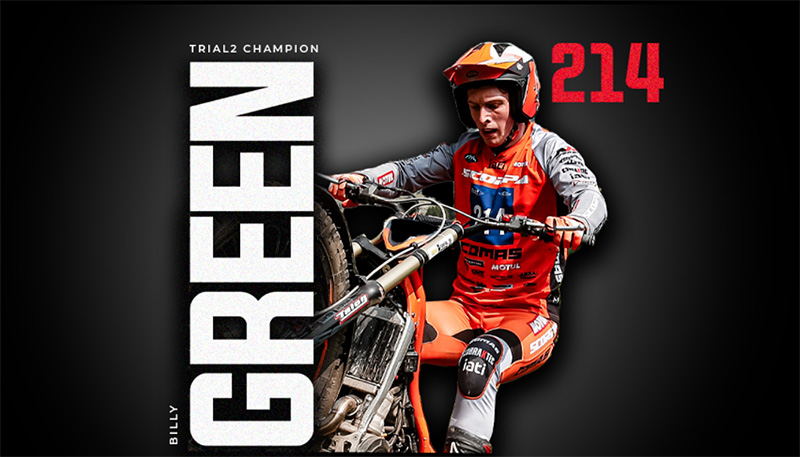 Even at just twenty-one years of age Billy Green (Scorpa) already knows a thing or two about dealing with pressure and he will need to draw on all the hard-learned lessons of 2023 when he makes his Sheffield debut at DL12 Indoor Trial V2.0 at the city's Utilita Arena on Saturday 13 January 2024.
Following a real rollercoaster of a year that culminated with the Devon rider winning the FIM Trial2 title on an adrenalin-charged final day of competition in France, Green has switched his attention to the Steel City and what could be an indoor date with destiny.
"It's a huge event and I guess I'll be a little bit star-struck, but I'm probably more worried about the actual sections themselves," he said. "In January I went as a spectator and had a good look at all the sections. When you're actually stood at the base of some of them – or climb to the top and look down – you realise just how big they are."
Green's earned his place among the global greats of Trial this coming January by virtue of a stellar season that saw him fighting tooth and nail for the Trial2 crown. With the series lead swapping numerous times throughout the course of the year, Green's title hopes looked to have disappeared when he surrendered his points advantage after failing to score on the penultimate day of competition.
"Because of the day I had on the Saturday I hadn't taken any notice of the points – in my head I thought I had thrown it away. I wasn't riding around with the people I was in contention for the championship with which helped to take the pressure off although it definitely wasn't a stress-free day."
Finishing before his two main title rivals, Green then had a long and nervous wait until the deciding scores came in and he realised he was the new champion.
"I'm very happy to win. It's such a competitive class and after Saturday I'd pretty much accepted that I was going to finish second or third or possibly even fourth so when I actually realised I had won I was over the moon."
Freely admitting his lack of indoor experience, Green knows the importance of proper preparation and he is hoping a pair of autumn events will help the pieces of the puzzle start to slot into place.
"I did one indoor trial in Germany just before Covid when I was on a Montesa, and I will have a little bit more experience before Sheffield as I will be riding the FIM X-Trial World Championship round in Andorra at the start of October and then at the end of the month I'll be in Estonia for another indoor trial.
"I haven't set any goals at all for Sheffield. The riders I'll be competing against are obviously the best in the world and on paper I'm going in as an underdog so I'm just going to try my best and do what I can do."
With over 50% of tickets already sold for the 2024 DL12 Indoor Trial on 13 January, book now for your only chance in 2024 to see the world's top five riders in action in the UK alongside their British challengers – Click here today!