Toni Bou (Repsol Honda) extended his TrialGP run to 15 consecutive titles, his fellow Spaniard Laia Sanz (GASGAS) clinched her 14th TrialGP Women crown and Britain's Toby Martyn (TRRS) and Andrea Sofia Rabino (Beta) from Italy lifted the Trial2 and Trial2 Women titles as the 2021 Hertz FIM Trial World Championship went down to the wire today at Gouveia in Portugal.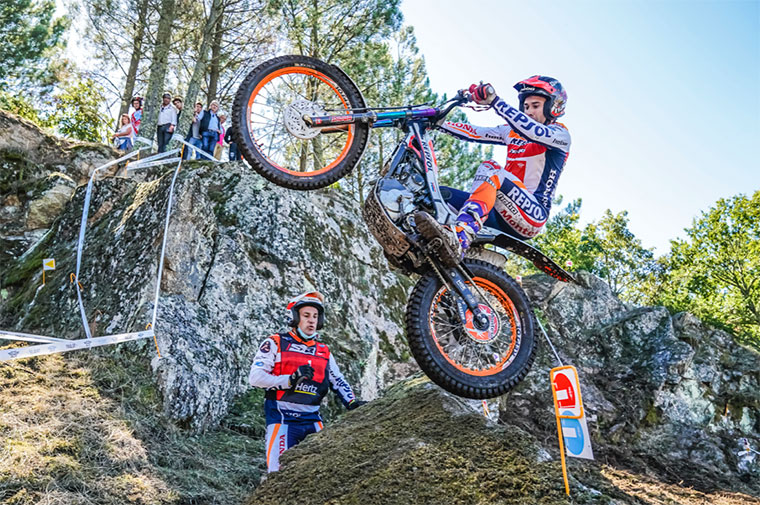 Bou has been in command since the opening round in Italy back in June and he sealed his record-breaking sequence of championships with a four-mark win ahead of his long-time rival and compatriot Adam Raga (TRRS) after parting with 20 marks following a hard day on the footpegs.
On a dry and dusty day, the first seven sections in a river bed followed by the next five over huge boulders proved to be testing but Bou was in command.
"This is amazing for me," said Bou. "Just one month before the first round in Italy I was injured so to win seven days out of nine makes me happy. Thank you to my team for all their help."
Just three marks clear of Raga following his opening lap of 10, Bou was super-consistent and matched this total on the second lap to end the day on a total of 20. Despite his best efforts which saw him drop his score second time around to 11, Raga had to settle for second on the day and in the championship.
Jaime Busto (Vertigo) was a further two marks behind in third to secure the FIM bronze medal as Gabriel Marcelli (Montesa) completed a Spanish top-four sweep ahead of Italy's Matteo Grattarola (Beta) who ended the series in fourth on his return to the premier class following his Trial2 title in 2020.
While Bou's title was pretty much a foregone conclusion, the TrialGP Women crown was up in the air heading into Portugal with British rider and reigning champion Emma Bristow (Sherco) going for her eighth consecutive title but leading Sanz – the 13-time champion who was returning to the series for the first time since 2013 – by just one point.
On the day Sanz rose to the occasion and topped the podium on a total of six with Berta Abellan (Vertigo) second on 11, three ahead of Bristow. The top five was completed by Spain's Sandra Gomez (TRRS) and British rider Alice Minta (Scorpa) who rode well but were never really in contention for a podium finish.
"It's been amazing," said Sanz. "Today has been really hard mentally but I handled the pressure well I think and after a very difficult year I'm really proud. I'm very thankful for my GASGAS team for believing in me."
The Trial2 championship has been a competition from the get-go between British riders Martyn and Jack Peace (Sherco) but while Martyn's third place today earned him the title he's been chasing full-time since 2017, the win on the day was claimed by Italian rider Lorenzo Gandola (Beta) from Alexandre Ferrer (TRRS).
Martyn is a fierce competitor and won't be happy to finish his campaign in third but his score of 17 – a full 12 behind 2016 Trial125 champion Gandola and four adrift of France's Ferrer – sealed the deal.
"I'm speechless," said Martyn. "It's been an awesome day and I didn't make it easy for myself but I'm so happy to be on top. I'd just like to thank my family and the TRRS team – there are so many people who've made this happen."
In Trial2 Women, Andrea Sofia Rabino (Beta) just had to finish to be champion but she went out with a victory – albeit after winning a three-way tie-break with her fellow Italian Sara Trentini (Vertigo) and Britain's Kaytlyn Adshead (TRRS) who finished in that order in the championship.
"I'm so happy," said Rabino. "It's great to win the championship and next year I want to move up to TrialGP Women."
With the championship finished, the season concludes tomorrow with the 2021 Hertz FIM Trial des Nations. The action kicks off at 8.30am GMT.
For regular updates and live results check out our social media platforms on Facebook, Twitter and Instagram – just search for TrialGP.
For more information go to www.trialgp.com