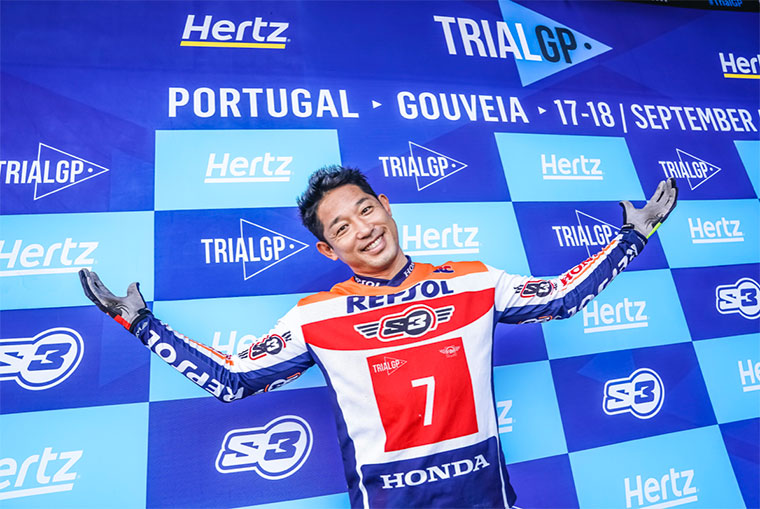 The Japanese crowd-pleaser has enjoyed a glittering career stretching all the way back to 1996 and he lays claim to the unique distinction of being both the youngest and the oldest winner of a TrialGP round.
Fujigas – his nickname comes from his cable-stretching, all-action style – was first victorious in September 1997 in Germany aged just 17 years and 220 days. His latest win came on June 13 this year on day two of the Italian TrialGP at Tolmezzo at the grand old age of 41 years and 134 days – and in between he's managed a further 32 wins along with the 2004 world crown.
It's only fitting that we caught up with the much-loved legend for a special interview…
TrialGP: First of all Takahisa, massive congratulations on such a long and successful TrialGP career. Could you have possibly imagined back in 1996 when you were just 16 that 26 years later you would still be riding – and still be competitive?
Fujigas: "Of course I couldn't imagine it! Maybe I thought I could reach 30 or 35 at the most at the end of my career. In the end it has been 26 seasons and at 41 years of age, always riding among the best and with the feeling of having finished my career with a very good taste in my mouth – even winning [a trial] in my last year."
TrialGP: What advice would you give to a rider like Jack Dance who has just won the Trial125 title and is at the start of his international career?
Fujigas: "Winning a championship is never easy and with a 125 there is a lot of rivalry. If I can give him a piece of advice it would be to train a lot in areas like the ones he will find at events."
TrialGP: Why have you taken the decision to retire this season? After all, you have shown that you still have what it takes to win.
Fujigas: "The decision to retire was already on my mind at the end of last season but I didn't want to finish the way I finished the year – my riding was not very good and I knew that it was possible to do better.
"I think that in Italy I proved that my riding was indeed better this year than last year. The victory was the first step to confirm that it was the year of my retirement."
TrialGP: Who has been your greatest rival over the last 26 years? Dougie Lampkin or Toni Bou? Or maybe someone else?
Fujigas: "For me, Dougie. I have been fighting a lot with Dougie. In 1997 I won my first TrialGP round and in 1998, 1999, I finished second in the world championship but I was far away from Dougie. In 2003 I was in a position to beat him and in 2004 I won the world championship. I could never say that Toni was a rival like Dougie was."
TrialGP: When do you feel you were at your best?
Fujigas: "I think my best moment was in 2004 and 2005. But maybe this year with the victory in Italy – it was also a great moment for me."
TrialGP: What are your plans for the future?
Fujigas: "The future? Nobody knows! Although I can't hide the fact that I would like to continue working with Honda. I have a Japanese and also a European mentality. I think it's very positive to be able to work in the future in whatever I want but even better if it's linked to the world of trials."
TrialGP: Do you have any regrets?
Fujigas: "No but it's only a week after the end of the world championship! Since I was eight years old I've always kept the routine of going out to train in the mountains and now I'm not going to do it. That's a big change! But do I regret retiring? No. I think it's a good decision."
For regular updates check out our social media platforms on Facebook, Twitter and Instagram – just search for TrialGP.