When Japanese fan-favourite Takahisa Fujinami (Repsol Honda) won on the second day of the opening round of the 2021 Hertz FIM Trial World Championship – the Italian TrialGP at Tolmezzo – he cemented his place in the sport's history books.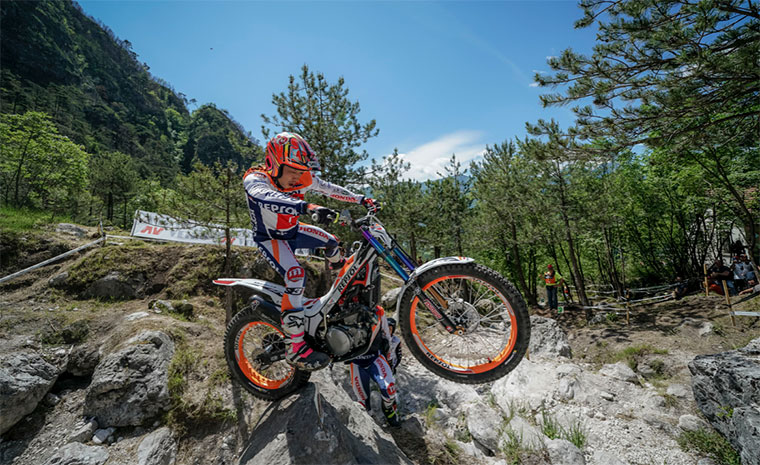 The youngest-ever winner of a TrialGP round in September 1997 in Germany aged just 17 years and 220 days, Fujigas' win in Italy also made him the oldest-ever winner of a TrialGP round aged 41 years and 134 days.
It's a benchmark that's unlikely ever to be surpassed for obvious reasons. His all-conquering team-mate Toni Bou is still only 34 and, besides, the Spaniard was 19 when he won his first TrialGP so it's going to take an up-and-coming prodigy with the longevity of the Rolling Stones to better him.
With the help of legendary Spanish snapper Pep Segales we managed to track down the 2004 world champion so we could ask him about the past, the present and the future of one of TrialGP's most loved family members.
TrialGP: First of all Fuji, congratulations! You were quite a bit off the pace on day one in Italy in seventh – what changed on day two?
Fujigas: "The first day I had a bad result but already I had a very good feeling with the bike. The failure I had the first day is that despite being very comfortable with the bike I made quite a few mistakes and the second day I could correct them. On the second lap of the second day I did fantastic and I could win."
TrialGP: How nerve-wracking was the second lap on day two in Italy? You were third after the first lap and then you were untouchable on lap two – it must have felt like old times…
Fujigas: "I didn't have a lot of nerves or pressure because I was running before many riders. I knew the points but they were two sections behind and that's why I was concentrating on doing my best – the rest depended on if the other riders failed."
TrialGP: You are now the youngest and oldest rider to win a TrialGP round. How does it feel to set such an incredible record?
Fujigas: "I never imagined that I could win at this age. It's true that I had a hope of being on the podium but honestly I never expected a victory like this."
TrialGP: Your first-ever win was on September 7 in 1997 in Germany when you were 17 and your latest win has come almost 24 years later when you're 41 – what is the secret to your amazing longevity?
Fujigas: "It's not that there is a specific secret, it's just the effort and desire that I always put in without the importance of the result."
TrialGP: Will anyone ever beat this record? Toni was 19 when he won his first and he will have to be competitive for another seven years to become the oldest winner.
Fujigas: "Toni is from another planet! He has a control over the bike that I have never seen in anyone. Above all the motivation he always has, I believe that Toni is also capable of being the oldest rider if he continues with the desire and effort."
TrialGP: Do you think you could win the world championship again? On the evidence of day two in Italy you surely have a chance.
Fujigas: "Never say never! This is always on my mind. It's a difficult thing but I always have my hopes above all and obviously I will do my best to get better."
The 2021 Hertz FIM Trial World Championship resumes on August 20-22 with the Andorran TrialGP, round three of the series. For regular updates and live results check out our social media platforms on Facebook, Twitter and Instagram – just search for TrialGP.
For more information go to www.trialgp.com