Recently crowned FIM Trial3 World Champion Harry Hemingway will line up alongside Toni Bou, Adam Raga, Jaime Busto, Gabriel Marcelli and other soon to be confirmed top riders at the inaugural DL12 Indoor Trial at the Utilita Arena, Sheffield on Saturday 7th January 2023. The sixteen-year-old British sensation has earned his right to take to the stage with his more established rivals after having dominated the Trial3 class this season ahead of him moving up to Trial2 next year.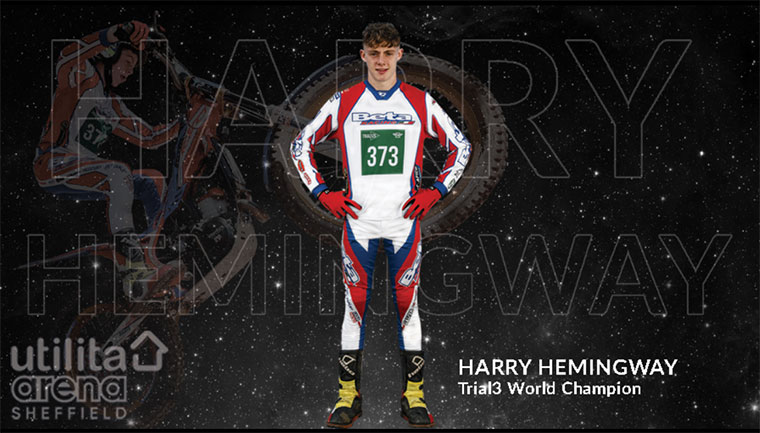 "I wasn't too sure if Dougie was being serious or not when he told me. I was getting to grips with having just become World Champion and next thing I am being asked to ride at Dougie's first indoor event." Explained Harry.

"I didn't take long to say yes. It will be an amazing experience for me especially in front of so many British fans and so close to my home in Yorkshire. With the outdoor season almost done I have now got a few months to focus on the bigger capacity bike and to get plenty of indoor practice. I can't tell you how excited I am for this opportunity and would like to thank Dougie for believing in me." Ended young Hemingway.

Dougie Lampkin added. "With only eight rider places up for grabs it is important that each rider we select is done on merit. Despite his age Harry has already showed that he has the correct level to compete at the highest level and I am sure once he moves to the bigger bike, he will go up another level. We have all had to start somewhere when it comes to indoor events and I know it's going to be a big ask for Harry on the night, but I also know he won't lack confidence and will certainly have the home fans cheering him through every section."

For standard tickets or premium passes for the chance to meet Harry Hemingway and the other riders in person – click here for more details.