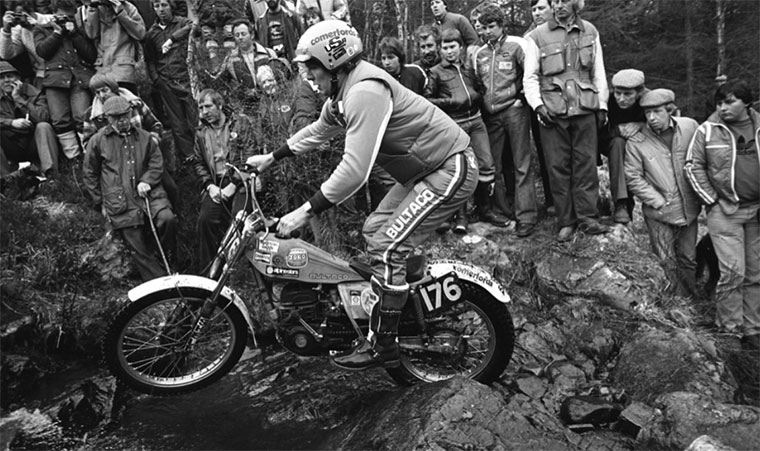 The first-ever FIM Trial Vintage Trophy will be held on September 24 at the iconic venue of Monza in northern Italy where it will share centre stage with the 2022 FIM Trial Des Nations – and the good news for competitors is that the deadline for entries has been extended until September 12.
Riders from Andorra, Belgium, France, Italy, Slovakia, Spain, Switzerland and the USA have already signed up for what will be a truly international event and many more nations are expected to be represented.
The FIM Trial Vintage Trophy will play a big part at this year's TDN with two main prizes on the line – for best performance on a vintage motorcycle and best performance on an authentic vintage motorcycle – and there will also be a support class competing over easier sections.
If you fancy your chances – or just want to be able to tell your friends you've competed against some of the sport's biggest-ever stars – then click here to book your place.
US trial legend Bernie Schreiber will be Master of Ceremonies on the day with the 1979 Hertz FIM Trial World Champion – who's still the only American to lift the biggest prize in global trial – interviewing a generation-spanning selection of some of the biggest stars of the sport.
Of course, it's not all about competition. Whether your weapon of choice is a state-of-the-art GASGAS or a twin-shock Montesa you are all assured of a warm welcome even if you only want to spectate and admission is free.
On the Saturday night there will be a reservation-only Trial Des Nations and vintage cocktail dinner after the TDN presentation where fans will be able to rub shoulders with their heroes. This will be staged at the Autodromo of Monza and everyone is welcome – you can book your tickets here.
This world-famous venue will also be the base for a weekend-long display of historic trial machines and among the ground-breaking bikes will be:
1964 Ariel 500cc (ex-Sammy Miller)
1967 Bultaco T27 (ex-Don Smith)
1972 Yamaha 360cc prototype (ex-Christian Rayer)
1975 Kawasaki KT250cc prototype (ex-Don Smith)
1975 Honda 305cc prototype (ex-Marland Whaley)
1976 Guzzi Colombari (ex-Pipo Bartorilla)
1980 Seeley Honda 250cc (ex-Eddy Lejeune)
1983 Fantic 300cc prototype (ex-Jaime Subira)
1983 Comerfords Bultaco 340cc prototype (ex-John Reynolds)
1984 Honda 360cc prototype (ex-Eddy Lejeune)
The competition gets under way at 9am on the Saturday with the FIM Trial Vintage Trophy before official TDN practice kicks off at 10am. Sunday will see the current generation of trial heroes – both male and female – showcasing their talent from 8.30am.
Monza is situated around 10 miles north of Milan. There are three airports within 40 miles and road links are excellent.
For the full timetable and more information point your PCs here.
For more information on the Hertz FIM Trial World Championship go to www.trialgp.com