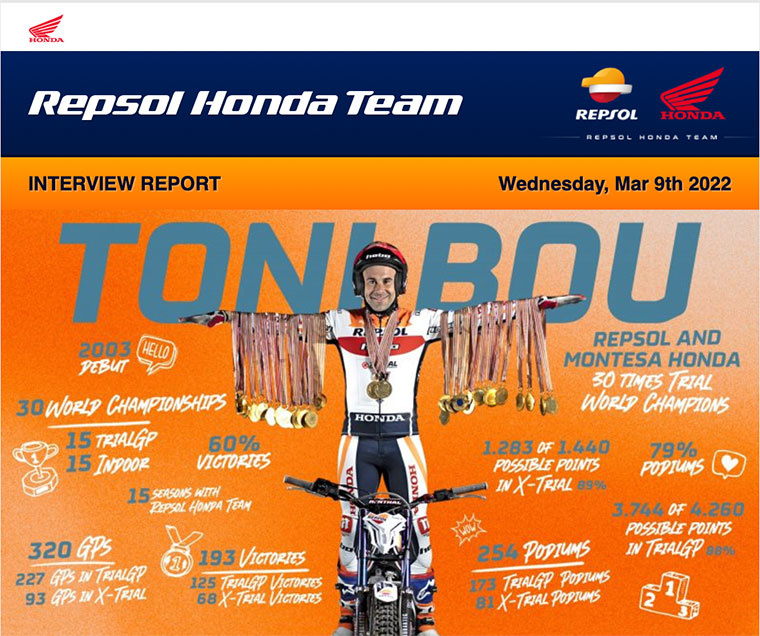 Toni Bou: "I love what I do, and that is the key to my motivation"
The 30-time Trial World Champion begins his sixteenth season with the Repsol Honda Team this Friday, with the first round of the X-Trial World Championship.
Toni Bou analyses the start of a new World Championship season, which starts in Nice this weekend. It will be the first of the six events for the indoor series, in which he has reigned supreme since 2007. Over the last 15 years, the Repsol Honda Team rider has broken records galore, and he arrives at the French event in top form .
– We have seen on social media that you have incorporated both cycling and motocross into your training. Is there any special reason behind this?
– I've always practiced it, and continue to do so today. With my social media I have taken the opportunity to show a little more of what my training is like, but I have been practicing these disciplines all my life. Depending on the season, I do a little more cycling than motorcycle training, or vice versa. The bike is a very good complement for training and enduro is a bit more dangerous, so I try to do that a bit more outside the World Championship calendar.
– Do you have obsessive thoughts? 31, 32, …?
– Not at all. We have already achieved much more than we thought. When we reached thirty titles in a short season as last year, with only two races, Andorra and Barcelona, it was a lot of pressure. But I don't think there could be another situation as beautiful for us as winning title number 30 at the Palau Sant Jordi. We are doing incredible things, which is amazing to have experienced, but on the other hand it also takes pressure off us from now on.
– There has been an important change in your team for this season: Fujinami has gone from being your teammate to your team manager. How do you see him doing in his new role?
– I'm very happy. Obviously it's his first year and he's only been doing it for two months. You have to take things step by step, but he is really keen. We have a very good relationship and that will help. I also think that Repsol Honda Trial Team is a very strong team. I see it as something that is very good and I think it will be positive for the team.
– In a year of changes, you also have a new teammate. What can you tell us about Gabriel Marcelli?
– We have had a relationship with Gabri for years, because he was on the satellite team, with Montesa Honda. He is a rider with very good potential. Physically he is very powerful, and he works a lot. This season will be very important for him.
– Is your motivation still intact after 15 years?
– It's very difficult for it to be the same, because it's been many years and many things have happened, but I am starting this year very well physically and that's the main thing. Let's see if we get to the first race in perfect shape, but things look very good. As I always say, I love what I do and that is the key to motivation. The day-to-day work is no issue for me and I go to the races with enthusiasm.
– Are there more nerves at the first race of the season or at the last?
– It depends on what is at stake. The first one is always a nerve-racking race, but the last one can be decisive for the season. In the end, everything we've competed in has taught us how to do it. We know that being very nervous does not help you to achieve objectives, so I hope to control the nerves.
– After the 15 titles, do you get recognised a lot on the street?
– Obviously people know you much better, but Trial it's still a minority sport. If I had achieved this in another discipline, it would be very different, for sure. In my case I always say that it is perfect, because people know you and they recognise what you do, but without overwhelming you, which I think is what can bother some athletes who are not really allowed to live.
– Do you think that Trial is in good health?
– It's difficult. The last few years, with COVID, have hit everyone hard. It's time to try to make this sport grow. Let's see if now, with the new promoter, with the FIM -who are eager to continue improving- they try to take advantage of this dip due to COVID slump that has affected everyone, in all disciplines, to try to change the things that are lacking and try to improve.
– Are their good young talents coming after you?
– A good number of young, strong riders are coming through, with a lot of desire. It is very difficult to really say how many will get there, but there are many who are looking very good, and that is positive for our sport.
– What do you usually do the day after a race?
– The day after a race is usually a rest day, unless we have a very tight schedule and don't have time to prepare for the next race. Normally it is a day to reflect on everything that has happened, be it good or bad, and try to improve. We also use it to rest and recover.
– What is a day in the life of Toni Bou outside of competition?
– Outside of the competition I try to spend time with my friends and enjoy myself. Whatever I do, I spend time with the people I love, because with COVID we have gotten used to not seeing each other much. But before it was a normal thing to be away from home more and to take advantage of these moments enjoying time as a couple and having a normal life.
– If you could define your day-to-day in percentages, what is the split?
– I switch off very little, but when I do, I do it well. More than 50% is always taken up by this sport. I would say that 10 or 15% is dedicated to my family, because that is very important. Time with friends is more or less the same, and the rest is spent relaxing. Of course, I always try to enjoy everything 100%, both on the bike, with family, with friends and with everything else.