Following on from a very successful inaugural event earlier this year, the Trial Vintage Trophy returns in 2023 with a two-day celebration of all things retro at Auron in France on September 8 and 9.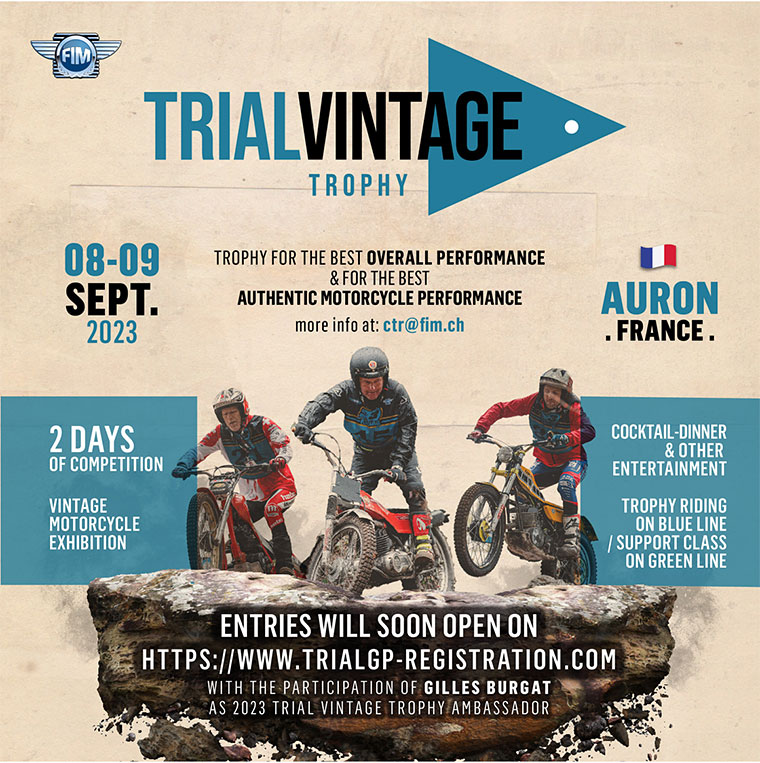 Once again being staged over the weekend of the FIM Trial Des Nations, the competition on the Friday and Saturday will be split between the main Trial Vintage Trophy riders and a support class with two mountain routes – one blue, one green – catering for all abilities.
In addition, the coveted Trial Vintage Motorcycle Trophy for the best performance with an authentic vintage motorcycle will be up for grabs.
Along with a cocktail dinner and other entertainment there will be a vintage motorcycle exhibition featuring a selection of iconic Trial machinery.
"After enjoying the 2022 Trial Vintage Trophy in Monza, Italy, I am looking forward to riding the 2023 Vintage Trial in Auron and soaking up the unique atmosphere," said 1981 FIM TrialGP World Champion and Trial Vintage Ambassador Gilles Burgat. "Auron is such a great place to ride Vintage Trial and I will be pleased to see my good friends from the La Gaude Moto Club.
"I hope to see a lot of Trial riders from all over the world enjoying the 2023 Trial Vintage Trophy in Auron, France. Come join us on September 8 and 9."
FIM Trial Commission Director Thierry Michaud is delighted to be joining forces with his compatriot and fellow TrialGP World Champion.
"We are delighted to know that Gilles Burgat, former French World Champion and fervent Vintage rider, has agreed to be the Ambassador of this organisation through his former club in Auron, France," he said. "We are also working on some new features to make this event an exceptional meeting."
Entries will open soon at www.trialgp-registration.com