With a 7th and a 4th, Busto leaves the country of the Pyrenees in the 3rd spot of the Championship standings. In Trial2, Hugo Dufreses managed to record Top 10 results in both days of competition.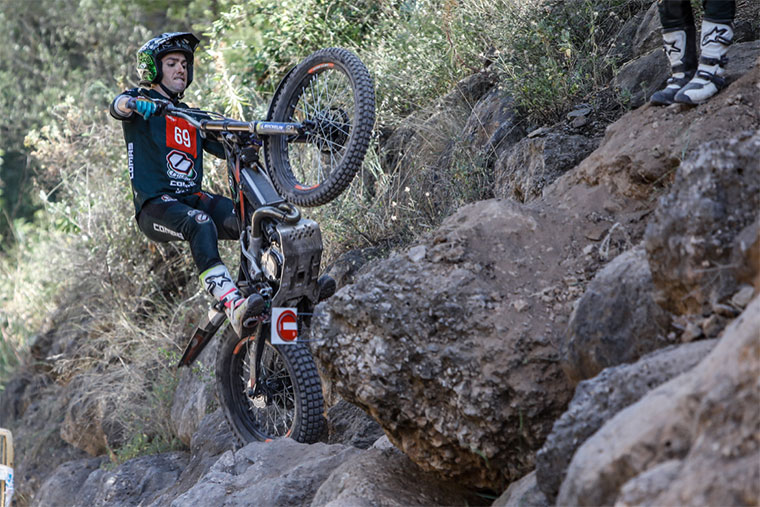 Just a week after the TrialGP World Championship got underway with an historic win for Jaime Busto on day 1 in l'Hospitalet de l'Infant, the paddock quickly moved to the high altitude of Andorra for round 2 of the series for one of the most iconic and challenging events of the calendar.
On the opening day, Jaime Busto had to battle his way through a tough lap 1, which resulted in high-scoring lap and minimum differences between all the riders. Busto ended up with 41, a performance he was able to substantially improve on lap 2 allowing the Spaniard to reduce his dabs to 29 for a total of 70, leaving him in 7th place at the end of the day. On Sunday, feeling better right from the start, Busto was able to put in two solid laps of 15 and 18 marks to finally come home in 4th, three marks shy from 3rd. A Top 3 that he does own in the provisional standings, where he sits in 3rd after the 4 point-paying days celebrated so far.
Hugo Dufrese delivered another strong performance in Trial 2. The young Frenchman, who already showed glimpses of what he is capable of in Spain, upped his game to another level in Andorra, where he held a race-long battle for the podium on day 1 to eventually finish in a positive 5th place. On Sunday, the highly-competitive class offered a fantastic day of competition with the first 10 riders only separated by 11 marks. Dufrese took his 3rd Top 10 result of the season finishing 9th, just 3 marks away from 5th and 5 from 3rd. Dufrese will head to Germany, next round of the series, in 7th place of the provisional standings.
Another rider who continues to record excellent results is Mattia Spreafico. The Italian was 9th on day 1 and 13th on Sunday. Pau Martínez had to content with a 13th and a 16th. Alfie Lampkin is making great progress in the Trial3 class and prove of that is him rounding out the Top 10 in both days.
The next event of the 2022 TrialGP World Championship is scheduled on July 8-10 in Neunkirchen, Germany.