SPANISH STAR NARROWLY MISSES OUT ON RUNNER-UP POSITION ON A TIE-BREAK BUT CONSOLIDATES SECOND IN SERIES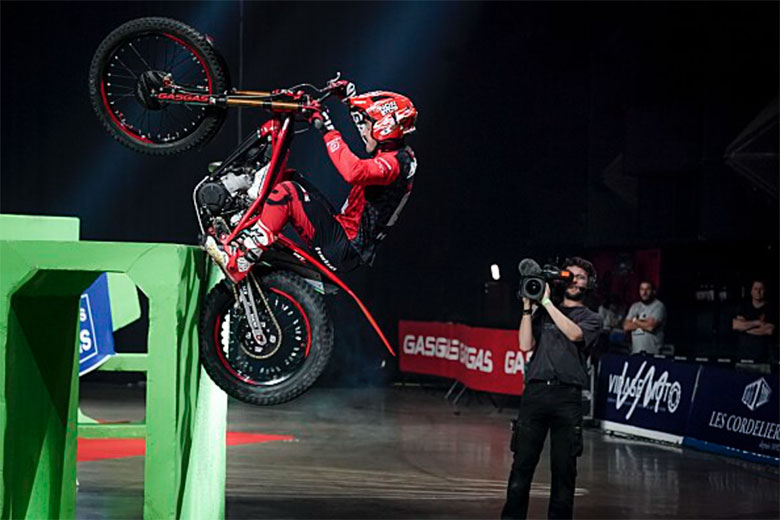 GASGAS Factory Racing's Jaime Busto has maintained his 100 percent podium record in the 2023 FIM X-Trial World Championship, claiming a third-place finish at last night's round four of the series in Bordeaux, France.
Busto on the podium for fourth consecutive time
Spanish star consolidates second in championship standings
Steep X-Trial learning curve continues for Sondre Haga
Just as he did last time out in Pamplona, Busto hit the ground running with his single penalty in the opening lap of five sections giving him a four-mark advantage over defending champion Toni Bou.
With the course reduced to four sections, Bou closed the gap during the second lap but with the scores combined the 25-year-old GASGAS rider still qualified for the three-man final in first position, with a single-mark advantage.
However, for the final the scorecards were wiped clean and with six sections to decide the eventual outcome, the atmosphere in the Arkea Arena was electric.
With all three finalists failing the opening section, two marks lost on the second hazard saw Busto one mark behind Bou and tied with Adam Raga. Frustratingly, Busto then dropped to third on section three after adding another mark to his score.
Digging deep, Busto fought his way back into contention in the final three sections of the night but although he pulled a mark back on Raga he lost second place on a tie-break.
With three rounds still to go Busto is just 20 points behind Bou but now has a 13-point cushion ahead of the third-placed rider Gabriel Marcelli.
In just his second full FIM X-Trial World Championship season, Haga has been forced to negotiate a steep learning curve and his indoor education continued in Bordeaux.
An opening round score of 20 put him on the back foot and although he improved in round two, he was never in contention for a place in the final.
The series now takes a break for the FIM TrialGP World Championship and resumes on October 7 in Andorra.
Jaime Busto: "I'm really happy to maintain my podium results. I started really good with a really strong first and second lap. It was a pity that I made some mistakes in the final. I was tied on points with Adam and in the section to decide it I missed my opportunity. Nevertheless, I'm happy with the points taken for the championship. We'll keep going strong."
Sondre Haga: "For me personally it wasn't the best day. I felt really good with the bike – especially on the first lap – but in indoor trials it's easy to have a five. I made some errors in the second lap, which cost me a lot of marks and that was it. I just need to forget this and focus my mind for the next one. We'll keep working hard for it. I would like to thank the team for the job they do and the great bike."
Results – 2023 X-Trial World Championship, Round 4
1. Toni Bou (Montesa) 8 points (final)
2. Adam Raga (TRRS) 12 (final)
3. Jaime Busto (GASGAS) 12 pts (final)
4. Toby Martyn (Montesa) 17
5. Gabriel Marcelli (Montesa) 21
6. Matteo Grattarola (Vertigo) 26
7. Benoit Bincaz (Sherco) 29
8. Aniol Gelabert (Beta) 29
9. Sondre Haga (GASGAS) 36
2023 X-Trial Championship Standings (after round 4)
1. Toni Bou (Montesa) 79 points
2. Jaime Busto (GASGAS) 59
3. Gabriel Marcelli (Montesa) 46
4. Adam Raga (TRRS) 45
5. Toby Martyn (Montesa) 21
6. Benoit Bincaz (Sherco) 13
9. Sondre Haga (GASGAS) 6
11. Marco Mempor (GASGAS) 1