Fruitful weekend for Jaime Busto in Germany, 2nd on Saturday and 3rd on Sunday, the Spaniard moves up to 2nd in the general standings. Theresa Bauml in Trial2 Women wrapped-up further two podiums for Vertigo.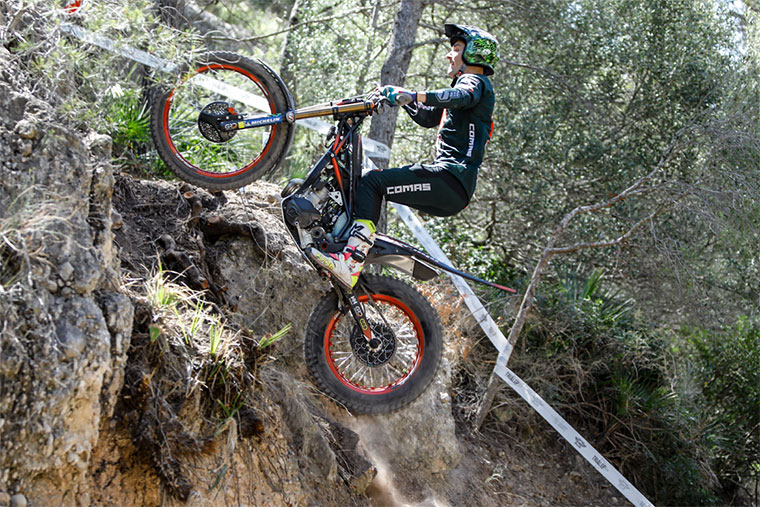 Round 3 of the 2022 TrialGP World Championship took place this weekend at the German town of Neunkirchen. The event was a huge success with a massive crowd attending both days of competition and the fans providing a fantastic atmosphere in which was a productive weekend for Vertigo, specially in the TrialGP class, with Jaime Busto moving up to the 2nd place of the Championship Standings after recording two podium finishes, 2nd on Saturday and 3rd on Sunday.
The Spaniard continues on top form and he proved it in Germany with two outstanding performances. On day 1 he recorded a solid 2nd place after delivering a phenomenal second lap, in which he was able to reduce the 26 marks from the first run through the 12 section course to only 13 for a total of 39, five ahead from third. Sunday would see another close battle for the Top 3 spots, and again, with Jaime Busto positioning himself as a podium contender right from the start. Following Saturday's pattern, the Spaniard offered a fantastic progression throughout the day to turn his 17 marks score from lap 1 into only 8 on the 2nd lap, which allowed to close the gap with Grattarola and eventually ending up in 3rd matching Italian's total of 25. Thanks to this fantastic weekend on German soil Busto now sits in 2nd in the General Standings. At the helm of the JB-R, which is proving its competitiveness and reliability in all events, Busto has finished on the podium 4 out of the 6 point-paying days celebrated so far including his historic win on day 1 of the Spanish GP.
In the always competitive Trial2 class, Hugo Dufrese continued his Top10 streak in Germany by delivering two strong performances. Day 1 saw the Frenchman round out the Top10, but things would go even better on Sunday with Dufrese climbing to a hard-earned 7th place, the same position he holds in the Championship Standings.
Vertigo recorded further two podiums in Germany thanks to local rider Theresa Bauml in the Trial2 Women category, which was celebrating its first round of the year in Neunkirchen. Bauml enjoyed podium success by taking 3rd on both days of competition in front of her home crowd. Sara Trentini, 7-6, and Regitze Toft Jensen, 11-9, also recorded positive results over the weekend.
Now the TrialGP World Championship takes a long break until August 20-21, when the series will resume with round 4 in Belgium.