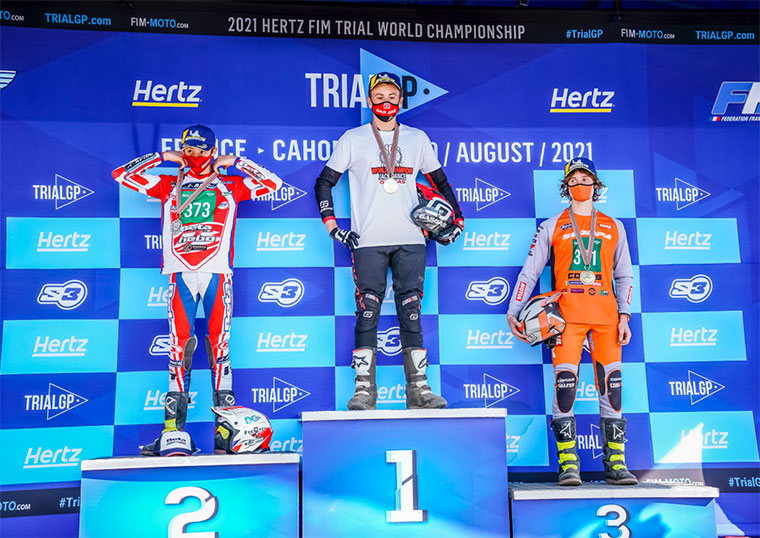 Jack Dance (GASGAS) clinched the Trial125 title at the second French TrialGP of the season – round four of the 2021 Hertz FIM Trial World Championship – at Cahors at the end of August with a dominant performance.
It was pretty much a case of business as usual for the rider from the south of England who has led the series from the opening day in Italy back in mid-June. Out of five points-paying days the 16-year-old has won three and been second twice and at Cahors he signed off in style with a clear-cut win.
"It was awesome on the day, especially with all the team around," he said. "There was a bit of pressure on but I tried not to think about it and just concentrated on getting the job done.
"I just had to make sure of the title at the last round because anything could have happened. I was concentrating all day, just making sure I did well and got the win. I wanted to go out with a win – it feels a lot better that way and I had quite a lead by the end. My dad Adrian minded for me and he helped a lot which was brilliant."
If there's one thing all top riders worry about it's a low-scoring event. When marks are at a premium and there are few chances to pull back mistakes, a single lapse in concentration can be the difference between a win and missing the podium altogether but Dance's total of five was 10 clear of the next-best rider.
"The trial was maybe slightly on the easier side but still I had to focus all day, treat it like it was really tough and focus on every section. I couldn't waste any marks because I knew other people would be on similar scores. An easy trial is a lot tougher because of the amount of pressure you have to deal with. There's loads of it."
Following the cancellation of the British TrialGP, the Trial125 series came to a premature end in France but while the UK riders missed out on the chance to perform in front of their home fans, the championship still ended well for them with Dance sharing the overall podium with Harry Hemingway (Beta) and Harry Turner (Scorpa) with Ben Dignan (Vertigo) fifth.
For now Dance isn't thinking too hard about the 2022 season.
"I'm not sure about next year at the minute – I'm just going to savour the moment because it's a big achievement – so I'm keeping my options open for now but Trial2 is a possibility.
"Having the support around me has played a big part. John Shirt in England and training with Albert [Cabestany] – you can't buy that level of knowledge and experience. I'd like to thank my family and the GASGAS team for embracing me and helping me throughout the year."
Round five of the 2021 Hertz FIM Trial World Championship takes place this coming weekend when the TrialGP and Trial2 competitors join forces with the TrialGP Women and Trial2 Women classes at the Spanish TrialGP at Pobladura de las Regueras.
For regular updates and live results check out our social media platforms on Facebook, Twitter and Instagram – just search for TrialGP.
For more information go to www.trialgp.com