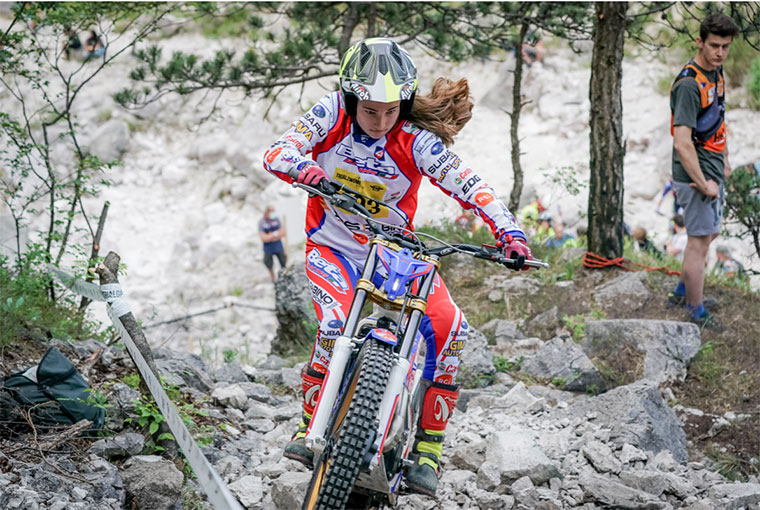 Following a weekend off, the big-hitters of the premier TrialGP class and the second-tier Trial2 competitors resume the fight for supremacy and they are joined at the purpose-built Circuito Permanente de Trial by the TrialGP Women and Trial2 Women riders.
Competition is close across all four classes but with two points-paying days in Spain the championship tables could have changed dramatically by close of play on Sunday.
Reigning TrialGP king Toni Bou (Repsol Honda) is in pole position to take his 15th consecutive title and currently leads his fellow Spaniard Adam Raga (TRRS) by 11 points. Raga, champion back in 2005 and 2006, hasn't finished off the podium all season and beat Bou on day two in Andorra but he most know that time is running out for him to dethrone his great rival this year.
After returning to the class following his Trial2 title last year, Italy's Matteo Grattarola (Beta) continues to impress and has scored three podiums from six events. However, he'll have to be on top form to defend his third position in the championship from Jaime Busto (Vertigo) who will be virtually on home turf in the north west of Spain.
Busto didn't start the season in top form but he's been building steadily and is now just four points behind Grattarola and six ahead of Spanish-based Japanese legend Takahisa Fujinami (Repsol Honda) who has also tasted victory this year.
The wins in TrialGP Women are expected to be disputed between Britain's defending champ Emma Bristow (Sherco) and Spanish off-road star Laia Sanz (GASGAS). Back in action for the first time since early July, the two feet-up females are separated by just three points with Bristow's 2-1-1 results after the first three days giving her a narrow advantage over Sanz's 1-2-2.
Bristow is, of course, hoping to claim her eighth-straight title this year while Sanz, who's returned to the series for the first time since 2013, is aiming to secure her 14th world crown.
The Spanish pairing of Berta Abellan (Vertigo) and Sandra Gomez (TRRS) sit third and fourth with Norway's Ingveig Hakonsen (TRRS) completing the top five.
Trial2 has been too close to call all season with British riders Toby Martyn (TRRS) and Jack Peace (Sherco) taking turns at the top of the table.
Thanks to his incredible clean ride last time out in France, Martyn currently holds a two-point lead over Peace who could only manage a fourth-placed finish at Cahors.
Spain's Aniol Gelabert (Beta) is 17 points further back in third but he has taken a round win this season and will fancy his chances of at least one repeat performance this weekend in front of his home fans.
The scores in TrialGP Women are mirrored in the Trial2 Women class where Italian riders Andrea Sofia Rabino (Beta) and Sara Trentini (Vertigo) have been dominant. Rabino's 2-1-1 scores give her a three-point cushion over Trentini who backed up a win on the opening day with a pair of second places.
Britain's Kaytlyn Adshead (TRRS) and her compatriot Alicia Robinson (Beta) are the best of the rest and are locked together on 31 points.
The action kicks off on Friday afternoon with an official practice session before the serious business kicks off at 9am CET on both Saturday and Sunday.
For regular updates and live results check out our social media platforms on Facebook, Twitter and Instagram – just search for TrialGP.
For more information go to www.trialgp.com