SPANISH ACE TO MAKE ANOTHER RUN AT THE FIM WOMEN'S TRIAL WORLD CHAMPIONSHIP
Determined not to let her competitive fire burn out, Laia Sanz has decided to return to the feet-up world of trial and compete in the 2021 FIM Women's Trial World Championship! Going back to where her motorcycle career started, Laia is reigniting her passion for trial and returning to the paddock where she's enjoyed so much success in the past. Gunning for the Women's Trial World Championship title, we couldn't be happier making a little space for her underneath our trial team's awning.
Laia Sanz returns to the TrialGP paddock for 2021
Spanish ace will compete on TXT GP 300
2021 TrialGP season kicks off in Italy, on June 11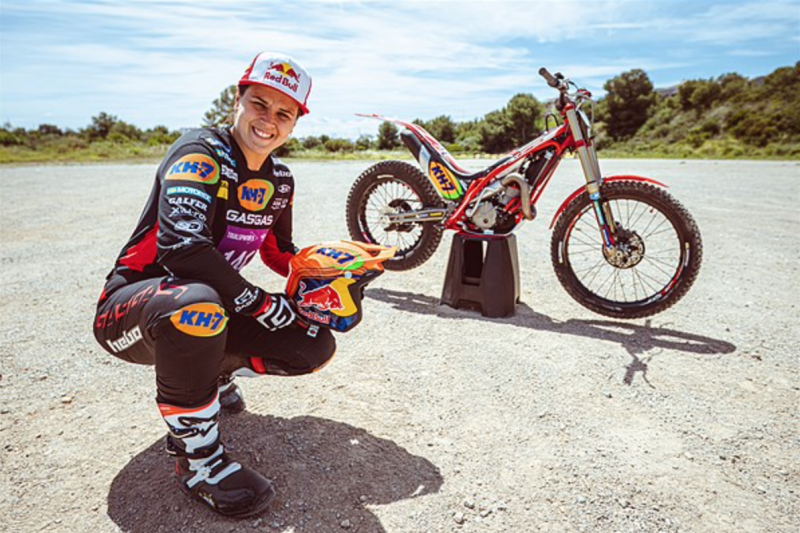 Since deciding to return to TrialGP, Laia's been fully focused on preparing herself for the upcoming season, re-sharpening her feet-up skills and finding her feet (pun intended) on a trial bike once again. Helped by plenty of time on her bike – take a look at her Instagram if you need any proof – with the start of the TrialGP series getting ever closer, Laia's been on the gas non-stop recently and couldn't be happier about returning to the Women's Trial World Championship!
Incredibly, Laia already has 13 FIM Women's World Trial Championship titles and we reckon she has what it takes to make it 14. Winning won't be easy, it never is at the highest level. But that's the goal, and no matter what the outcome, it's going to be a ton of fun seeing her back in action again!
But it's not just TrialGP that'll be keeping Laia busy in 2021. As one of our GASGAS Brand Ambassadors we've filled her garage with a selection of our bikes, meaning she can ride, race and train on whatever and whenever she feels like it. Be it on one of our motocross or enduro bikes, or a little eMTB action on her Trail Cross 9.0, Laia will be mixing things up and keeping things fun.
Check out what Laia has to say about her TrialGP return here.
Laia Sanz: "I'm so happy about competing in trial again! It's something I would have liked to have done last year, and we had everything ready, but one week before the first TrialGP round I contracted Lyme disease, which forced me off the bike for a while. I've wanted to come back to trial for a long time now. I have always loved trial and to have the possibility to return with GASGAS it's just perfect. Albert, our team manager, is a great guy and a great rider, so I know he'll be able to help me a lot. The bike works so, so well, so rather than testing I've been able to focus on regaining the skills needed to compete at the highest level, and I feel like I am getting there now. Eight years have gone by since my last TrialGP season so obviously I have lost some of my ability, but I feel good and I'm getting more and more comfortable with the bike each day. Outside of TrialGP, being appointed as a GASGAS Brand Ambassador is huge for me. We began our journey together last year so to continue with the brand and be more hands on with all the bikes is really important. Not only are they really enjoyable to ride but they are great for training and who knows, maybe I'll compete in some one-off races for fun."
Albert Cabestany – GASGAS Factory Racing Trial Team Manager: "Having Laia back in trial is great news, not only for the whole GASGAS team but also for the sport of trial. It'll be great to have someone who can challenge Emma Bristow, which will be exciting for the sport. All the team is excited to welcome her, and she's really excited about this new chapter in her racing career. Laia is ambitious but she's conscious that she has been out of trials for some years. She has been practicing a lot, but nothing compared to the riders who have been focusing 100 percent on trial during the last years. Her level was really high in the past and as we say, 'once a trials rider, always a trials rider'. Her main challenge will be to sharpen her skills with not too much time to prepare. We have seen Laia do some amazing things during her career so I've no doubt that she'll be able to be successful once again."