An instant fan favourite when he made his Sheffield debut at the inaugural DL12 Indoor Trial earlier this year, Spanish sensation Gabriel Marcelli – Repsol Honda has signed on the line and will return to the Utilita Arena on Saturday 13 January 2024 for DL12 Indoor Trial V2.0.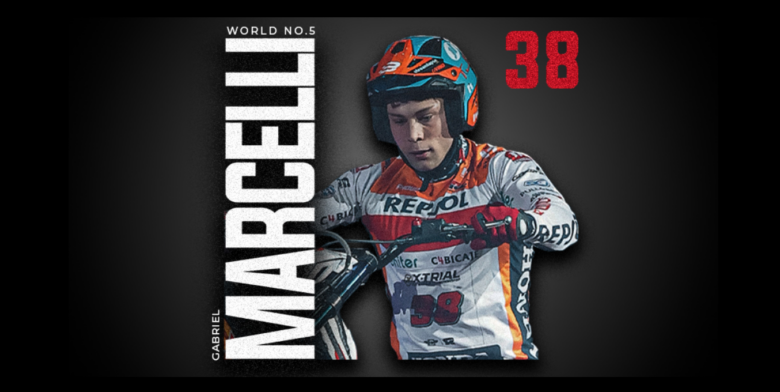 The twenty-three-year-old thrilled the capacity crowd in January with his all-action style as he powered to third place on an historic night for the sport and when he returns at the start of 2024, he will have only one thing on his mind.
"I'm looking forward to the race there in 2024, to try and get the victory," said Marcelli, who freely admits that indoor events suit his aggressive style. "I found the sections this year to have a high standard, especially in the final. That's something I really liked that the sections are difficult where you can make a difference.
"You have sections where you can make mistakes and you have sections where you can make up for them. In Sheffield they set up difficult and high-level races, that is why it is one of my favourite races."
Trial2 champion in 2019, Marcelli made an immediate impact when he graduated to TrialGP – the premier class of the Hertz FIM Trial World Championship – with a podium finish in his first season.
Toni Bou's team-mate since 2022, he has continued his climb through the ranks and currently sits third indoors and joint third outside with two X-Trial podiums and three TrialGP rostrum finishes to date.
"The Sheffield race is marked on the calendar for being a race at X-Trial level but with a different set of rules, more similar to the old ones, which is something that I think all riders prefer. In my case, the debut was very positive because starting the season with a podium is something that everyone likes."
The throaty roar of his four-stroke bouncing off the walls of the Utilita Arena is not something fans will forget in a hurry and Marcelli believes this type of engine is perfectly suited to his style.
"I've been riding a four-stroke bike since 2016 and I don't really remember how to ride a two-stroke anymore. Of the main differences of the four-stroke engine, what I like the most is the power punch that the bottom-end of the engine has. It's a more comfortable bike both because of the centre of weight – which is located on a lower height – and because of the rear suspension, which coupled with the low centre of weight, gives you a lot of stability."
Marcelli has certainly come out swinging this season and he feels changing his off-season programme has been a major factor in this.
"I have focused more on the work in the gym. I'm a rider who relies a lot on body and strength, rather than gas or technique, so being physically strong is a strength I can exploit more."
Tickets for the 2024 DL12 Indoor Trial on Saturday 13th January are already on sale. To guarantee yours click here.