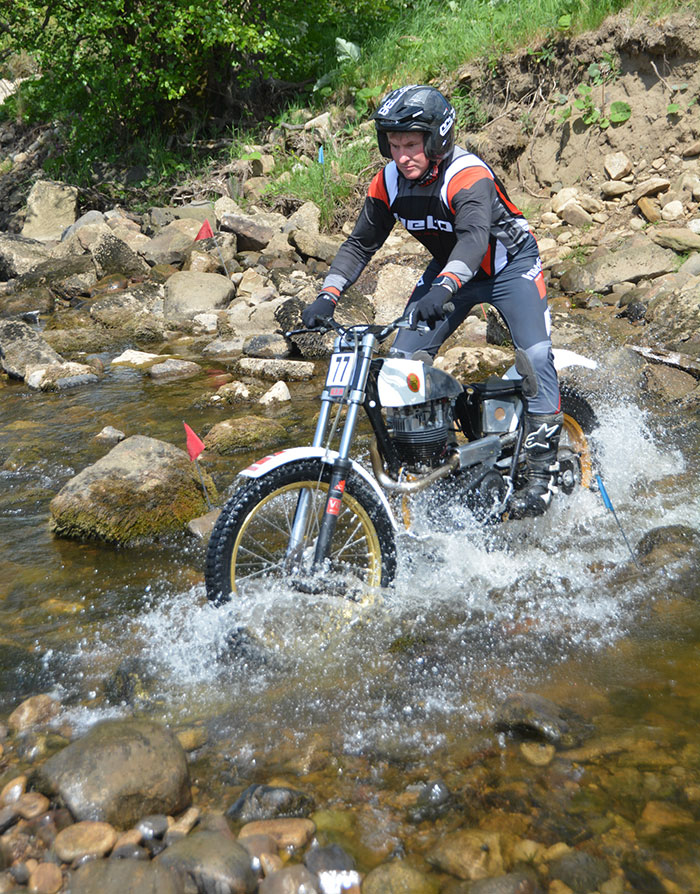 At the weekend, Richmond Motor Club held their annual weekend of trialing in Coverdale, where riders enjoyed two days of riding in the picturesque scenery. The sun made an appearance on Saturday, with many of the riders sunbathing on the Start Field after the trial and enjoying BBQs and beers outside their campervans and tents. Sunday was overcast and a bit cooler, making for better riding conditions.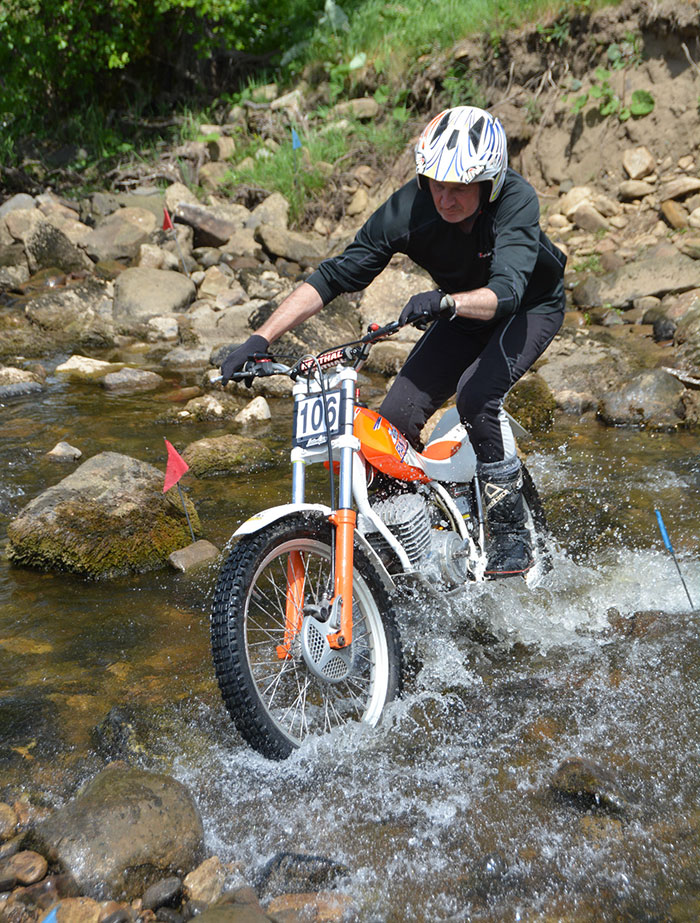 RMC welcomed a class for Air Cooled Monoshocks this year, as well as the usual classes for Pre 65 Models, Twinshocks, Over 40s (any bike) and Ladies (any bike).
Clerk of Course Sam Lambert made an excellent job of marking out the two day event, just two weeks after putting flags in for the Gerald Simpson S3 Championship Round down the road in Carlton. On Saturday the trial's lap looped around Horsehouse, with the first group of sections starting in the River Cover and the last group finishing across the road from the Start Field.
Sunday saw the lap further up the dale around Braidley, with a moor crossing to get back to the Start Field. Both days provided a range of old school, traditional sections.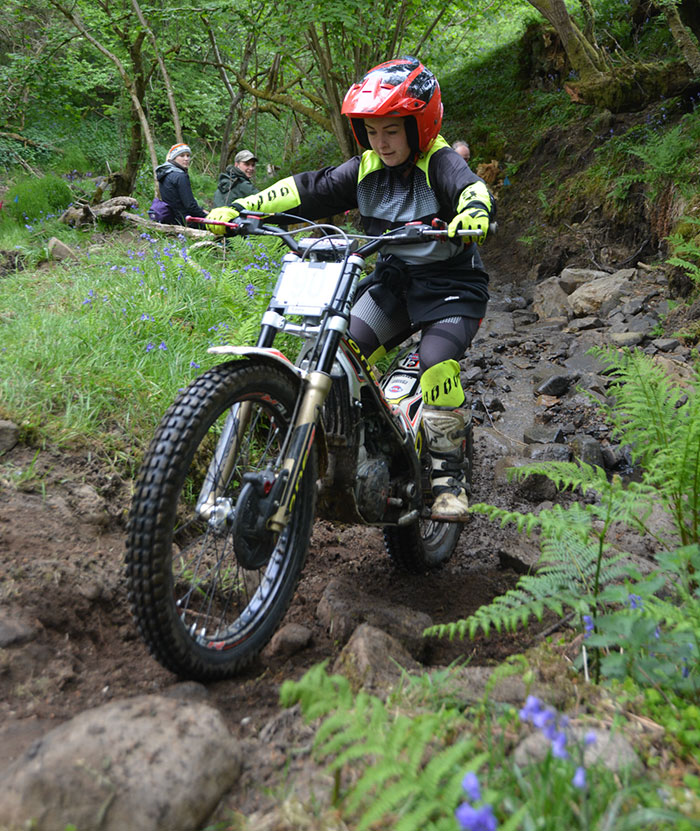 The trial had a popular entry, with 117 riders across all classes starting the event. The dry ground made for good riding conditions, with some very low scores across both days. The top 6 overall riders remained in single figures, and 26 riders managed a score of 20 or less.
It was a close one between James Noble (Ariel) and Andrew Tales (Fantic) who battled it out for the win, both only losing 1 mark across both days, but Noble clinched the win on furthest clean, landing Tales in second place. David Braithwaite (Montesa) came in third overall, only losing 4 marks.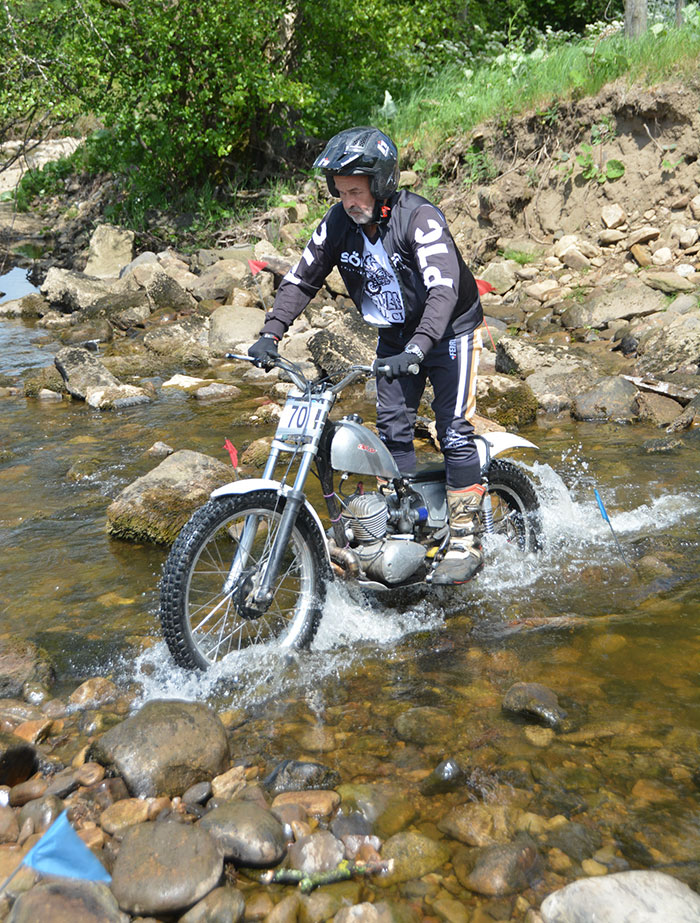 As well as winning the trial overall, James Noble took the lead in the Pre65 Unit Class, ahead of John Maxfield (BSA) on 10 marks lost, and Dave Watson (Royal Enfield) on 14 marks lost.
In the Pre65 2 Class, it was a success for the BSA, with Robin Luscombe leading the way on 4 marks, followed by Paul Dennis and Andrew Scott on 9 and 14 marks respectively, with all three riders on their BSAs.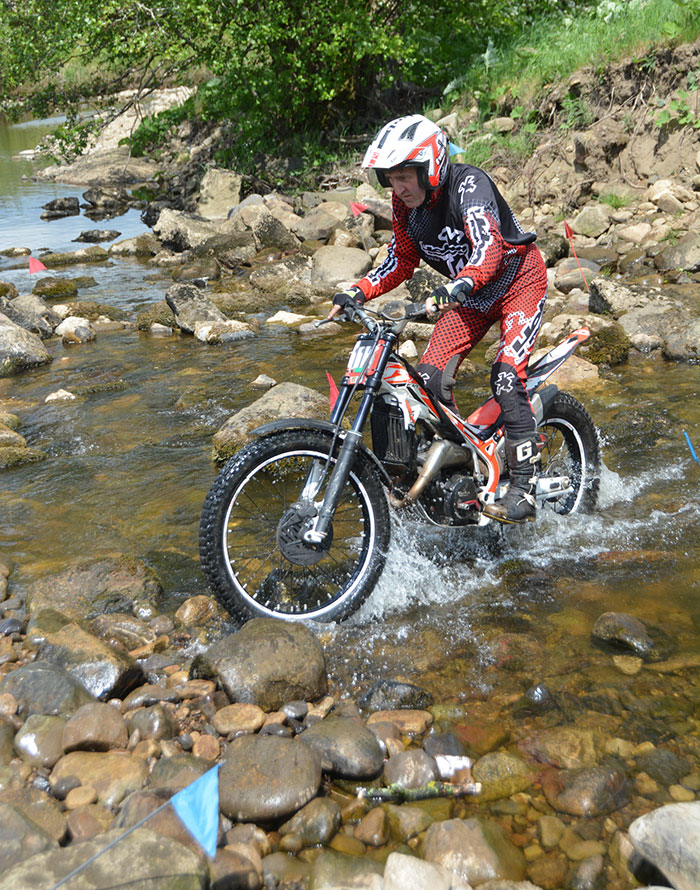 Andrew Tales (Fantic) had a convincing win in the Twinshock Class on 1 mark lost, with young lad Fraser Proudlock (Fantic) coming in second on 10 marks lost, followed by Andy Hipwell (Honda) in third on 11 marks lost.
In the new Air Cooled Monoshock Class, Stefan Walters (Fantic) took the win, dropping 10 marks. Adrian Thwaite (Fantic) was second on 25 marks, and Ian Hall (Yamaha) came in third on 27 marks lost.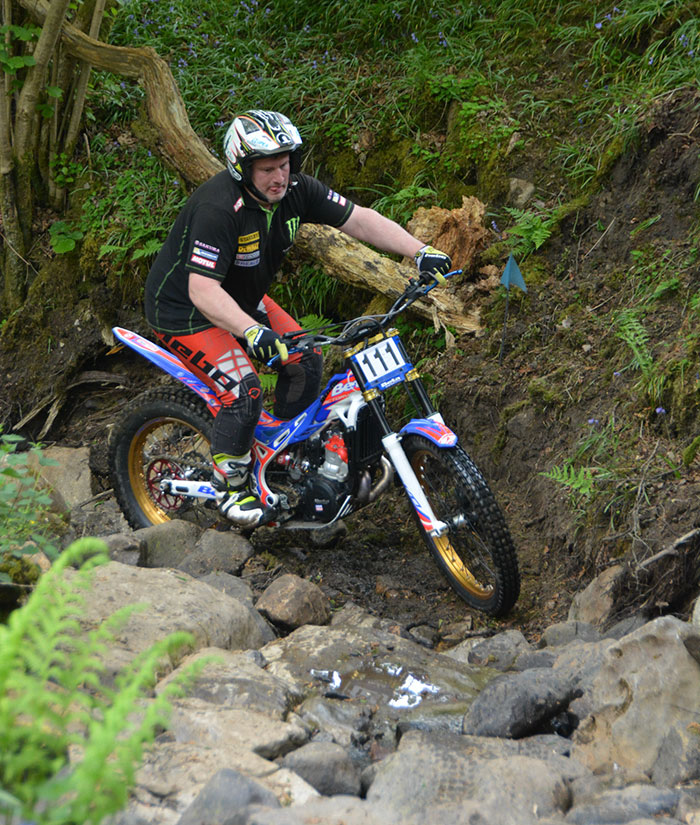 Moving to the modern bikes, David Braithwaite (Montesa) won the Over 60s Class, as well as coming third overall. Tim Bird (GASGAS) on 37 marks and David Matthews (Yamaha) on 49 marks came in second and third respectively. Tony Wild (Beta) led the Over 50s class on just 5 marks lost, with Greg Williams (TRRS) and Michael Dowson (Vertigo) in second and third place, both on 18 marks lost. The Over 40s Class was won by Paul Westgarth (Beta) on 33 marks lost. Wayne Geary (Scorpa) on 42 and Robert Rudland (Beta) on 77 marks rounded off the top three.
In the Ladies Class, Hannah Richardson (TRRS) led the way on 23 marks lost, closely followed by Seren Walters (Beta) on 24 marks lost. Both girls enjoyed a weekend of riding with their fathers, making the trial a key family event to mark in the calendar.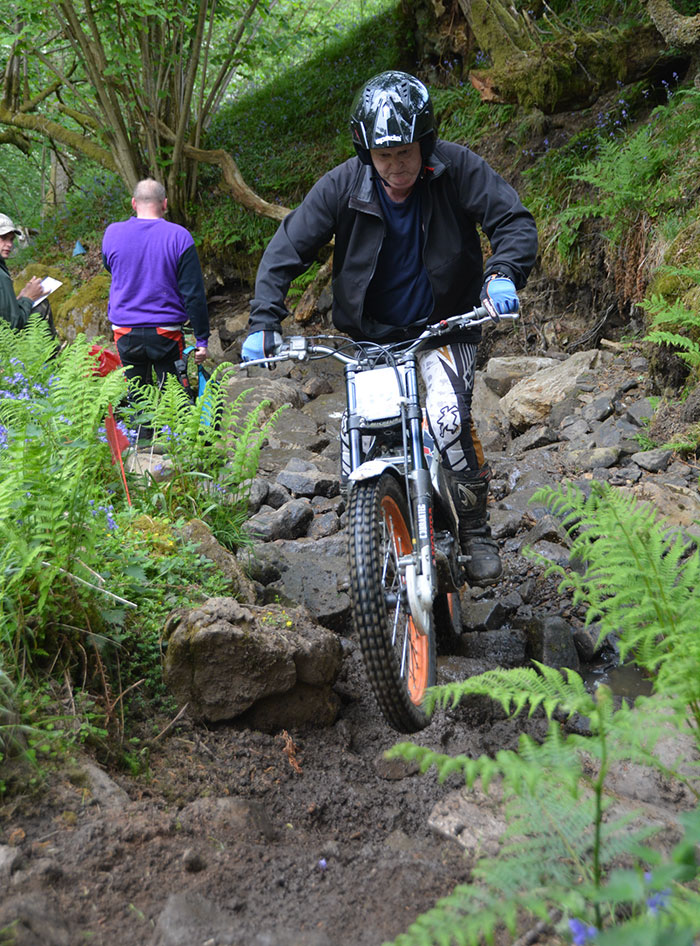 Richmond Motor Club would like to thank the landowners, Clerk of Course and his team of helpers, Secretary and assistants, observers, caterers and everybody else involved in the running of the event.
The Club is keeping busy and is looking forward to the next few weeks of trialing, with the next event being at Kidstones on Sunday 4th June, followed by a trial at Crabtree Farm on Sunday 11th June. Online entry is available for both events via the ACU Sport 80 website, head towww.richmondmotorclub.com for more information.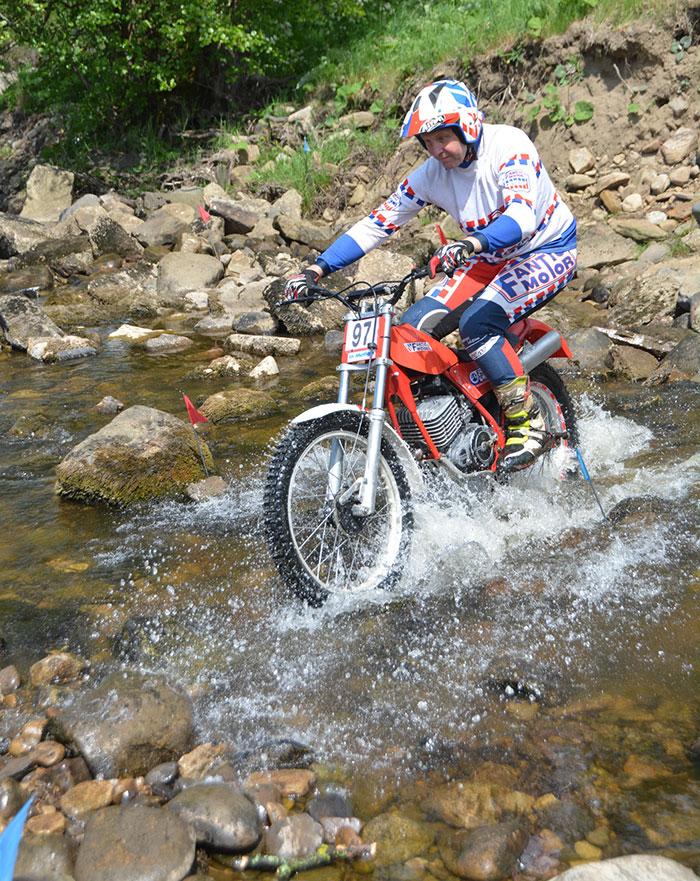 Results
Overall:
James Noble (Ariel) 1, 2. Andrew Tales (Fantic) 1, 3. David Braithwaite (Montesa) 4
Pre65 Unit:
James Noble (Ariel) 1, 2. John Maxfield (BSA) 10, 3. Dave Watson (Royal Enfield) 14
Pre 65 2:
Robin Luscombe (BSA) 4, 2. Paul Dennis (BSA) 9, 3. Andrew Scott (BSA) 14
Twinshock:
Andrew Tales (Fantic) 1, 2. Fraser Proudlock (Fantic) 10, 3. Andy Hipwell (Honda) 11
Over 60s:
David Braithwaite (Montesa) 4, 2. Tim Bird (GASGAS) 37, 3. David Matthews (Yamaha) 49
Over 50s:
Tony Wild (Beta) 5, 2. Greg Williams (TRRS) 18, 3. Michael Dowson (Vertigo) 18
Over 40s:
Paul Westgarth (Beta) 33, 3. Wayne Geary (Scorpa) 42, 3. Robert Rudland (Beta) 77
Ladies:
Hannah Richardson (TRRS) 23, 2. Seren Walters (Beta) 24