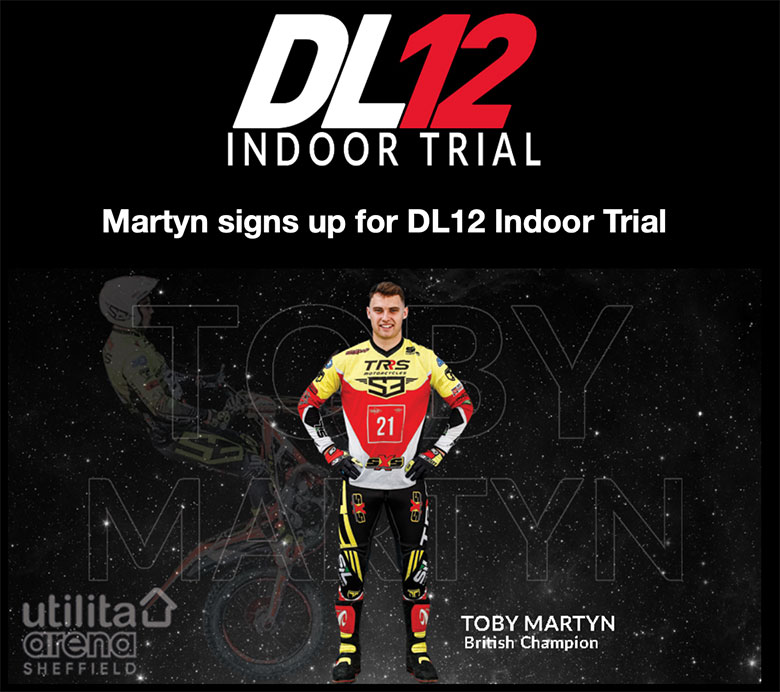 Reigning British Champion and 2021 Trial2 World Champion Toby Martyn is the sixth out of a total of eight riders who will be signed up for the first ever DL12 Indoor Trial on Saturday 7th January 2023 at the Utilita Arena Sheffield. The twenty-two-year-old Cornishman, who is on course to retain his national title with just one round of the domestic series remaining, has acquitted himself well during his maiden season in the premier TrialGP class having already broken into the elite top ten. Martyn has also made his mark on the indoor scene too when he shared the podium with Toni Bou and Adam Raga earlier this year during one of his wildcard appearances in the World series.

An admirer of Martyn's talent Dougie was delighted to add the young British rider's name to the already strong line up for his initial indoor event: "Toby's ability is right up there from what I saw when I spent a few days in France watching him train. I know he was hoping for some better results in the TrialGP class this season, but they will come if he keeps putting the work in. Toby has gained some valuable indoor experience over the last couple of years and as he has showed already, if he rides to his full potential on the night, we could have a Brit on the podium which would be amazing for the home fans."

Looking forward to his third appearance at the famous Yorkshire venue Martyn said: "In terms of a British trials event the DL12 Indoor Trial is going to be biggest of the year so I am super happy that I am going to be part of it. Being up against the World's best riders in front of so many British fans is going to be amazing, I hope I can bring my 'A game' and be in the mix, to make it onto the box in such good company would definitely be a great feeling. I know I will have the full support of the crowd, which is a big advantage when you are fighting the Spanish army!"

For standard tickets or premium passes for the chance to meet Toby Martyn and the other riders in person – click here for more details.