The history of trial will be showcased this coming weekend in northern Italy when the 2022 Trial Des Nations is staged at Monza where the best riders on the planet will display their silky-smooth skills alongside competitors battling it out for the all-new FIM Trial Vintage Trophy.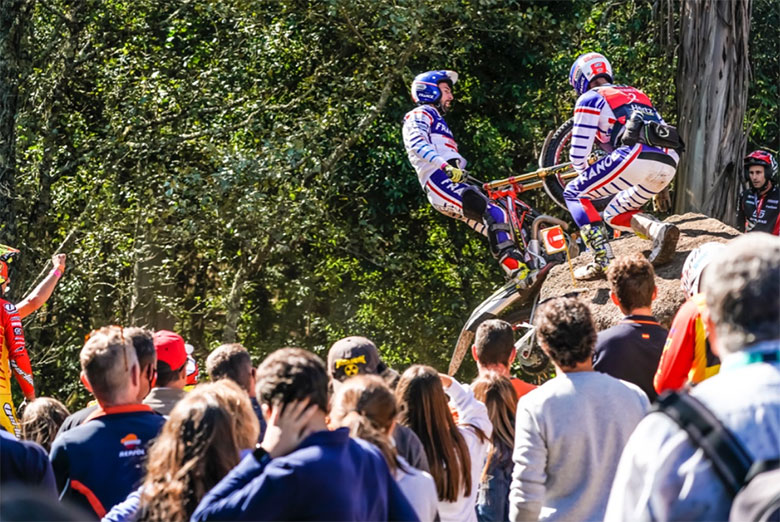 The TDN is an annual team event that pits country against country with the winners able to lay claim to being the best trial-riding nation in the world. The FIM Trial Vintage Trophy is a celebration of trial's roots with riders putting historic machines through their paces.
Spain starts as a clear favourite to win the TDN in the men's category. Unbeaten in the competition since 2004, this year's team comprises the top-three ranked riders in the world in 2022 with Toni Bou (Montesa) joining forces with Jaime Busto (Vertigo) and Adam Raga (TRRS).
As a trio the current Spanish team has won twice before – in 2017 and again last year – and between them Bou and Raga have stood on the top step of a TDN podium an amazing 33 times!
So, which nations are likely to step up to challenge the mighty Spanish? In all truth it is a very tough call to make…
France finished second last year but the team has undergone a reshuffle for 2022 with Benoit Bincaz (GASGAS) the only rider retaining his place. The 25-year-old, who finished 10th in TrialGP this season, is joined by Hugo Dufrese (Vertigo) and Gael Chatagno (Electric Motion) who finished eighth and 10th in Trial2.
Whatever the result, the French will make history this weekend with Chatagno becoming the first rider to compete in the TDN on an electric motorcycle.
Then there's the Italian trio of Matteo Grattarola (Beta), Luca Petrella (GASGAS) and Lorenzo Gandola (Beta).
Grattarola has had a great season in TrialGP, claiming a career-first win at the highest level at last weekend's TrialGP of Italy and four additional podiums on his way to fourth in the world.
Petrella is the only change to the team that finished third last year and he's ranked 12th in the world while Gandola – the 2017 Trial3 champ – finished his 2022 Trial2 campaign in a fighting fifth with a victory and two further podium finishes.
Great Britain hasn't won the TDN since 2003 and it would be a huge shock if Jack Peace (Sherco), Bill Green (Scorpa) and Toby Martyn (TRRS) returned to the top this year.
However, a podium finish is definitely a real possibility with Martyn – who finished his debut season in TrialGP in 11th – looking to end the year on a high.
Green and Peace have competed in Trial2 this season with Green scoring three podium finishes including a win in Andorra on his way to fourth and Peace, who was seventh, also claiming a podium.
The line-up is completed by Norway with this year's Trial2 champion Sondre Haga (Beta) leading Mats Nilsen (TRRS) and Jarand Vold Gunvaldsen (TRRS) into battle.
The women's competition is likely to be a two-horse race between reigning champions Spain and Great Britain.
Spain fields Berta Abellan (Scorpa), Sandra Gomez (TRRS) and Alba Villegas (Beta). Of the trio, Abellan – the number two ranked female in the world – is the rider on form after taking two victories in this season's TrialGP Women competition and never dropping lower than second.
We haven't seen Gomez or Villegas in Hertz FIM Trial World Championship action in 2022 but we know Gomez is a proven performer and in a top-flight career stretching back to 2008 the 29-year-old has finished second in the world twice and third on five occasions.
Great Britain is led by Bristow – the only remaining member of the victorious 2018 team – who wrapped up her eighth world title this season and she can be confident of rock-solid support from Robinson who was 10th in TrialGP Women this season – despite contesting just two rounds – and Adshead who was third in Trial2 with a victory at the final round.
The best of the rest are headed by Norway, Italy, Germany and France and all four nations have a great chance of a podium finish.
The men's International Trophy class will be contested by 20 teams from four continents and with last year's winners Norway moving up to the main TDN competition there will be a new nation on top of the podium this time around.
In addition to the main action there will also be a Challenge competition contested by seven two-rider teams, each featuring a male and a female competitor.
Before the big guns are rolled out on Sunday the inaugural FIM Vintage Trophy will get the action under way on Saturday with two main prizes up for grabs – for best performance on a vintage motorcycle and best performance on an authentic vintage motorcycle – and there will also be a support class competing over easier sections.
The day's events will be compèred by 1979 TrialGP world champion and all-round American legend Bernie Schreiber and, adding to the historic flavour, there will be a weekend-long display of ground-breaking vintage trial machinery.
The competition kicks off at 9am on the Saturday with the FIM Trial Vintage Trophy before official TDN practice gets under way at 10am. Sunday will see the current generation of trial heroes showcasing their talent from 8.30am.
For the full timetable and more information click here…
For more information on the Hertz FIM Trial World Championship go to www.trialgp.com