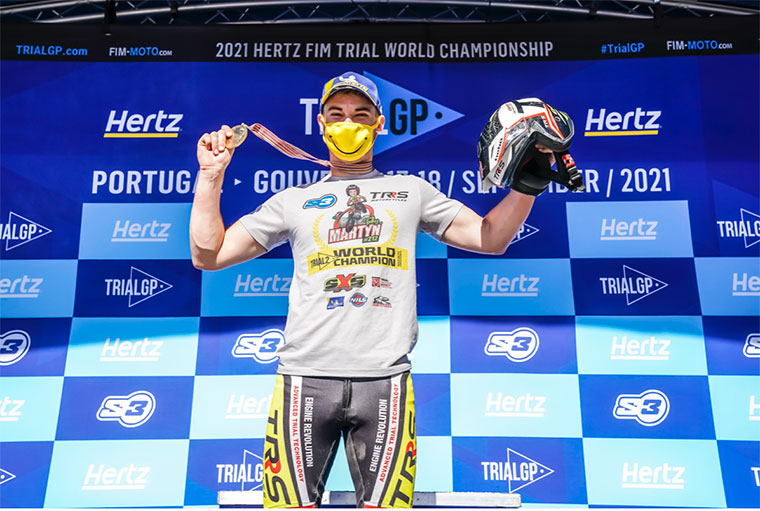 It took him five years of trying but rising British star Toby Martyn (TRRS) finally claimed the Trial2 title in this year's Hertz FIM Trial World Championship.
Martyn, who was born and bred in Cornwall on the south west tip of England, came heartbreakingly close to taking the title in 2018 – only losing out on an end-of-season tie-break to Matteo Grattarola – before a dip in form put him out of contention for the next two years.
However, the 21-year-old regrouped in 2021 and, older and wiser, he used his hard-won experience to finally come out on top with a display of cool, calm consistency.
"It feels good," he said. "It took a while to sink in to be honest. I'm mega happy. I had one bad day which knocked me in the championship and ever since that I stayed on the podium and that's what made the difference."
That 'bad day' came on the second day in Andorra near the end of August. After trading wins and second places with Jack Peace (Sherco) at the first four points-paying events, the pair went into day two in the Pyrenean principality locked together at the top of the table.
Winner on the opening day, Martyn then faltered on the Sunday and his sixth-placed finish handed a clear advantage to his fellow British rider.
In previous years Martyn might have struggled with self-confidence for the rest of the season but he displayed a new-found maturity and signed off with four more podium finishes – including a faultless zero score at the second French TrialGP at Cahors just one week later – to put the championship beyond doubt.
"Now I've got a few years of riding Trial2 under my belt I've worked out how to win the championship. Trial2 has always been about staying on the podium. When Iwan Roberts was champion in 2017 he only won once but he was on the podium at every round.
"His consistency was massive and I was very happy to be consistent this year because it's always been a massive problem of mine and I think part of that is because I was a younger rider and didn't have the experience."
Martyn carried his international form into his own domestic championship and has wrapped up the British title with one round to go after another intense battle with Peace.
"Me and Jack have been battling for years, all the way through the youth classes, so it's been pretty cool. It's been tense as well so I'm happy to come out on top and also win the British title. That's another massive thing for me – to do the double has been a dream of mine for years. I couldn't be happier."
So what's next for Martyn? While he's still considering a number of offers from teams for 2022, one thing that's for certain is he intends to graduate to the premier TrialGP class.
"Now I've the Trial2 title out the way I can move up to the top class. That's definitely the plan for next year. I can't not give it a go. I know that the bigger sections will probably suit my riding a lot more because I practice all the time on TrialGP-sized sections. I'm excited for it."
A major morale-boost for Martyn has, ironically, come from the 2021 results of Grattarola – the man who crushed his dreams in 2018 – who finished the TrialGP championship in fourth after claiming last year's Trial2 crown.
"The level of the guys in the premier class is so high but Matteo's performances this year give me a massive confidence boost. I know I can move up and push for top results. My aim is to get top-five finishes – that's what I'm really going to fight for."
For regular updates check out our social media platforms on Facebook, Twitter and Instagram – just search for TrialGP.