Market-leading tyre manufacturer Michelin has confirmed its continued support for the DL12 Indoor Trial and will remain onboard as exclusive tyre partner for next year's second edition of the event on Saturday 13th January 2024 at the Utilita Arena, Sheffield.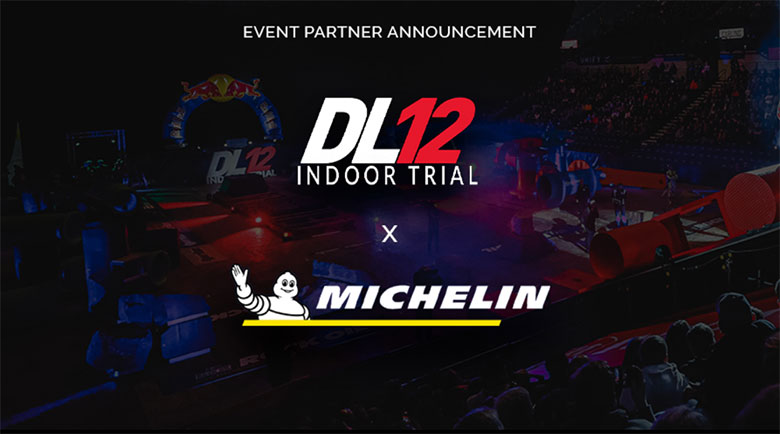 As is only fitting from the tyre giant, Michelin will once again provide giant tyres – more specifically its XTRA DEFEND product designed for mammoth earth-moving machinery – for a custom-built head-to-head race. At almost two metres tall, the imposing rubber provided a fearsome challenge for the best riders on the planet at January's inaugural DL12 Indoor Trial and competitors can expect a similarly super-sized challenge in 2024.

With the world's leading Trial riders all choosing Michelin it is a natural partnership and event co-promoter Dougie Lampkin is also a long-term advocate of the company's tyres.

"For much of my career I have relied on Michelin to find grip in the most testing conditions," said Lampkin. "Michelin was very quick to lend its support for this year's inaugural DL12 Indoor Trial and I am delighted that this association will continue into next year as well.

"This year's Michelin tyres section was one of the toughest hazards and proved to be immensely popular with the fans and the competitors – next year we will use large tyres for the first time ever to create one of the two head-to-head races which always delivers drama and action."

Speaking on behalf of Michelin Tyre PLC – Andy James – Brand Manager – Two Wheel Product said: "We are proud to be associated with this fantastic event again for 2024. Dougie is a long-time advocate of our brand with whom we have enjoyed much success over the years, so we are delighted to continue our involvement as official tyre partner of this prestigious event that brings together the best trial talent in the World…on Michelin trial tyres. We are very much looking forward to the event and the opportunity to promote our brand through a unique and engaging live experience."

Tickets for the 2024 DL12 Indoor Trial on Saturday 13th January are already on sale. To guarantee yours click here.