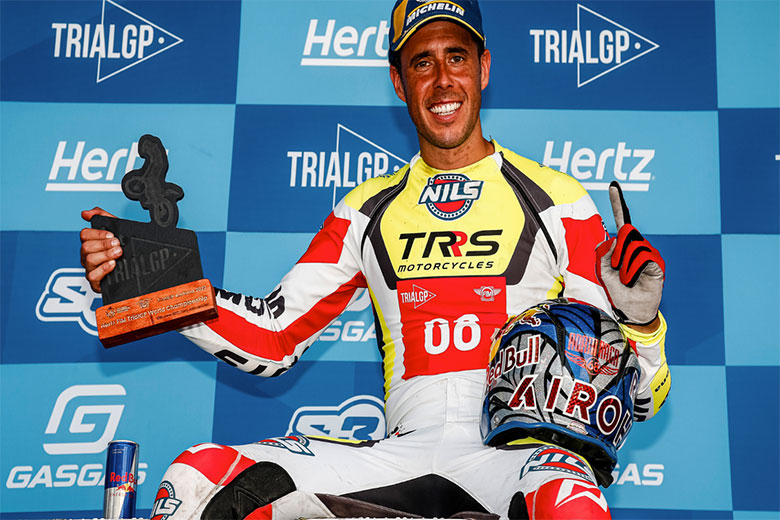 Italian crash helmet manufacturer Airoh has joined forces with the Hertz FIM Trial World Championship to become a TrialGP Official Supplier for 2023.
With almost one-hundred-and-thirty world champions across both off-road and road disciplines since the brand was launched in 1997, Airoh's heritage and sporting pedigree is unquestionable and this new agreement promises to further increase the profile of its products including its flagship Trial model, the TRR S.

Airoh is committed to the constant development of its products with an ongoing programme of innovation utilising ultra-high-tech materials and cutting-edge processes as it continues to set new standards of safety and usability.

Airoh's impressive record of TrialGP success stretches back to 2005 when British rider James Dabill won the Trial2 title and since then riders of the calibre of Adam Raga, Toni Bou, Jack Challoner, Marco Fioletti and Andrea Sofia Rabino have all claimed honours at the highest level both indoors and outside for the company.

Last year Norway's Sondre Haga won the Trial2 title for Airoh and British rider Emma Bristow secured an amazing eighth Hertz FIM TrialGP Women World Championship for the innovative, forward-thinking company based one-hundred-and-forty kilometres south-east of Rome.

Fabio Muner, FIM Marketing and Digital Director, said: "We are very happy to have a helmet manufacturer back on board as a TrialGP Official Supplier for the first time in a number of years – especially a company as well-regarded and well-respected as Airoh.

"We are constantly striving to improve the Hertz FIM Trial World Championship and such an innovative, forward-thinking company is a perfect fit for the series and what we are aiming to achieve. We are looking forward to building a strong working relationship with Airoh as we continue to develop the sport we all share so much passion for."

Antonio Locatelli, Airoh CEO, stated: "Our passion for two wheels is really boundless, encompassing any discipline, every category, literally everything! Being Official Supplier of such an amazing championship is a source of pride and we are so happy and honoured to be part of the 2023 Hertz FIM Trial World Championship. It is the first time we have had this role – we are so excited and we can't wait to fully enjoy this incredible opportunity."

This season Airoh will supply helmets to eighteen supported riders from five factory teams including top-flight competitors Adam Raga, Matteo Grattarola, Jeroni Fajardo, Benoit Bincaz, Jorge Casales and Aniol Gelabert along with TrialGP Women reigning champion Emma Bristow.