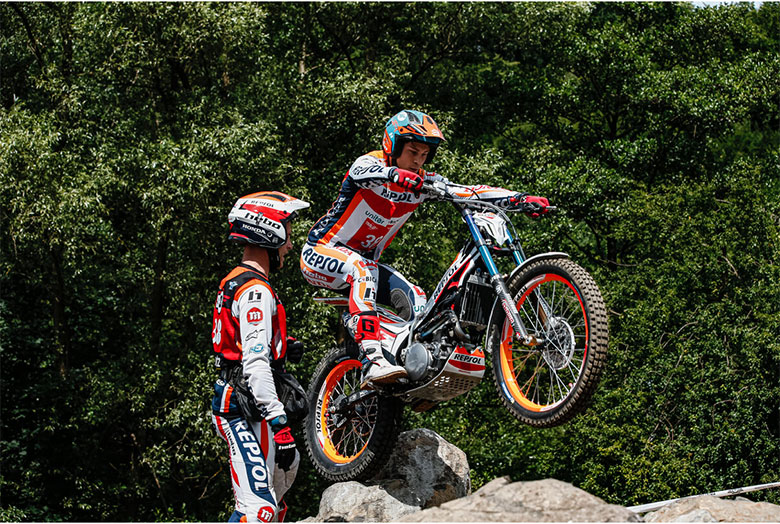 At the tender age of just twenty-two, Gabriel Marcelli (Honda) is preparing to get his fourth full season in the premier class of the Hertz FIM Trial World Championship under way this coming weekend at the TrialGP of Spain.
Gabriel Marcelli begins his second season with Honda factory team
Following his 2019 Trial2 title, the young Spaniard continues to climb the ranking
New off-season training programme targets physical strength
Marcelli is very much at the vanguard of the new wave of exciting young riders fighting to make their presence felt among the sport's established stars and it is safe to say his move to the TrialGP class following his Trial2 title in 2019 has not gone unnoticed.

A sensational third-placed finish on day two in Spain in his debut TrialGP season was a clear signal of his intent and although he is still waiting to make a second visit to the podium he is very direct when asked about his ambitions.

"The goal now is to win – you have to aim high," he said. "I consider that I have a good level and that I'm in good enough shape to fight for races, so that has to be the goal. Being on the podium is a very positive result that we have to be happy with but you have to aim for the win."

Marcelli ended his debut TrialGP season in sixth and despite dropping a position the following year his late run of three fourth-placed finishes were good enough to convince the HRC factory team of his promise and he was signed up for 2022.

"To be able to be in the best Trial team in the world is an honour and the fact that they trust me and that I can prove it with results is very gratifying. It's a dream come true. Just like winning in Trial2 or in the European Championship, it's one of those things you dream about when you're little. Year by year you get closer and closer and since it's not something that happens overnight, you assimilate it slowly."

A former youth Motocross rider who took up Trial to help his bike handling skills following a switch to Enduro, Marcelli's move to the factory team was undoubtedly helped by his familiarity with four-stroke machinery.

"I've been riding a four-stroke bike since 2016 and I don't really remember how to ride a two-stroke anymore. Of the main differences of the four-stroke engine, what I like the most is the power punch that the bottom-end of the engine has. It's a more comfortable bike both because of the centre of weight which is located on a lower height and because of the rear suspension which, coupled with the low centre of weight, gives you a lot of stability."

After finishing a career-best fifth last season and finishing one position away from the podium on three occasions, Marcelli decided to change his winter preparation programme.

"This year's pre-season has been different from the previous two years. I have focused more on the work in the gym to get more strength and physical volume, which I think can benefit me in my riding style. I'm a rider who relies a lot on body and strength, rather than gas or technique, so being physically strong is a strength I can exploit more."

This coming weekend's TrialGP of Spain at Arteixo is very much a local event for Marcelli with the venue close to the Atlantic coast just two-hundred-kilometres north of his hometown.

Whether he can use this home advantage to good effect remains to be seen, but that elusive second podium is a definite possibility.