Fully rested following a seven-week summer break, the biggest hitters on the planet are back in action this coming weekend for round three of the 2021 Hertz FIM Trial World Championship – the Andorran TrialGP.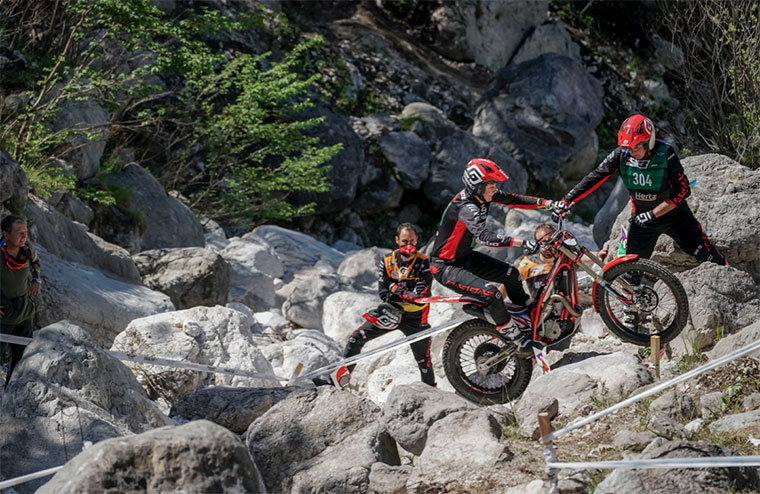 Staged high in the Pyrenees around the scenic town of Sant Julià, perilously steep wooded climbs and huge, imposing rocks will be on the menu over two points-paying days for the TrialGP, Trial2, Trial125 and Trial-E competitors.
Especially hard in the wet, the good news for riders is that clear skies are forecast all weekend but the Andorran TrialGP has a reputation for testing man and machine with severe sections and the lofty altitude combining to push skills to the absolute limit.
Spain's defending champion Toni Bou (Repsol Honda) has lived in the Pyrenean principality for a number of years so technically has home advantage as he continues his campaign for an incredible 15th consecutive TrialGP title.
Already 10 points clear at the top of the table after the opening three days of competition, Bou will start favourite but his great friend and rival Adam Raga (TRRS) has already beaten him once this season and the two-time world champion topped the opening day in Andorra in 2020 when Bou parted with 56 marks – his highest score of the year. Well, we did say this trial is tough!
As always, Raga will force Bou to fight for every clean but he's not the only man who will be eying up at the very least a podium finish.
On his return to the premier class following last year's Trial2 crown, Italy's Matteo Grattarola (Beta) has shown sensational form. A storming second last time out at the French TrialGP at the start of July, Grattarola sits third in the rankings a further four points behind Raga but he's only one ahead of evergreen Japanese star Takahisa Fujinami (Repsol Honda).
Fujigas, who became the oldest winner of a TrialGP round when he turned back the clock to win on day two of the Italian TrialGP, was only a few marks away from the podium at Charade and the Andorran sections will suit his explosive, all-action style.
The current top five is rounded out by Spain's Jeroni Fajardo (Sherco) who also has podium potential, as does his compatriot Jaime Busto (Vertigo) who will be looking to bounce back after – by his standards – a disappointing start to the season.
Trial2 this year has so far been a tale of two men – British riders Jack Peace (Sherco) and Toby Martyn (TRRS). The pair dominated the top two positions in Italy and France with Peace's two wins giving him a three-point advantage but with competition in this class so close the situation could change in a heartbeat.
Don't rule out Norway's Sondre Haga (Beta) who lies third in the standings thanks to rock-solid consistency and Spain's Aniol Gelabert (Beta) and Italian Lorenzo Gandola (Beta) have both tasted podium pie this year and will be hungry for another slice.
British riders also dominate the Trial125 competition and currently fill the top three slots after the Italian TrialGP. Jack Dance (GASGAS) leads the way following his 1-2 finishes in Tolmezzo from Harry Turner (Scorpa) who ran 4-1 and Harry Hemingway (Beta) who slipped to fifth in Italy on day two after ending day one in a super-strong second.
Czech rider David Fabian (Beta) and Spain's Adria Mercade (Sherco) have both shown top-three form this year but they'll need to step it up to challenge the British trio.
The three-round Trial-E series got under way in France where 2020 runner-up Chatagno came out on top on a total of 25, a full 17 marks clear of fellow Frenchman Julian Perret with Spain's Martin Riobo (Electric Motion) – the Trial125 vice-champion in 2018 – filling the third step of the podium.
The action kicks off on Friday afternoon with an official practice session before the serious business kicks off at 9am CET on both Saturday and Sunday.
For regular updates and live results check out our social media platforms on Facebook, Twitter and Instagram – just search for TrialGP.
For more information go to www.trialgp.com