Make no mistake, Laia Sanz (GASGAS) is one of the world's greatest-ever female athletes. The discipline – whether it requires running spikes, a tennis racquet or ice skates – is irrelevant because the amazing longevity of her stunning career speaks for itself.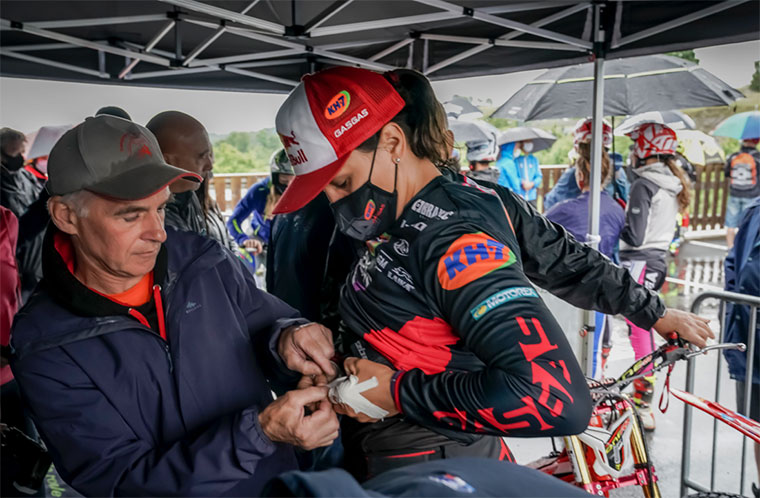 The fact she requires two wheels and a throttle to do the business means she may never receive the same mainstream accolation as, say, Jackie Joyner-Kersee or Serena Williams or Sonja Henie but, without a doubt, Sanz is a genuine global sporting superstar.
After winning 13 FIM TrialGP Women titles in 14 years from the inception of the series in 2000 until 2013, the now 35-year-old Spaniard went looking for a new challenge and set her sights on the infamous Dakar Rally. Competing against men in the premier motorcycle class, she's got a best finish of ninth in 2015 in arguably the most gruelling off-road motorcycle event in the world.
Last year she was struck down by the strength-sapping Lyme disease – a condition caused by tick bites – but despite this she still managed to finish 17th in the 2021 Dakar and is currently in pole position to win her sixth FIM Women's Enduro World Championship title with an eight-point lead with one round to go.
And she's also made her long-awaited return to the Hertz FIM Trial World Championship where she currently sits second – three points behind reigning TrialGP Women champ Emma Bristow (Sherco) – with a 1-2-2 scorecard at the halfway point with three scoring days left.
"The opening day [in Italy] was perfect," she said. "I didn't win the second day but I could [have] because on the first lap I was leading but on the second lap I was completely dead. I'm struggling with my fitness and also in France I was really close to the win. This is something good because with no training I'm [almost] there so that means if I can prepare properly and I can feel healthy I can be there again.
"It's really hard to go back to trial. I still have some skills but, yes, it's tough because I haven't competed [in trial] for eight years and of course my level went down a lot but for me the worst thing is that I have been sick for a year with Lyme disease.
"It's something that I'm still not 100 per cent over so more than not being on a trial bike for a long time, it's my physical condition that is my big challenge this year. I'm fighting against my body every event and suffering a lot. It's difficult for me mentally because it doesn't help me to ride my best and to be myself so this is the worst part.
"I've been missing trial for many years but I've never returned before because I was with KTM and they had no trial bike so now is the perfect time. It's fun and it's a big challenge because this year I have not a lot of training but I will try until the end [of the season].
"Emma is a much better rider and I am much worse and not only has she improved a lot, also Berta [Abellan] and some other riders are coming. Emma's level is much better than before but, of course, my level after eight years of no practising is much worse also."
Bristow has cited Sanz as a source of inspiration and the Spaniard's legacy clearly means a lot to her.
"More than the titles [inspiring riders] is something that makes me really proud. It is really nice to see that now the level of trial women is really improving and there are more girls and more help. For me at the beginning it was more difficult. I was riding against boys and I think I opened a little bit the way and that makes me really, really proud."
The big question is whether or not the 2021 season is a one-off or will we see Sanz back for more next year but there are too many factors outside her control for her to be able to commit just yet.
"It depends on the calendar and the races and also if GASGAS are still interested. We will see after this season and also it depends on my health – I hope to be better – but, of course, it would be super-nice because I think this year it will be hard to win but I would love to prepare properly and be really competitive."
Round three of the 2021 Hertz FIM Trial World Championship – the Andorran TrialGP – takes place on August 20-22 but fans will have to wait until the Spanish TrialGP on September 10-12 to see the world-class women riders back in action.
For regular updates and live results check out our social media platforms on Facebook, Twitter and Instagram – just search for TrialGP.
For more information go to www.trialgp.com