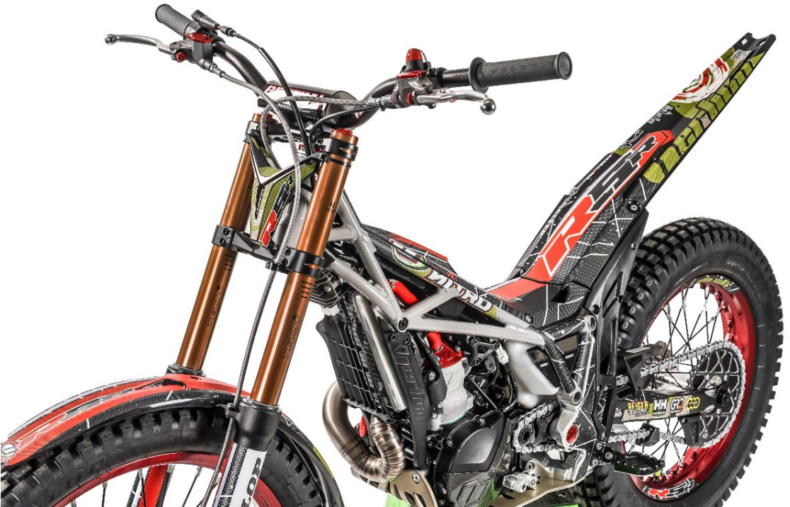 Honed from Vertigo's experience and successes in the most demanding competitions come the brand-new Vertigo Nitro RS and RSR, the new standard.
At Vertigo we have constantly striven to present models at the forefront of trial in terms of innovation and ongoing improvements. These new state-of-the-art models have been designed in conjunction with the entire Vertigo technical team. The Nitro RS and RSR have been developed in competition by our elite riders, whose feedback and racing experience have helped to fine-tune every last detail, leading to great successes in the 2022 season, including the Spanish championship, the runner-up spot in the TrialGP World Championship and third place in the X-Trial World Championship among others, as a new victory at Scottish Six Days Trial and Scott Trial, our references in competition.
Thus, the new Nitro RS and RSR go the extra mile, taking our passion for producing cutting edge trial bikes and creating what will become the new brand point of reference.

Vertigo Nitro RS: the new benchmark
The main improvements to the RS are non-motor related innovations, as the engine has undergone no major modifications given its proven reliability: the Nitro's electronic injection-fuelled engine has proven to be one of the most powerful in each of its various displacements. It features a removable clutch cover, one of the great mechanical innovations in trial over recent times.
And that is not all. The main feature of the new models is the rear suspension. The two-way Reiger shock absorber (three-way on the RSR) delivers superior performance thanks to its new Vertigo-designed linkage system, which was one of the key components in last season's successes. Having proven its effectiveness, it has been incorporated into the production series, equipping the new RS and RSR from their inception.
Lastly, the chassis also features machined aluminium brake callipers as well as foot-pegs, plus a 6mm sump guard. The rims are anodised in red and the hubs are also machined in silver.
The trim of these Vertigo Nitro RS and RSR is, quite simply, stunning. The snakeskin not only gives a racing look, but also protects the swingarm, fork and subframe from scratches and bumps.

RSR Exclusive
Fittingly, the new Nitro RS also comes in a more 'Racing' version – the Nitro RSR – with certain elements that improve upon the RS performance even further: new Tech Factory-made forks in exclusive Kashima Gold, a titanium exhaust manifold and carbon fibre engine guards as well as the new linkage system exclusive to the series.