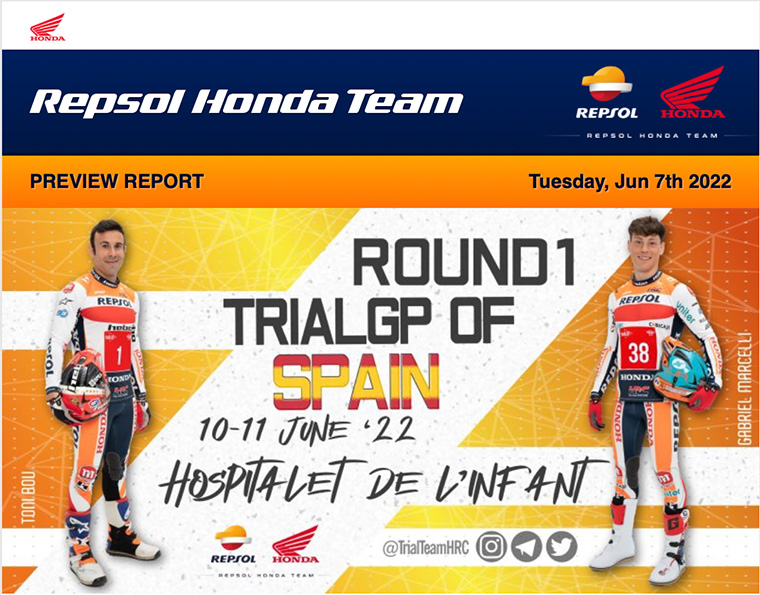 Repsol Honda Team riders Toni Bou and Gabriel Marcelli this week begin their bid for a new TrialGP championship title in L'Hospitalet de L'Infant.
The 2022 TrialGP World Championship is set to get underway this coming weekend in Spain. The town of Hospitalet de L'Infant, south of Tarragona, will host the start of a new Outdoor World Championship with the Repsol Honda Team once again in contention for the top honours. The Spanish round of the TrialGP World Championship has been the season's blue riband event since its inception in 1975.
Reigning world champion Toni Bou, who has won a total of 19 Spanish TrialGP races, is the big favourite to claim a 16th outdoor title by the end of the season. Bou arrives at the maiden event of the new campaign having scooped a 125th win in the most recent trial in 2021. So far in 2022, the Catalan rider has been victorious in all four X-Trial events.
Bou's team-mate at Repsol Honda, the promising young Galician Gabriel Marcelli, made his debut in the 2022 team after demonstrating great potential in previous seasons. Marcelli has had a notable indoor season, achieving second spot on the podium in the Madrid event. His overall objective for the outdoor championship will be to attempt to finish on the podium in several of the scheduled dates.
The Spanish TrialGP has organised a parade for the participants through L'Hospitalet de L'Infant on Friday afternoon, once the mandatory scrutineering checks, official practice and the rider section inspection have been completed. The competition will be a double-dater taking place on Saturday and Sunday, with riders having to tackle the twelve sections – located in the dry river of Llastres – over two laps. Each lap will have a total length of twelve kilometres.
The TrialGP World Championship calendar will then move on, with subsequent stop-offs in Andorra, Germany, Belgium and France, before the sport's elite event concludes in the Italian town of Ponte di Legno, province of Brescia, in mid-September.
TrialGP World Championship
| | | |
| --- | --- | --- |
| 11-12 June | Hospitalet de L'infant | Spain |
| 18-19 June | Sant Julià de Lòria | Andorra |
| 9-10 July | Neunkirchen | Germany |
| 21 August | Comblain-au-Pont | Belgium |
| 28 August | Cahors | France |
| 17-18 Sept. | Ponte di Legno | Italy |
Toni Bou 1
This year is the best physical condition I've ever been in at the start of the world championships. That's the way it was when we started the indoor season and now we are in great shape. We have prepared really well. But in any case, once it gets underway, we will have some hard work to do. We are really looking forward to it after working so much during this pre-season. We can't wait to see how it goes in competition. We will be starting the outdoor season on home soil, both in L'Hospitalet de L'infant and Sant Julià de Lòria. It will be a short championship, with high temperatures from June to September. Anyway, both my closest rival, Adam Raga, and the rest of the riders, have all improved and are more dangerous outdoors than indoors. For me it's a further motivation to keep battling for the successes that can come.
Gabriel Marcelli 38
I think I'm very motivated for the TrialGP World Championship. We haven't had any trials for a few weeks, so we've been able to recharge our batteries, get over some injuries and prepare for the upcoming events. We are ready to fight for the top positions. We will have to give everything from the first trial. I learned this last season, where the first events didn't go the way I would have liked. I think we have done our homework and we are ready to give 100% from the get-go. The goal is to try to be on the podium in every race, although all the riders are hoping for the same thing. We have to fight for the championship podium, although a top five would not be bad. The first two trials won't be easy and I hope they are suited to my riding style.
Takahisa Fujinami
Team Manager
I'm really looking forward to the start of the Outdoor World Championship, especially after the most recent events in the X-Trial championship, where we saw the champion Toni Bou in great shape, who, despite his 30 titles, is always fully motivated. In other years Toni hasn't always been at 100% physically, but this year he will be in great shape for this first race. Gabriel Marcelli is eager to show his great technical level here in Tarragona. Being part of the Repsol Honda Team may be an added pressure, but we are working in every way so that it doesn't affect him. I also believe that, after 6 months as Team Manager, four indoor races and two national races, I think the team has a huge potential to be at the top of the championship.